Product return management SaaS for e-commerce sites
SaaS app for Ecommerce stores and companies that allows exchange products for other versions, use returned goods as purchase-value for new products, or re-convert to store-credit. All through an easy and intuitive interface.
portfolio project
Team: 5 engineers
Sea, 2016 - Nov, 2016

Sweden
Task
We were asked to create an information portal for teaching people the basic and advanced techniques in the financial markets. This portal is a marketing tool for the broker that helps to sell broker's products - different financial instruments (including MT4) which are taught how to use.
Major Widget features - UI for customers
Apply for a refund - a user logs in by email and see all his\her orders.
By writing the order number, a user gets to the page of the store and the goods.
The system offers a replacement of goods (colour, size).
Complain and report the reason for the return (a user can upload the photo).
To issue a gift certificate instead of a refund.
To refund
The interface for the store manager (admin panel)
In addition to allowing the store manager to download their products, categories, users and orders, the interface is equipped with the following functions for product management app:
Check status information;
Collect reasons for refunds;
Residual prices and recalculation of the total cost of the order, refund recalculation;
A gift certificate issue;
List of new purchased (or exchanged) goods;
Review all information on reclamations;
Add manager comments;
The ability to process the returned goods and when it comes to the warehouse, send the goods to which it is changed;
Magento module for webstores
We have developed a widget that can be easily added to any online store. In particular, a module was made for the Magento app, which adds a widget to the Magento web store:
As a button on all pages that allows user to select an order made in this store (in popup);
As a button on the page of the orders (a button for each order to make a return immediately to the desired order);
Builds a login form inline in any page (Mode without button);
Integrates with the return management service, sends data about new orders, new registrations and changes in goods from the store to the server (an ongoing process);
Imports users, products with attributes and categories, orders to our server (one-time procedure);
Processes returns, modifying orders - new orders are created for new sold goods, credit memos are created to account for returns in old orders.
Integration with payment gateways
Integration with two payment gateways (Klarna and PayPal). The Magento module initiates the refund when it receives a request through the gate which the original purchase was made.
Database
Postgre SQL was used for MVP. The data model was developed to store information about goods in their categories and attributes, as well as orders, regardless of the engine on which the online store is made (since it is universal). Thus, we can import any complex model of goods and orders into our service and save in our database.
Design
Beautiful design with the adaptive resolution
for any device, which looks very similar to the mobile e-commerce application.
Techs
Back end: Java 8, Spring Boot, Magento
Front end: Angular 4/ Gulp / Bower / NPM
Database: PostgreSQL
Server software, Continuous Integration Server: Debian / Svn / Jenkins(CI/CD pipeline) / Nginx / AWS EC2 / AWS ECS / Zabbix / Logstash / Docker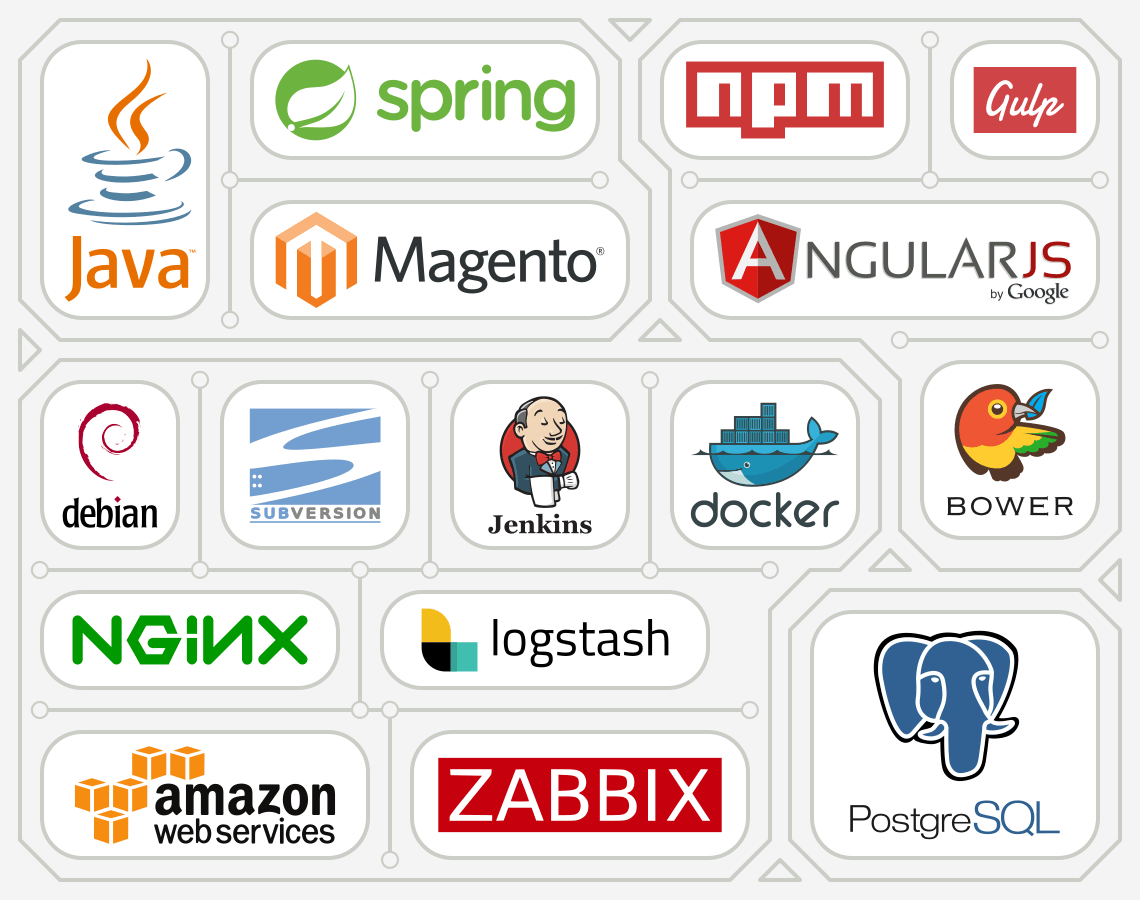 Like the case? Got some ideas in this industry?
We are ready to help!
Fill out the form below and we will contact you: