How Many Saas Companies Are There: 2023 SaaS Industry Overview
SaaS has proven to be one of the best things that ever happened to computing, sending many businesses scrambling to get a hold of such systems. This has led to the popular SaaS market continuing its current growth streak. The sector is seen to reach a whopping $623 billion by the year 2023 at a compound annual growth rate of 18%. This is but one of the many SaaS statistics we've collated in this article. Clearly, SaaS currently represents the largest segment of the world market for public cloud services.
To shed more light on this niche market, we have completed our own research to provide the latest data on market growth, adoption rates, and use cases. By the time you're done with this reading, you will have a better understanding of not only how SaaS has been benefiting companies worldwide, but what it can do for your business.
How Many Saas Companies Are There in The World
In 2021, there were approximately 15,000 software as a service (SaaS) companies in the United States. Together, they had around 14 billion customers worldwide. The United Kingdom takes the second place with 2,000 companies and two billion customers worldwide. SaaS is a software licensing model delivered via the cloud.
The worldwide public cloud computing market continues to grow and is expected to reach an estimated 482 billion U.S. dollars in 2022. This encompasses business processes, platform, infrastructure, software, management, security, and advertising services delivered by public cloud services. A public cloud is a cloud deployment model that offers computing services over the Internet. The physical hardware of this cloud model is shared by multiple companies. The services offered to customers include storage, bandwidth, or CPU cycles.
SaaS Growth Statistics
SaaS applications remove the requirement for organizations to run applications on their own machines or in their own data centers. In general, users are able to access the SaaS app from any internet-enabled device. Software updates are usually automated and the overall user experience is improved.
The growth of the industry has spawned a variety of products and apps that are now being used on a daily basis - sometimes even hourly by individuals and businesses from all around the world.
There are three key SaaS statistics you should be aware of: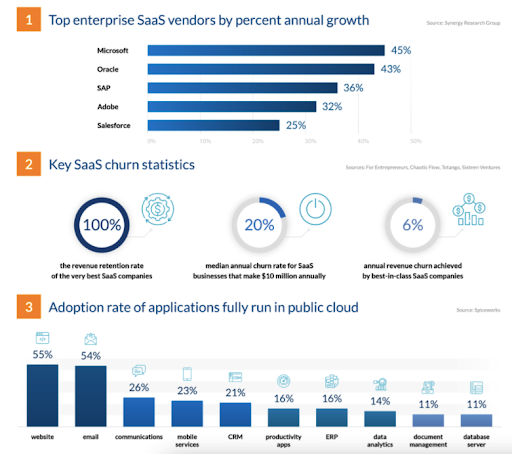 SaaS has been benefiting businesses since its inception, helping companies attract and retain customers while boosting service. They have found tons of applications in different industries, specifically in the areas of marketing, sales, and customer service. This development has greatly contributed to the increase in the SaaS market size.
SaaS has also been experiencing growth in the B2B sector, making use of technologies such as machine learning and AI to improve automation further. There are likewise SaaS tools for small businesses that can help them compete with larger companies.
To keep up with the very purpose of SaaS, vendors have been designing their tools to blend well with different software environments through vast arrays of integrations and APIs. Read on to see more relevant SaaS market statistics.
Which are the largest SaaS companies?
Now, it is time to see what the top SaaS companies are. This way, you can learn from what they have achieved and see the common pattern that is required to come up with your SaaS idea. Also, note that this list is not in a particular order.
Zoom
As of writing this article, we are still in the pandemic – and it seems we will be here for a while. Zoom has become one of the successful SaaSs during this pandemic. If we are to summarize Zoom, we could say that Zoom is a web conferencing tool that provides its users with lots of features – including screen share, controlling the sharer's screen, etc.
According to a report by Zoom published in August, the company has a revenue of $1 billion. This number is 54% higher than the same time last year. Without a doubt, if the remote-working culture becomes even more mainstream, we will see higher numbers from Zoom.
Twilio
Twilio is another SaaS company you have to watch out for. Twilio offers you a strong API that is designed for phone services – which in turn enables companies to make and receive phone calls, as well as text messages. Any programmer can easily integrate various communication methods such as video calls and solve problems related to communication with their skills and expertise.
Recently, Twilio explicitly stated that they have a "revenue of $668.9 million for the second quarter of 2022, up 67% year-over-year, including $46.6 million from Twilio Segment."
Microsoft
Here is one of the tech giants! You know that Microsoft needs no introduction. Being one of the oldest SaaS companies, Microsoft provides different software according to your needs. These days, the most renowned one is Microsoft 365 – formerly known as Office 365.
Microsoft 365 is a cloud collaboration tool that enables you to have a private and secure space to store and share documents. Via Microsoft 365's calendar, messaging, and conferencing tools, you can connect different teams easily. Microsoft has multiple sources of income under its umbrella. Although it might not be the most profitable one, Microsoft officially stated that products and cloud services revenue – that are linked to Microsoft 365 – increased by $3.1 billion or 12%. You do the math.
Adobe Creative Cloud
Up next, we have a SaaS designed for designers. Adobe Creative Cloud is a suite for graphic designing and video editing. With Adobe Creative Cloud, companies can publish layouts, edit images, manage PDF documents, and collaborate with designers regardless of any platform. Its libraries allow you to remotely access, organize and share assets from a repository.
Adobe Creative Cloud's total revenue between 2018 to 2020 can be found on their site. However, if you feel too lazy to look at it, Adobe Creative Cloud made; $5.34 billion in 2018, $6.48 billion in 2019, and $7.74 billion in 2020. When the official numbers come, we can expect to see that number very close to $10 billion for 2022.
Grammarly
If you are dealing with any type of writing content, then chances are you know Grammarly. Grammarly assists people in generating grammatically correct content across various contexts such as emails, web pages, whitepapers, etc. Grammarly utilizes AI technology and NLP (natural language processing) tools to improve readability, word choice, and style with suggestions and alerts.
Finding Grammarly's revenue is difficult since the company insists on keeping that information classified. However, some people say that Grammarly makes ~ $70 million per year. The CEO of Grammarly also points out that they are constantly growing, both user and revenue-wise.
Salesforce
Every SaaS provider knows and learns from Salesforce. It set the standard for CRM tools. Every growing business can use Salesforce in order to have customer relationship management – and almost all of them use Salesforce to do so. For most of the teams, Salesforce is a lifelong partner. This is mainly due to its adaptability to changing situations and demands.
According to Reuters, Salesforce's annual revenue has surpassed the expected $25.76 billion by almost $250 million in 2022. This is another proof of Salesforce being a worldwide brand and used by companies of different sizes.
SurveyMonkey
The people who value customer feedback probably know SurveyMonkey and how useful it is. As one can infer from the name, SurveyMonkey is an online survey tool that helps you create a survey in different styles. SurveyMonkey supports various types of questions, such as video questions or multiple-choice questions. You can create a survey regarding any topic you want.
Although one might think that it is just a simple online survey tool, SurveyMonkey has a way bigger share in the cake. The total revenue of SurveyMonkey in 2020 was $101 million. It shows an increase of 20% from the previous year. As research and feedback lay more on online tools, SurveyMonkey will show more profit.
Regional SaaS Stats
More and more companies are adopting SaaS software with those in the retail and consumer goods sectors leading the pack. SaaS consumption, although a global activity, is highly concentrated in the Asia Pacific and North American markets. However, the lack of skilled staff and continued cyberattacks are seen to hamper SaaS growth.
Leading SaaS Countries Wordwide
Leading software as a service countries worldwide in 2021, by a number of companies: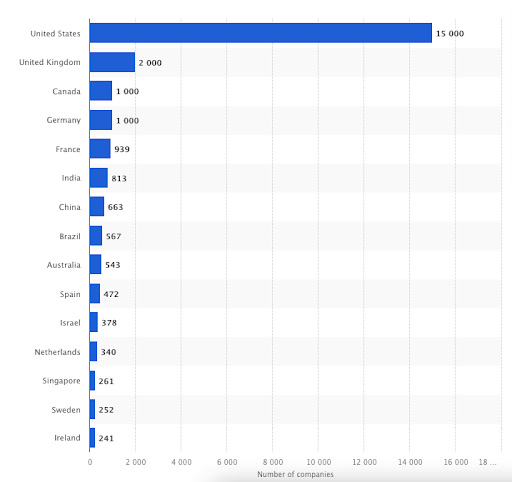 Biggest SaaS Companies in the US

Biggest SaaS Companies in the UK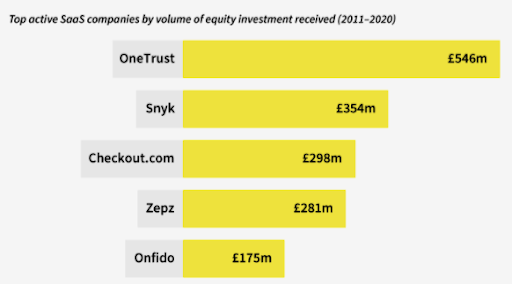 Biggest SaaS Companies in Germany
Personio
Founded in 2015, Personio is a one-stop destination for cloud-based HR software for small to medium-sized companies. Because of its online presence, it can store all employee data and processes at a single source.
Inkitt
It is an online platform where you can write, read and share novels digitally, including the ones that haven't been published yet. Additionally, its advanced algorithms can predict a novel's success based on the reader's behavior.
FlixMobility
Launched in 2018, it is a mobility-providing app that offers environmentally-sustaining and pocket-friendly travel options. This includes long-distance buses and green trains plying across Europe.
Adblock Plus
Looking for a free extension that prevents online ads and personalizes your web experience? Say hello to Adblock Plus. This was founded in the year 2011 and is currently headquartered in Cologne.
Komoot
Komoot is German's one of the most commonly used apps/online guides for navigating hiking and cycling experiences. Recently they have come up with an e-bike concept, partnering with Bosch.
Top B2b SaaS Companies
B2B SaaS refers to companies that provide software (app, extension, add-ons) to other businesses as a service. Their products functioned to assist businesses to operate more efficiently and effectively with highly automatic technology. Its main purpose is to cut down human resource expenses. Due to this value, a large number of companies are using SaaS software to optimize their sales, marketing, and customer care services to enhance stores' performance and generate more revenue.
Taking more about customer success seems to be the key element of every successful business. Understanding that, e-commerce companies now invest strongly in customers' care systems. Once their first-time buyers win, they will likely become their loyal customers. Lately, you can see a significant number of top B2B SaaS companies provide customers with successful apps for business customers.
According to the G2 Crowd report, the following list is collected with the top 5 SaaS B2B companies that are providing software for many businesses worldwide. They are not only famous and successful for the products' portfolio but also be known as the best service providers in the industry.
In the report, GA has used the Grid Scoring Technology in which it builds the top Software companies on a scale of 0-100 resulted from customer reviews, social networks, and online sources.
Google
Adobe
Slack
MailChimp
Shopify
Which Sectors are Dominating the SaaS Marketplace?
In a report by Forbes, the education, engineering, finance, government, and healthcare sectors are at the forefront of cloud adoption, whether private, public, or hybrid. To expound, the file sharing and collaboration category took the lion's share with 20.9%. Any niche can use this, however. But it is followed by finance with a 7.5% share. Education (5.7%) also made it to the list.
Education
A study by the University of Missouri shows that 93% of elementary school teachers are highly stressed, leading them, especially the new ones, to change tracks within five years, as mentioned by NEA. One of the primary reasons is the lack of funding for private schools, causing overflowing classrooms and a shortage of supplies.
While there are deep-seated issues that cannot be solved by software, there are also those that can be alleviated by a SaaS solution. Resource utilization prediction via an enterprise resource management platform can assist administrators and teachers in ensuring that students access the things they need to receive a proper education. This can be done for daily, weekly, monthly, or quarterly periods, depending on the resource and the requirement. With this, schools can maximize resources without overtaxing them.
Engineering
Resource planning and scheduling are crucial in any field of engineering, as a misstep can delay projects and contribute to higher expenditures. As early as 2012, Sage discovered that 16% of contractors believed it was important to include cloud computing in their toolbox. In just the span of a few years, more contractors (85%) had already implemented or are on their way to implement cloud-based applications, Sage found.
One of the main reasons for engineering companies to sign up for a SaaS service is to avoid conflicts, such as in the use of resources. For example, a construction team has different types of trucks at their disposal, with a few of them distributed at various construction sites. Visibility into the resources allows the manager or team leader to assign and move resources around to fit building schedules.
SaaS solutions benefit those in the engineering industry when it comes to resource requisition as well. Most platforms are not just for supervisors but are designed for staff use as well. This way, they can let their superiors know what they require, how much or how many, and when as soon as the need arises.
Moreover, this cuts down their waiting time for approvals since those in the approval chain are notified immediately by applications. Meanwhile, professionals in this sector who are tight on budget can also check out a list of top free CAD software to explore at no cost.
Finance
Banks are increasingly moving to the cloud mainly to address their regulatory concerns. Other than that, they choose SaaS deployment because it reduces their ownership costs and offers them scalability. Important key drivers also include security, shares Moody's Analytics.
Apart from that, finance companies are realizing that SaaS services automate many of their tasks, particularly data analysis. On top of that, they are using internet-based solutions to create a collaborative environment and a setting that promotes productivity. Zoho also adds that banks and similar financial institutions rely on cloud-based software to help them with client communications.
Most importantly, the finance sector counts on SaaS applications for security, particularly when preventing network breaches and protecting data. For the latter, there are cloud-based software that safeguard the information they process by encrypting it from end to end. For the former, it is common nowadays to provide identity and access management tools to administrators to give them full control over who can view what data and do certain actions.
Government
The adoption of cloud-based services is mandatory for US agencies. In fact, CIO.gov has an exhaustive plan to ensure that every Federal government office moves to the cloud for better security and to increase savings. Plus, the website cites the faster delivery of life-saving services as a reason to enforce and accelerate the adoption. In any case, the government needs the right people to do the job. That is where SaaS can help them. Enterprise workforce planning (EWP) platforms have robust talent matrices that centralizes talent management. In other words, it tells the user of the skillsets of employees, their qualifications and certifications, and their industry experiences.
SaaS Industry Trends for 2023
The software-as-a-service (SaaS) model has skyrocketed in popularity in the last few years as it continues to offer cutting-edge solutions in a wide array of industries. As the competition among SaaS products continues to grow, so do customer expectations. In order to gain some competitive edge, many businesses now adopt a variety of modern technologies ranging from AI to low-code development and beyond. In this article, we'll take a closer look at the latest trends in SaaS and what the future holds for this service model.
Low Code Apps
No-code and low-code development platforms have been on everyone's radar for the last few years, and the SaaS industry is no exception. Given that low-code platforms are significantly more accessible to the average person, they allow less "techy" startups and individuals to enter the scene, thus allowing to diversify the market.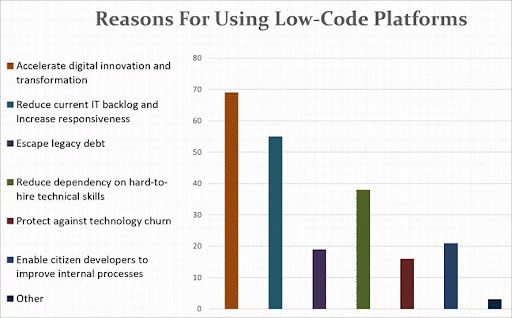 This overwhelming accessibility comes with a host of other benefits. Less code implies lower costs, which means that developers, designers, and product executives can spend more time and money on innovation and addressing the industry's more pressing issues. Similarly, low-code platforms will allow startups to create quick MVPs, enabling them to test more solutions at a faster pace.Some of the famous low-code app examples include Zapier, Airtable, Webflow, and Typeform.
Micro-SaaS
As a growing number of players enter the market, we begin to see many companies that strive to adapt and have a more innovative and creative approach to providing their customers with services. One way of adapting to this competitive environment is to create smaller, more flexible products, which are often run by very small teams or even a single person. Micro SaaS products are often extensions or add-ons to larger products that aim to optimize the experience for particular industries.
Integrations
In the early days of SaaS, there were no integration solutions. Products and services couldn't be merged. As a result, customers were supposed to appeal to third-party solutions, which wasn't at all appealing for both users and institutions, especially the ones that weren't ready to migrate their entire data to a cloud platform.
However, more and more SaaS vendors tend to provide greater integration capabilities, which entices businesses that prefer a hybrid system that combines a cloud back-end and on-premise system.
Vertical SaaS
The fundamental difference between horizontal and vertical SaaS is their focus. The former, as the name suggests, provides solutions to a wide array of industries. At the same time, the latter is a product that aims to cater to a narrower audience, typically within a single niche. Vertical SaaS is a comfortable and cost-effective solution for many businesses, given the industry-tailored solutions. This enhanced flexibility will ensure greater revenue and lower expenses on customer acquisition.
Some of the notable examples of a vertical SaaS include BioIQ (medical sphere), Guidewire (insurance), Innovacer (healthcare).
Focus on Retention & Churn
Knowing churn rates—the discontinuation of service subscriptions within a period of time—is important to any business. All companies with subscription-based services are subject to churn, and SaaS businesses are no exception.
There are a variety of reasons for churn—a customer finding a new vendor, running out of budget, or becoming unsatisfied with a company's customer service. Here, we provide you with key statistics on SaaS churn rates and how they affect corporate revenues.
Sum Up
The main reason for the growth is the pandemic and the transfer of a large number of employees to remote work. But SaaS will continue to evolve after employees return to the office. Business leaders have felt the benefits that cloud applications give, and do not plan to abandon them.
Also, experts believe that next year 75% of companies will use all or almost all applications only in the form of SaaS. So the next 10 years, the SaaS industry will only get brighter.
If you have an idea for a new SaaS project and you lack technical support in its implementation, then our team is happy to help you! Let's discuss?