Hire a Dedicated Software Development Team
to work long-term with the highest efficiency
Our dedicated teams can be self-contained or integrated into your core team. We strive to be an extension and integral part of your business being transparent and easy to manage.
Request a call
Ardas Dedicated Developers Team
Get immediate access to expert developers in different domains and technologies.
Boost your software development process without staffing pain with Ardas.
Why Us?
More than 160 software development engineers, 17+ years on the market building dedicated teams for enterprises and IT products.
130
Projects ever made in all industries for customers from different countries
15
Dedicated teams working right now to deliver great results for businesses
12
Industries with deep understanding of details and does and don'ts
8
Customers with more than 5 years of successful collaboration
Reasons for a dedicated project team
Check these reasons. If any of them suits your case, a dedicated team will definitely perform better.
A lot of tasks?
You have lots of work with a plan for many months but no hands and heads in the team;
Need lower rates?
You want to get more favorable rates while you are ready to pay a monthly fee;
Too late to outsource?
You have a fairly successful and actively developing project and it's too late to outsource;
Need closer team connection?
You need a deeper integration of engineers into the core team and a closer connection with the business;
Buried in technical debt?
There is a lot of technical debt - a lot of work that was not important in the earlier stages of the product;
Want staffing flexibility?
You need staffing flexibility and no headache with facilities, taxes, legal issues, accounting, HR & recruiting.
Why our team model is safe?
We work hard to create a safe and confident custom support processes.
NDA and DPA agreement
We take responsibility for nondisclosure of important business matters and privacy of your customers' data.
Responsible employees
Each employee taken to the team is signed in to the DPA.
Fully insured business
Even if something goes wrong from our side, you do not risk your money. Our company is completely insured.
ISO 27001 certified
We provide the best security practices within a dedicated team.
Dedicated team hiring process
Hiring IT engineers today can be a big issue in any country, but we have already done it, you just have to choose people for your project development.
Discuss Your Needs
30 mins is enough to understand who you need. Request a call through our contact form.
Select Engineers
After the call we will send CVs of our experts based on your requirements and you choose right people.
Job Interview
As soon as you picked CVs, you can have on-line interview with engineers person-to-person.
Signing a contract
To assure you in total safety, we sign NDA to protect your IP, DPA to protect data and MSA for our services.
Benefits to hire dedicated offshore developers
Building a dedicated team is not just about hiring people. We ensure the team works effectively and supply everything needed for long-term cooperation.
Experienced in onboarding
We start a team with the most relevant engineers who already had experience in similar solutions.
Established processes
We are very flexible and create teams as efficiently as possible for the needs of the client to integrate better.
Strong HR & recruiting
We not only hire but also monitor the team throughout the entire life cycle. The team is always in its best shape.
Collaboration manager
He helps all team members to integrate into the core team and makes sure the collaboration goes smoothly.
Optimal company size
We are mature not to make many of the mistakes inherent in small companies, but not so large that our rates cease to be effective.
Constant improvement
We upgrade your team - employee education which is free for you, but we make sure that they are familiar with the latest technologies.
Simple payment & billing
Once a month, according to the company invoice, and not to each employee (i.e. minus the extra accounting headache and costs).
No legal costs and headache
We make sure that everything is legal, so we provide accountants and legal advisors, Payroll, and taxes for your developers.
Successful cases with a dedicated software development team
We started these projects a long time ago, they grew with us, became successful and now we are already an integral part of these businesses.
11 engineers for task management tool
The team for this project was created to support the core team in Canada, where on the client's side were database, backend devolopers and devops.
1 UI/UX designer
4 Front-end developers
2 Python backend developers
2 QA engineers
1 Requirement analyst and 1 project manager
34 experts for courier SaaS platform
Begined with 6 IT engineers in 2007 and today it is a large IT department that works closely with a core business team in the UK.
6 ReactJS/Redux frontend developers and 1 UI/UX designer
2 Backend architects, 3 SQL and noSQL database engineers
10 Java back end developers
2 Devops and 5 QA engineers
3 Requirement analysts and 2 project managers
7 developers for online consulting platform
Our team created a development plan for Scrum according to the client's requirements, taking into account also the design, architecture of the backend, and deployment.
1 Frontend JS developer
1 Data scientist and computer vision engineer
2 .NET backend developers with 1 QA engineer
1 Project manager and requirement analyst
14 engineers for trading platform
Within a month we organized a team who was self-sufficient and did all the job started from analyzing requirements sent by the product manager and up to final delivery and support.
3 Frontend developers and 1 UI/UX designer
1 Java backend senior architect and 2 backend developers
2 Database engineers, 1 Devops, 2 QA engineers
1 Requirement analyst and 1 project manager
Using the best technology stack to develop high load and high performance web portals for big audience. Using big data for high load and performance…
Since 2006, we have worked with the Ardas software development team on some of our most significant project developments and over that time developed a close and trusted relationship…
I have been working with the guys from Ardas Group for over 8 years on various projects for me and my clients all of whom are in the security, high tech communications and SaaS sectors…
Ardas worked closely with Infinox to translate business and regulatory requirements into specifications that could be reviewed by business and technology teams…
Ardas is an amazing IT company that deeply understands the specific of start-up business. They are not just IT developers but experienced consultants when it comes to lean stat-up methodology…
We worked with Ardas to develop an online publishing platform. Ardas were an invaluable asset in helping guide us through the possibilities of Drupal, and to implement great solutions…
Ardas are consummate professionals. They have great development and communication skills in software development and they know what it takes to build websites from start to finish…
Ardas has been one of our most reliable partners for our most urgent and complicated projects. No matter how difficult the situation is, Ardas always steps up with solid performance…
We have been working with Ardas on a few major development projects and they have been a good partner for us, listening to our needs and executing rapidly. Fast development cycles…
We have been working with Ardas for a while now and are very impressed with their technical knowledge. Their projects are handled well and the depth of experience is impressive.
We've worked with Ardas on several projects. They deliver fast and good. We like that they keep track of the latest movements in the open source community, and have suggested Ardas to several…
The range of dedicated developers and technology stack
More than 160 software development engineers accurately selected with experience in 100+ technologies.
34 Web front-end developers
Javascript experts using ReactJS, VueJS, AngularJS with many additional libraries ready to build intuitive and easy-to-use UIs.
41 Back-end developers
Using Java, .NET, PHP and Python stacks with strong experience in microservice architecture and automated tests.
10 Dedicated mobile developers
Primarily working on ReactNative and Flutter but also supporting native mobile languages to create the best applications.
23 Database & big data engineers
Using all known SQL platforms paired with Cassandra, Mongo, Redis, Memcache, Elastic to achieve fast data processing databases.
12 Careful DevOps engineers
Maintaining and setting up cloud infrastructure on Google Cloud, AWS or MS Azure with CI/CD automation for smooth development.
16 Quality assurance engineers
With solid understanding of Quality Assurance process and test scenarios development experience, they reduse the risk of disappointment.
8 AI / ML / Data scientists
AI/ML for recognition, prediction, computer vision with Python, TensorFlow, Keras. Data science with Python and R, using Google DataStudio, Tableau, QlikView.
5 Requirement analysts
With wide experience in analysing requirements for many industries and making UML specifications, our dedicated requirement analysts make sure to meet all your expectations.
7 Reliable project managers
With a great understanding of IT management processes and scrum techniques, our experts take all responsibilities to implement your project within an agreed timeframe.
FAQ about dedicated development team model
If you consider to hire dedicated software developers, there are many questions might arise in your mind, and we are ready to answer to few of them right now.
Get their help in building a dedicated team
These people are always ready to contact you, study your business, discuss the next steps and figure out what kind of dedicated development team is better for your needs.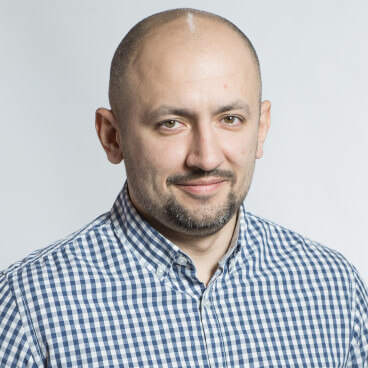 Nik Chernega
A collaboration manager supervising dedicated development teams.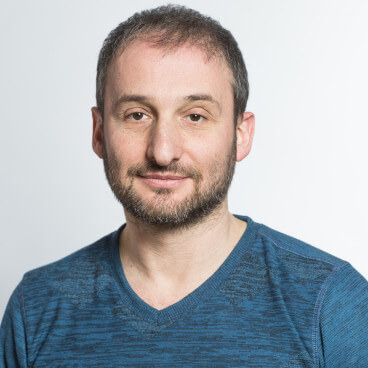 Dmitry Kresin
Software product and development business expert.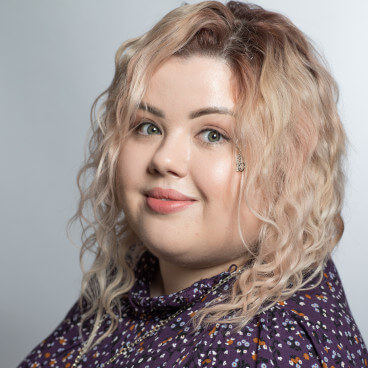 Kseniia Reznychenko
A scrum master managing a few long-term dedicated teams.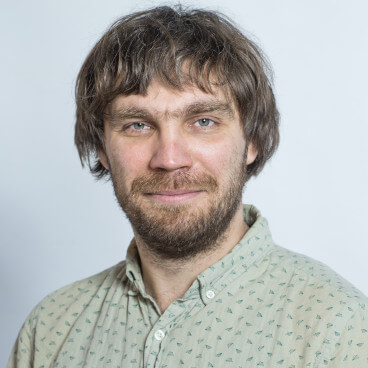 Egor Taldykin
A leading senior developer and software principal architect.
Our dedicated team is ready to rescue your project
Hiring and team-building of dedicated software developers can be a complicated task, a long and expensive process in all countries. That's why we take it upon ourselves allowing the client to focus on business development.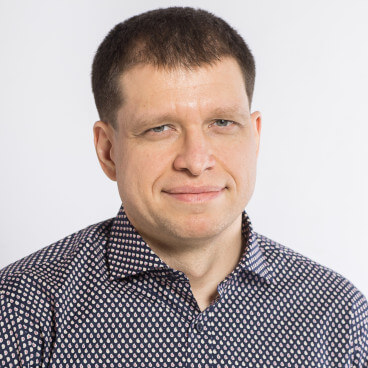 Andrew
Ryzhokhin
Chief Executive Officer