DevOps Services
to change your IT operations
All the work of our experts is based on the modern methodologies designed to deliver high-quality software faster. Our team applies IaaC and CI/CD approaches and ensures the delivery of stability, reliability, and cost-efficiency of DevOps Services.
Check devops service rates
Dealing with any of these concerns?
DevOps services bridge gaps between the core operating teams. Here are the painful issues that most of the companies face without devops expertise.
Weak imparting?
The lack of communication between development and operations teams causes slow software delivery and low quality.
Wrong agile approach?
The slow manual process of providing new IT infrastructure consumes much more of your budget and time.
Costly cloud services?
DevOps consulting will help you to optimize the set of tools and chose the most efficient for your custom software development.
Post-release errors?
All infrastructure modifications, software updates, and bug fixing will be planned and agreed upon in advance.
Complex migration?
We can help you to switch from your own servers into clouds and cut administration and management costs.
Slow test process?
Let's set a fast and efficient test process that will define all the issues before it is too late and visible for users.
Mixed tasks order?
DevOps services help to sort out the tasks for the setup of development, testing, and production environments.
Blurry perception?
Lack of acceptance on a holistic view of the entire value-chain for continuous software delivery.
Options we offer depending on the stage of your product
Our DevOps services and solutions aim to effectively plan and adopt new tools to produce high-quality software without involving much resources and efforts.
Startup phase
DevOps consulting & launch is our ready-made optimal solution for SaaS startups to develop an MVP
We communicate with you to understand the needs of the future product;

We offer you a ready-made assembly that is optimal for your product;

You get a backend ready for further development.
Growing product
DevOps project recovery for a legacy infrastructure after a quick-n-dirty or low quality development
We carry out an assesment and do a review;

We identify the weakest aspects;

We draw up a plan for improving and optimizing infrastructure;
Mature product
Plenty of difficult tasks and you are most likely missing a good devops in a dedicated team
Several CVs of our devops for your technologies to choose;

You personally interview every chosen expert;

We engage him in your core team, or as part of a dedicated team with other engineers.
Our DevOps consulting services
We work with startups, small-to-medium companies and big software products who need a dedicated DevOps team to perform cloud infrastructure optimization.
CI/CD Pipeline
We implement DevOps solutions using continuous integration and deployment approach. Our team securely write, test, and release high-quality code with a stack of tools like Jenkins, Bluemix, etc
Process Automation
Our deployment automation services enable you to deploy your software to testing and production environments with a single-click, seamless integration and clear visibility for continuous delivery.
Testing and Control
Ardas DevOps engineers can help you with configuring clusters and servers for improving security. All our devops experts are highly skilled in the monitoring of logs and the implementation of patches.
Cost Optimization
We create a DevOps Assessment roadmap by visualizing the desired state and identifying the traceable metrics. It will take less investments and provide clear picture of every step we do.
Pilot Framework Set
Our team identifies the best DevOps model and toolchain for your business needs and optimize your existing IT structure and resource usage to meet your goals faster and with fewer errors.
Process Offtake
We help develop and automate robust infrastructure to meet the growing and fast-changing business needs. Our clients enhance efficiency, and track performance using monitoring tools.
Tools set for DevOps consulting
We always select technologies that are optimal for the project, minimizing the price of services and the price of cloud services.
AWS
ELK
Gitlab CI
Maven
Jenkins
Docker
Vagrant
Kubernetes

NewRelic
Grafana
Kibana
Puppet
Terraform
Git Flow
MS Azure
SaltStack
Zabbix
Prometheus
Google Cloud
FAQ about DevOps services
Focused on the customer's business strategy, needs and success, the DevOps implementation service increases overall efficiency and agility.
We provide experienced DevOps for your projects
Using the best DevOps practices, cloud features and innovative tools to design, implement and manage cost-efficient cloud infrastructure along with continuous integration and automation of workflows, we ensure your success on the market.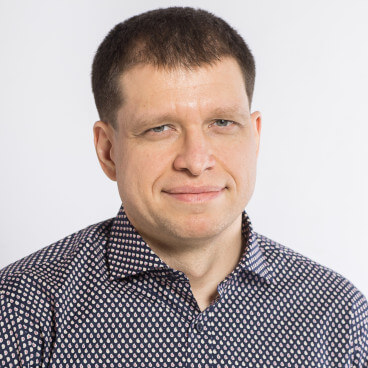 Andrew
Ryzhokhin
Chief Executive Officer