How to Use Data to Build a B2B SaaS Product Strategy
A well-thought-out, detailed product strategy is needed for the successful development of a business. Why is it so important to find a product that suits your market and how to do it? This article is for those who planned to develop a SaaS growth strategy, but still did not do it, and now have to finally tackle it, and for those whose strategy was not tightly connected with tactical movement and daily tasks and does not work well under the current conditions.
Without a strong and confident product management strategy, there is nothing to do. Any aspiring product manager should strive to develop the skills and abilities that will help them strategize as great and forward-thinking leaders. An important part of creating an effective product management strategy is the ability to plan well, prioritize ideas and tasks, and evaluate them.
Why a Product Strategy is Important
The need to formalize the strategy, as a rule, does not arise immediately, but as the company grows - as the product develops and the team expands.
While you are a small startup, everything is simple - you communicate every day, you are on the same wavelength, decisions are made together, there is an opportunity to discuss the most important of them together. But now you are already 20, 30, 40. And not everyone can answer the question of what you are doing and why, what is the company's goal, who are the key customers, which market are you targeting, and so on. Features begin to appear chaotically, marketing is less and less related to the product, sales are trying to sell everything to everyone. You feel that the teams and people within the teams are out of focus, everyone has their own vision, everyone is running in different directions. Your speed decreases and your team loses motivation.
So that this defocusing does not harm the company, especially in conditions of remote work and general overload, you need to strategize: you set goals and choose the direction in which everyone will move.
Criterias of Brilliant Product Strategy
This is the right time for a clear and flexible strategy. The definition of the strategy at the very beginning of the product life cycle is based on the "must-have" principle. A good strategy should meet the needs of your customers and help them respond to the internal needs of the company. If you do not have a clear strategy, then it is too early to think about prioritizing functions.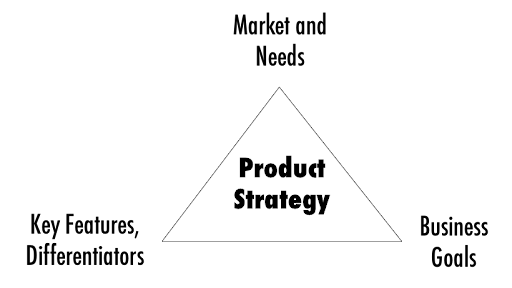 When product managers formulate their strategies, they define the key product characteristics and customer characteristics needed to be successful.
Any product strategy consists of 3 parts:
Product vision
Product vision includes information about market opportunities, target customers, product positioning, competitive analysis and market plan. Product success is ultimately achieved when the product reaches new users and delivers value to them.
Product goals
Goals should be measurable and relevant, clearly defined by specific metrics. They help product managers establish what they want to achieve in the next quarter or another time frame (increase revenues, expand presence in new countries, increase mobile adoption, etc.)
Metrics
Metrics allow you to measure progress and progress towards goals. Among the many available metrics, it is very important to choose the right one for your product.
Find Your Notrh Star Metric
"Metric of the North Star", are you serious? Yes, such a metric exists and it can really illuminate your path to happiness and wealth.It often happens that the company does not have a focus for further development and the initiatives taken are contrary to each other - all this moves away from the fulfillment of plans, achievement of goals or OKR.
The North Star metric (NSM) is the metric that best reflects the core value of a product for users. A well-chosen North Star metric can provide a company with stable and sustainable growth over the long term. In other words, NSM is a key success indicator for the product team.An NSM score should include three main dimensions:
profitability - the indicator shows how much the company earns;
value to users - the indicator reflects the main value of the product for customers;
measurable - an indicator is easily measurable.
Let's say your main indicator is "registered users": the more users registered in the service, the better. This indicator is easy to measure and shows how much the company is making. But in reality, this metric does not carry any value to customers. It does not show how often already registered users enter the service and whether they like your product. Such an indicator does not give an estimate of whether the release of a new feature, user onboarding, redesigned design, etc. was effective, despite the fact that it is measurable and reflects the profitability of the company.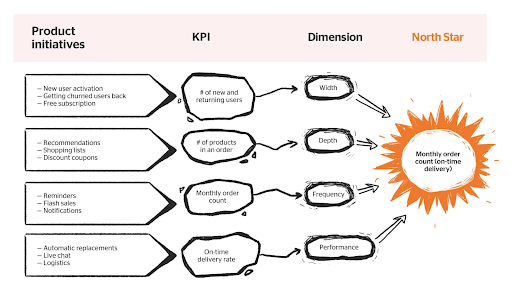 By focusing all your efforts on the growth of the correct NSM metric, you will be able to provide the company with revenue growth, you will understand what value users see in your product and correctly measure your actions. With such a metric, you can become a company that knows in advance what it needs to do to improve, and most importantly, how these improvements will affect further growth.
How to Set a B2B SaaS Product Strategy
If you are awakened in the middle of the night by a brilliant startup idea, wait until morning and do your research before inviting friends to the garage. It may sound complicated and boring, but it is necessary if you really want to be successful.
So, let's take a closer look at each stage of the formation of the company's product strategy.
Product Vision
A Product vision gives your team a bigger picture of what they are working on and why. A quality Product Vision statement should be:
Aspirational
Product visions give your teams a bigger picture of what they are working on and why. A product vision gives your team the reason why they should be working on this product at this time and for whom. Does it answers why come in early? Why stay late and work weekends? Why sweat the small details that create great products? Because you are all aspiring to achieve a well-crafted product which will change your customers' lifes in some way.
Guiderails
Unless you are Superman or Superwoman, you can't be with your team at every moment to guide each and every decision. As a product vision is internalized by the team, each person won't spit out a word for word synopsis of your product vision, but they will create their own version of it. In those moments when they must make a quick decision, a product vision will keep them from going "off the rails" and creating something that violates the product vision.
Actionable
While product visions contain lofty goals, there should also be a component or underlying message that the vision can be made real. The product vision is actionable.
Linked to Corporate Goals
At the start, we mention that product vision is similar to corporate vision but on smaller scale and at the product level. If you want your product to be successful in the outside market, you want your company to support your work as well. If your product vision has a coherent line of sight to support company goals, it's easier to sell your product up the chain.
Audience
If you study the stories behind today's most successful digital products, you will be surprised to find two things in common. First, all of them were originally created for a very narrow audience. Second, they all solved problems that were difficult to solve otherwise.
Grammarly, a popular grammar checker service, was created for non-native English students who needed proofreading services. The primitive spell checker with Microsoft Office doesn't count.
Airbnb got its start by offering air mattresses and breakfasts to people who came to town when all hotel rooms were booked. For example, during mass events or conferences.How to understand your target audience? Here are some tips to help you:
Find your ideal customer. It is desirable that you yourself or someone from your team be a typical representative of the target audience. Slack, the top team messenger, grew out of the internal product of a globally distributed engineering team: they needed effective communication. Even today, the Slack team is first testing its capabilities for themselves. And Amazon Web Services, a leading cloud service provider, emerged from the infrastructure that ran the Amazon online store.
Conduct an interview. There is no better way to clarify a problem statement than by interviewing ideal clients.
Create a portrait (avatar) of the target customer. It is very similar to a resume and contains a lot of personal data: age, gender, lifestyle, habits, work, income, and any other facts that can help you see the world through the eyes of your audience.
After you have identified the ideal customer - the one who is the first to use your product - you need to understand whether these people really exist and how many of them.
Find Aha Moments of Your Product
The Aha moment is what makes users come back again and again. When users know what the Aha moment of a product is, they are committed. They understand that your product has meaningful value for them and this, in turn, makes the entire selling process so much easier.
Usually, the Aha moment helps users solve a problem and that's why they love it. You save their time, effort, and perhaps, a lot of money too. Essentially, the Aha moment turns users into happy, paying customers.
Establish your KPIs
You need to know if your product strategy is successful. How to do it? It is good practice to prioritize those KPIs that are relevant to your product lifecycle stage.
So, when talking about innovative products and MVPs, you shouldn't expect an impressive ROI. First of all, you should consider such indicators as the cost of acquiring a customer, traffic and overall level of satisfaction.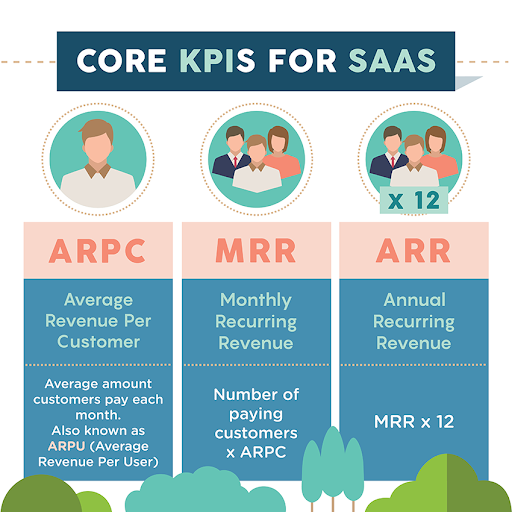 As you progress, you can focus on monetization metrics (ROI, bottom line, revenue growth rate, etc.). When your product reaches the stage of stagnation in profit, you can consider the share of regular customers and the number of repeat sales as the highest priority KPIs.
Choose Right Pricing Model
There are many options for monetization: direct sales, subscriptions, transaction fees, etc. Basically, the type of product you sell will help you choose the best model.
A much more difficult question is what price to set for a product - more precisely, how much customers are willing to pay for it at this stage.
The first option is to start with competitors and set a price based on the expectations of customers who are already using similar products. The key disadvantage here is that it will be much more difficult for you to maximize your profits.
An alternative approach is value-based pricing. This strategy works best in emerging markets where customers don't have specific expectations. The higher the perceived value, the higher the prices can be. This does not mean that you just have to raise them as much as possible. On the contrary, other strategies, such as temporary discounts, work better. This will allow your first customers to appreciate the value, after which you can raise the bar.
Mistakes That Can Ruin Your Strategy
​​If you ignore any of the above points, your strategy will be quite fragile. However, there are points that should definitely not be underestimated.
Ignoring Your Audience
There are many approaches to assessing market capacity. Here are the main ones that should ideally be combined:
Descending. You can use Google statistics and other publicly available sources of information, including competitor market research, government statistics, public reports, and wiki articles. Here you need to determine the overall purchasing power, then highlight your segment and narrow it down even further to the purchasing power of your ideal customers. Estimate how much money these consumers will bring you, given that some of them will partner with your competitors. Be as realistic as possible.
Ascending. A bottom-up approach starts with examining your existing customers. It is important to understand how much you can earn here and now. And only then estimate how many people may still be interested in a new product.
If your market is big enough, you are on the right track.
Lack of Developers Expertise
It's all about people. At the end of the day - your success depends on people. Over the 17 years of our company's life, we have gone through all the stages of working with people. We know the cost of poor hiring, we know the cost of choosing someone who is not the right fit for the project. As a service provider, we understand that a good team that works harmoniously will lead our clients to success. When looking for a person to join a company, we check not only his hard skills. This is definitely important. But it can be taught. But how much a person can work in a team, communicate, how flexible he is and how to work for a result - this is much more difficult to teach.
Here is an example. For the last four years we are working on one of our most successful cases - financial management SaaS tool for courier companies with API for integration, invoice export, status management, document reconciliation. This solution was invented by a customer from the transportation industry who faced many financial routines and difficulties while providing courier services to its clients. He came to us with a great understanding of market needs but with zero experience in building SaaS web-based software and mobile applications.
He tried to develop some of the foundation with the help of several developers he found on his own. But due to the lack of experience in the development of the SaaS product, he could not fully track the correctness of the actions of the developers. After some time, the team began to fall apart and we met the client at the moment when the last developer left the project.
We started with a team of 3 engineers with a good understanding of financial applications and logistics: a business analyst, a product designer, and a back-end architect. This team grew into 9 people in 4 months and became cross-functional and self-sufficient. A UI/UX designer, DevOps, QAs, and a few more developers joined in a while.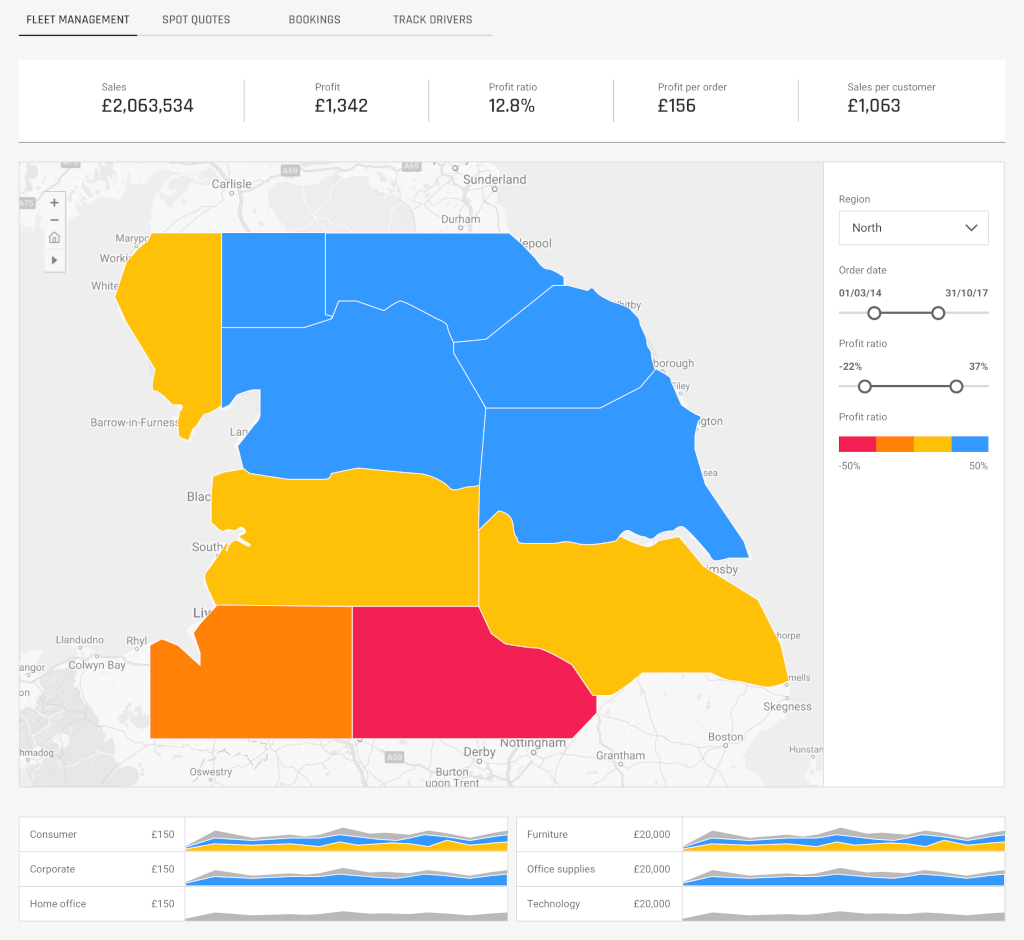 That was a rare case when the MVP fit the market properly and quickly satisfied the needs of its clients. A beautiful job, done by our analyst and product design together with the customer. This SaaS tool is growing and becomes more and more powerful providing more flexibility to its clients. Our project manager takes care of a long-term development plan and the team releases new features, fixes, and updated every 2 weeks.
However, the wrong team will not be able to deliver the expected result and will burn money. It is important to remember that the business owner wants to see the result, not the process.
Sum Up
Ultimately, the b2b saas product strategy shows who you are building for, what the long-term vision (North Star) is, why the product will benefit users and solve their pain points, and how building that product will help you achieve your goals.
That is, a SaaS product strategy framework turns a high-level vision into a detailed digital roadmap for implementation, visually communicating and describing how product management will help the company succeed. In addition, a successful product strategy helps the team prioritize the right initiatives and make the best use of time and resources.
We hope you find our strategy planning tips useful. However, we are happy to take this headache away from you and help you with the development of your business's future.