What Are Future TMS and SaaS Solutions in Logistics?
We use e-mail daily, post photos and videos online, and view other users' materials. It seems that it is impossible to do without such services. However, have we thought about what made them so popular and necessary for a person, regardless of his occupation? It turns out that we all love that the proposed systems work quickly, is reliable and cheap. The same qualities are inherent in cloud technologies designed to solve important problems in the field of B2B.
Behind the activities of logistics operators, "nothing is worth": they do not feed anyone, do not heal or warm anyone. Work's success depends solely on finding and retaining customers, providing them with the highest quality service. The situation is further complicated because many companies are used to storing and transporting goods on their own. To get a new client, it is often necessary to first convince him that it is beneficial for him to delegate these business processes to a third-party company.
In such conditions, you constantly have to think about how to improve your work to attract and retain customers. Is it possible to provide this with minimal infrastructure and maintenance costs? And is it possible, with a minimum of effort, to simply solve complex business process management problems? Cloud technologies answer this question in the affirmative.
Why do you need automation of transportation logistics at the enterprise?
Automation of transport logistics allows a cargo transportation company to be competitive and provide quality services by implementing a software and hardware complex. Any automation presupposes the introduction of TMS at the enterprise - a transport management system, the task of which is to ensure effective planning of routes for the movement of vehicles, optimal distribution of the load between all transport units, to carry out a plan-fact analysis of the company's freight traffic, and so on. Using TMS allows you to track the cargo delivery process 24/7.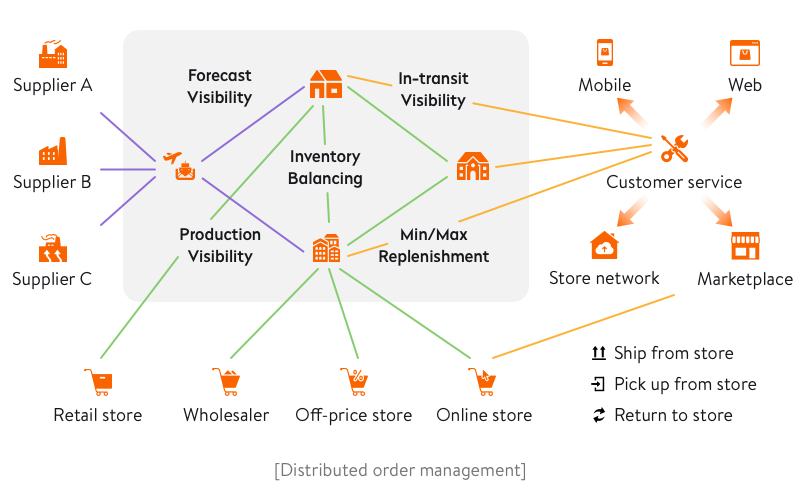 In addition, with its help, you can find out if the cargo is being transported in full, whether the driver deviates from the route, and whether he adheres to the transportation schedule. Another important factor is that TMS can automate the calculation processes necessary for cargo transportation: optimal cargo losses, control of residues, calculation of the gasoline consumption rate, the optimal number of stops along the way, and much more.
Types of transport management software
Typically, a TMS can include modules such as a warehouse management system (WMS), an enterprise resource planning (ERP) system, a supply chain management system (SCM), and others. All TMS can be roughly divided into two categories: installation and cloud. TMS installation solutions require the purchase (lease) of server hardware, a license, and integration of the TMS with enterprise workflows. Cloud solutions assume that all work takes place in the company's cloud, which grants the right to use it monthly. Access to it is provided remotely to be carried out anywhere worldwide. The cloud contains virtually unlimited storage space, the amount of which is determined by the current business needs and workloads.
In addition, any cloud is more reliably protected from technical failures, virus attacks, and attempts to seize information by regulatory authorities. Thanks to cloud storage, it becomes possible: instant exchange of large amounts of data between geographically distributed offices; integration of cloud storage with numerous services; access to powerful computing resources for processing, structuring, and systematizing large amounts of fragmented information.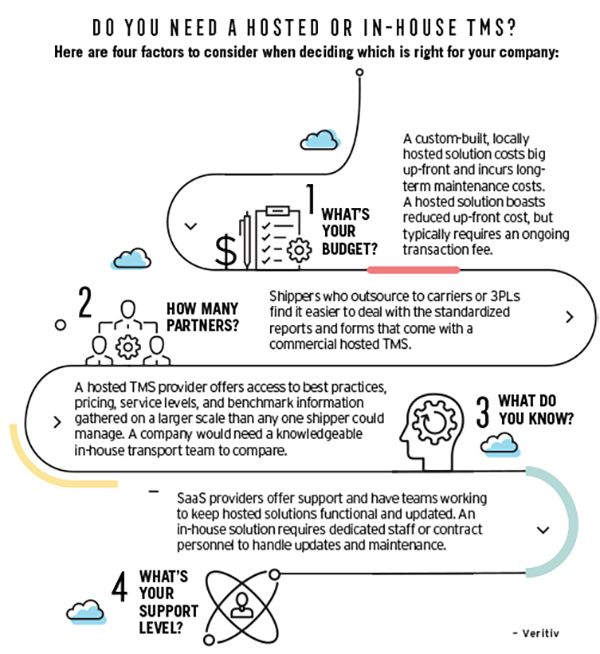 The main tasks that online services solve are to reduce direct costs in forming non-optimal routes and organize a logistician's workplace with the ability to control his work. The main consumers of such products are companies (distributors, freight forwarding companies, agricultural producers, express delivery companies, etc.) that are somehow connected with the transportation of goods along complex, variable routes with a large number of delivery points and a large number of restrictions on delivery (volume, weight, duration of the working day, operating hours of delivery points, etc.).
Challenges of implementing cloud-based transportation management solutions
Logistics SaaS development provides organizations with a pool of detailed and valuable information that, when effectively applied to all stages of transportation, can lead to powerful business intelligence and increase financial and operational efficiency. A lot of companies seem to understand this. When asked how important carrier performance reports are to an organization, three-quarters would say it is "important" or "extremely important", even though many companies cannot even provide such reports.
Why are companies so slow to implement transportation management programs given the high level of understanding of their value? The biggest obstacle for the majority is the lack of technical resources and capabilities to maintain the system properly.
In addition, supply chain issues tend to be low on the list of priorities in the optimization queue. Companies often assume that implementing a transport logistics management system is extremely costly and labor-intensive. Today, however, this is an unfounded concern. The cloudiness of transport logistics management systems greatly facilitated the process of implementation and support.
Availability and the factor of distrust the automation in the transportation industry
Probably the most important thing about cloud technologies is their accessibility. Already, a significant part of companies in the US and the European Union are "sitting in the clouds." And according to forecasts, by 2030, they will be used by approximately 45% of enterprises worldwide.
However, one should not assume that the path of advancement is so simple. Not so long ago, we surveyed Polish companies. The results obtained allowed us to see that about 40% of entrepreneurs are afraid to use cloud technologies in their commercial activities because they are afraid of possible problems or simply do not understand what it is. 36% of respondents said they were afraid for the security of their data.
Functions of transportation management system in logistics
The cloud-based supply chain solutions that are on the market today enable companies to:
Build a reliable information base and automate data flow.
Provide transparency and continuous monitoring of shipment and order status.
Eliminate passive time in the warehouse.
Facilitate communication between carriers and suppliers.
Store information about customer addresses, locations, opening hours, time, restrictions, and contacts.
Use a wide range of different online reports on orders, customers, and expenses for the logistician to see additional opportunities for savings.
Cloud-based transport management systems provide companies with a stronger economic case for implementation. This is a quick payback, and minimal investment and a price that is much lower than the savings brought about.
The introduction of a transport logistics management system after two weeks of use will positively impact the main processes of your supply chain.
Performance indicators of the selected TMS cloud service
The main indicator is a decrease in the cost of export in terms of t / km due to:
reducing the number of used cars;
reducing the length of routes.
Secondary indicators - reduction of route planning time, reduction of the influence of the human factor in the formation of routes.
Necessary settings for the correct operation of the logistics SaaS
The first is the correct geolocation of delivery points. Without this, any service will be simply useless. Especially in big cities, an error in the delivery point, even 100 m, can bring an error in calculating the route of several km (different sides of the avenue or highway). At this stage, to check the location, we advise you to involve direct contractors (drivers or forwarders) who know exactly where this delivery point is. If this is not possible, then we check by addresses (this is where various service options for conveniently finding points on the map will help).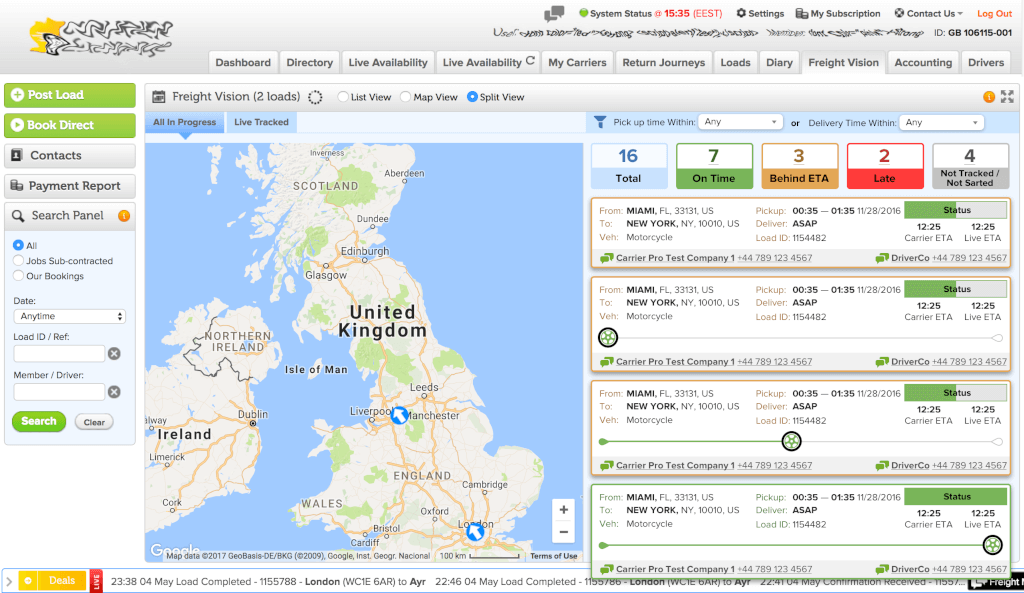 The second is to make high-quality input of all the necessary background information that affects the calculation of the route (operating mode of delivery points, the average time of unloading at the point of delivery, car capacity, the average speed of a car, length of a working day, etc.). It may sound like a mantra, but the most important thing is quality work with limitations, and not only at the beginning. This work should NEVER stop.
Two cloud options for SaaS logistics software
At the moment it is possible to choose between stationary (client-server architecture) solutions and cloud solutions. The undoubted advantage of the latter is their availability. Warehouse automation (WMS), territory management (YMS), transport management (TMS), and production planning (APS) or production management (MES) in a stationary version will be an order of magnitude more expensive since, in the first place, they will require client-side for equipment for organizing and maintaining a database server.
Our cloud solutions can be divided into two main technology categories: SaaS and Dedicated Cloud. I'll tell you about them in a nutshell, because each client needs to make an informed choice.
On the one hand, an IT company can offer a personalized cloud, a solution tailored specifically for your company. This is exactly the case when our specialists rely on fifteen years of experience on two continents. The processes in the system must be well developed so that they can be effectively used in the management of the warehouse, transport, and production. Practice shows that the system in the SaaS version is often suitable for most of our clients with medium-complex logistics processes.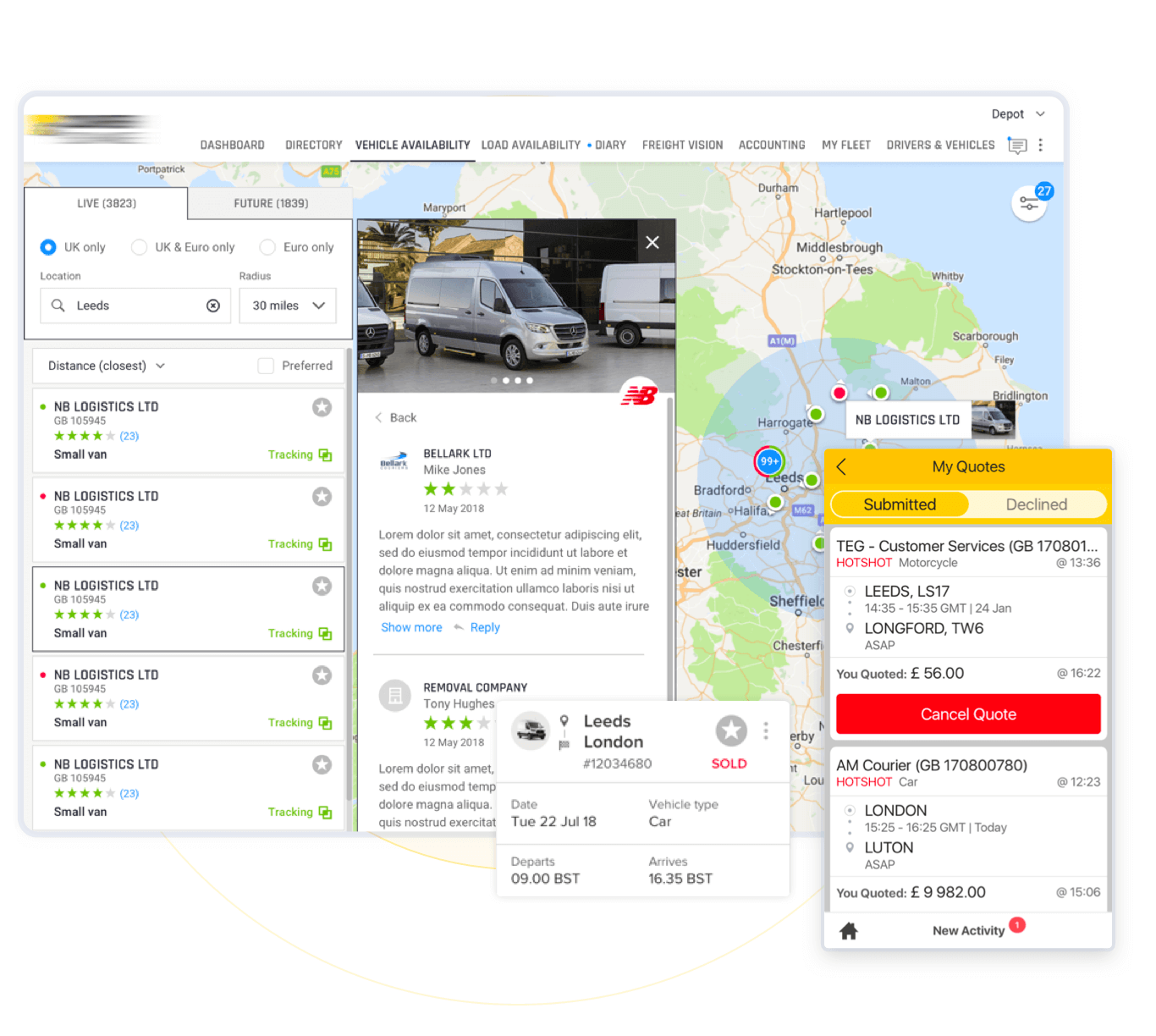 But how does SaaS differ from Dedicated Cloud? First of all, in SaaS there is no possibility of modification according to the individual requirements of the client, you get a solution in the "as is" format, and in the Dedicated Cloud, you can create an infinite number of such modifications. In the latter case, the user receives a "personal cloud", in which the developers must take into account even the smallest peculiarities of his company. That is, Dedicated Cloud is first designed for the client, and only then created. SaaS is a turnkey one-stop solution.In addition, small companies can use a simplified version of "clouds" to try how such systems will work, whether they will be effective. Such an acquisition requires minimal costs. A full SaaS is more expensive, although it is also considered an inexpensive solution compared to a custom Dedicated Cloud.
Their implementation rate is also different. As a rule, employees of companies that have bought SaaS "clouds" can use a small package of training materials to be fully functional in a few weeks. Dedicated Cloud does not take much longer, although it all depends on the complexity and depth of the processes. It should also be remembered that SaaS assumes the presence of standard functionality, and in Dedicated Cloud, we are again faced with individual development for the client.
Final thoughts on capabilities of a transport management system
Last year's realities required the logistics industry to be flexible and to adapt quickly to new rapidly changing conditions. Cloud-based logistics software avoids the cost of purchasing powerful server equipment, the maintenance of a staff programmer, the presence of its own technical support department, the purchase of expensive licensed software, the cost of electricity, and the security of server rooms. All you need is a PC, tablet, or smartphone with Wi-Fi or mobile internet access, as well as a web browser.
Summing up, we can say that cloud logistics automation is beneficial to all participants in the supply chain, it allows you to easily solve complex problems, so its popularity will only grow every year. As a logistics software development partner, we solve many standard and custom needs of the transportation industry. After many years spent in the logistics domain, our dedicated development team learned many specific things and gained the experience that can be used now to effectively help you with any logistics software you need develop.