9 Reasons Tech Companies are Outsourcing to Eastern Europe
The question of insourcing, outstaffing, and outsourcing have long been in business. Each strategy has its pros and cons. Why do companies choose to outsource IT development, and what strategy do the most successful ones use?
IT outsourcing is now a giant market valued at $572.88 billion—and is expected to hit $1.06 trillion by 2030.A big chunk of that goes to Asia, arguably the top outsourcing region. After all, it's home to India and the Philippines, two countries that owe a significant portion of their GDP to outsourcing.
But for most Western clients, Eastern Europe could be a better choice. It offers the advantage of outsourcing without most of the complications of offshoring. Let's discuss the benefits you'll get with an Eastern European agency.
Outsourcing transformation
But outsourcing as a business model does not stand still; it is being transformed under market pressure along with other models. What options do we have for transformation? First, it is important to understand that there are intermediate hybrid models on the way between "outsourcer" and "product company". Secondly, we can look at the experience of companies in the developed economies of Western Europe, where custom development also takes place - engineering service companies operate successfully in Germany, Denmark, and Finland, which earn by no means on price advantages. And on what?
Let's look at what business models they use:
Your product + add. development services. If a company, for example, sells its own processor modules, its economy is formed by products, but at the same time it generates additional profit by hiring engineers on custom developments for its customers.
Service company + add. platforms / solutions. When a company's economy is formed by custom development or engineering services, it cannot secure high margins in advanced economies due to the high cost of engineers' labor time. In this case, it is beneficial for the company to provide an additional stream of profit by upselling its own ready-made solutions and platforms to solve the problems of its customers in specific industries.
Service company + outsourcing. Companies in Western Europe that are engaged in custom development or engineering services allow their clients to quickly connect the right engineers to the project without hiring them on the staff. The customer thus relieves himself of the task of hiring narrow specialists and the burden of social payments on full-time employees. At the same time, the service company transfers part of the tasks for outsourcing to Eastern Europe - this is how they reduce costs.
Why to Outsource?
A Deloitte study found that the most common reasons for outsourcing programmers include:
cost reduction;
more focus on core business;
resolving performance issues;
quality improvement;
access to the talent pool;
other business needs.
In recent years, the demand for outsourcing services has increased due to quarantine. But the most successful foreign firms have used this method since before the lockdown.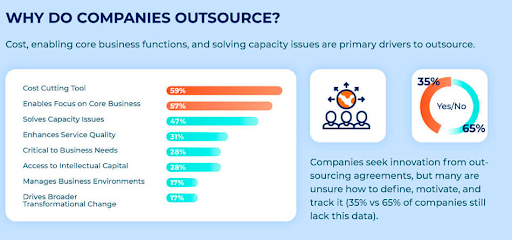 The organizations listed below have focused on the core activities within the company, transferring some of the powers to outsourcing. This helped them become more efficient, grow faster and save even more efficiently.
Access to a pool of talents and skills
Google is one of the largest technology companies that use the services of programmers for administration and IT development.
As it grew, it outsourced much of the support and even the entire development of products like AdWords. So the company was able to provide support to its customers not only by e-mail but also by the hotline. Outsourced specialists are fully integrated and no different from the internal Google team.
Reasons for outsourcing: access to a pool of talents and skills, solving performance problems, improving quality, and reducing costs.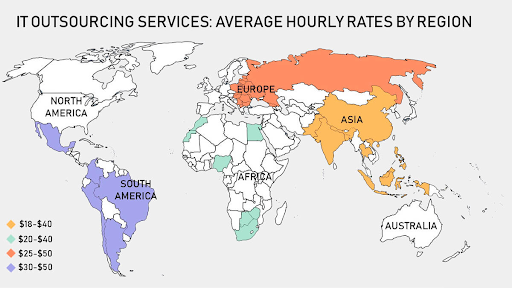 Lessons to Learn: By understanding which work can be outsourced and which should stay in-house, Google was able to make better use of its budget.
Quality improvement
Alibaba is based in China, so its outsourcing problems are somewhat different.
Usually, when companies choose to outsource, the first reason for doing so is to reduce costs. Therefore, they transfer tasks to China, India or the CIS. But since Alibaba itself is from the "cheap" region, the paradigm is changing.
Alibaba understood that while they could keep their manufacturing and resource costs low, the skills needed to grow were not available in their region. They needed top brains. Alibaba looked for IT professionals with the necessary skills and found them in the US. Thanks to frontend outsourcing and outsourcing of Java programmers in the US, the site was able to cope with growing loads and began to grow faster than its competitors.
The reasons for outsourcing are access to a pool of talents and skills, quality improvement, and more attention to the core business.
Lessons to learn: Understand your requirements. Knowing what skills were lacking in their region, Alibaba was quickly able to find resources elsewhere to complete the necessary tasks.
Cost reduction
WhatsApp's main hub was in California. It was quite expensive to maintain a company in this state. They knew they needed to cut costs to continue growing. Ukraine was the solution. Due to outsourcing to companies in Kiev and Lviv, they received the necessary resources for development and paid an order of magnitude less than they would have to spend in the United States.
Reasons for outsourcing: cost reduction, more focus on core business.
Lessons to Learn: The WhatsApp team understood that geographic location could hinder development. They determined what they needed to reduce their costs and found a place to get the maximum profit for the minimum cost.
More emphasis on the core business
Basecamp is very successful. But they've found that as more companies start using their tools (they now have 16 million users!), the company's problems with speed and customer support are mounting.
To solve the problem, Basecamp outsourced some of the core functions so that their teams could focus on organizing internal processes. Using remote developers, Basecamp could continue to improve and develop their project.
Reason for outsourcing: more emphasis on the core business.
Lessons to Learn: By delegating the work to others, Basecamp could better focus on running its own organization.
Fixing performance issues
For Skype to continue developing software, it had to look for cheaper specialists.
A company from Estonia was chosen as a contractor. Over time, as the developers demonstrated success, Skype brought them in as partners. As a result, in 2011, they, together with Skype, were bought by Microsoft for $8.5 billion.

Reasons for outsourcing: cost reduction, performance issues, access to a pool of talent and skills.
Lessons to Learn: Skype demonstrates what WhatsApp does: Skills are the most important requirement, not the current geographic location.
Business processes improvement
To make sure the project was a success, Slack brought in an external design firm for beta testing. Based on feedback from the contracting company, Slack made a decision on what needed to be finalized or changed to improve the project.
Reasons for outsourcing: business processes improvement.
Lessons to Learn: By using a trusted third party, Slack was able to gain valuable insight into what wasn't working and how it could be improved from the customer's point of view.
Budget control
GitHub wasn't exactly suited for reposting small snippets of code, and the Gist project was born for that purpose. The founders of GitHub needed more funds to implement the project on their own, so they decided to hire an external developer.
Reasons for outsourcing: solving performance problems, budget control, focusing more on the core business.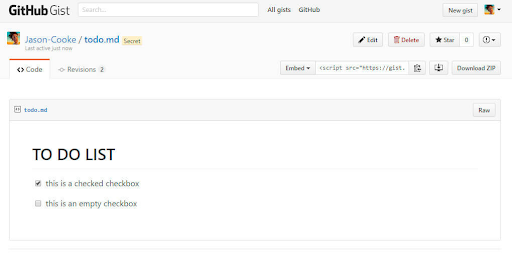 Lessons to be learned: You need to understand what to focus on within the company and what can be done through external resources.
Gaining needed expertise
The Swedish company MySQL initially decided to grow the business by selling its products under the General Public License (GNU). The company's success was based on the fact that they outsourced all IT development from the very beginning.
At its peak, the company employed 400 professionals from 25 countries. About 70% are outsourced programmers working from home offices.
By hiring more profitable remote IT professionals, designers, managers, marketers and other staff, the company grew rapidly and was bought by Sun Microsystems for $1 billion in 2008. Today, MySQL is used by millions of organizations around the world.
Reasons for outsourcing: cost reduction.
Lessons to Learn: MySQL knew and understood that in order to compete, they needed to be different from their competitors. They use outsourcing to keep costs very low.
Reorganizing production volumes
Apple designs great products, but it doesn't make them alone. It uses contractors and depends on multiple partners in the US, Asia, and East Asia. By outsourcing its manufacturing, Apple can focus on developing and designing new products. This is also beneficial for contracting companies: they know that if they can offer the proper quality, Apple will provide them with orders for many more years.
Reasons for outsourcing: cost reduction, greater emphasis on key aspects of the business, and solving problems with production volumes.
Lessons to Learn: Apple has recognized that it cannot satisfy all of the market demands independently. Outsourcing helps her easily scale production and saves the company from unnecessary risks.
How XaaS models are changing the future of outsourcing
By May, 2019 opposition of traditional IT outsourcing and uncontrollable growth of cloud models "all-as-a-service" (anything-as-a-service, XaaS) was designated. The scalability, control, and virtually unlimited flexibility of XaaS are attracting more and more customers, undermining the foundations of conventional outsourcing. But experts are confident that both approaches can coexist peacefully.
XaaS has brought about a paradigm shift in IT operations and infrastructure management. The need for IT outsourcing teams in its current form is certainly decreasing, but this means that specialists will no longer have to perform unimportant tasks. Freed up time, they can help organizations at a higher level - to innovate and use the experience of other enterprises from different areas, reports the publication ComputerWeekly.
Best Countries for Outsourcing Software Development
The maturity of the industry corresponds to the maturity of the state and society. Therefore, it is logical that at this stage we are outsourcing, like our neighbors in Ukraine tech sector, Bulgaria, Moldova, etc. Even Poland, the Czech Republic, Lithuania and Romania are still on the list of countries for IT outsourcing, although the situation there is gradually changing. And in countries like Denmark and Germany, the structure of business models and companies is completely different. This state of affairs is determined by the cost of labor, the economic development index and other parameters, so do not think that we are still outsourcing because one of our engineers was unfairly underestimated.
Over time, we will come to a different balance in the IT industry: as the industry develops and the economic level grows, there will be more and more product and engineering companies as opposed to outsourcing.
Why are there many food companies in Germany? Because there are not only startups, but also investors. Why are only a few strong startups born in our country, and hundreds in European countries? It just seems that there are funds everywhere and there are cool engineers everywhere. Therefore, engineering teams that make their own product or launch a corporate spin-off prefer to use foreign funding and innovation support institutions, they move to the EU to be closer to developed business ecosystems and achieve their goals faster.
We hope we've enticed you to consider Eastern Europe your next outsourcing destination.
But the question remains—which specific country there should you pick? True, there are many great candidates like Romania and Poland. But what many people overlook is Ukraine.
This is a shame because it's a beautiful country with some of the most talented software developers in the world. And if you are convinced, don't hesitate to contact us at Ardas, and we'll tap into our pool of more than 250 IT professionals ready to help you turn your ideas into reality!
Outsourcing and Outstaffing with Ardas
These benefits demonstrate why companies look for SaaS development outsource. We live in an age dominated by software, and businesses must produce quality products to secure a foothold in a crowded marketplace.
Trusting an external team with the ideal skill set to create a product of high value to users has real potential to pay off. It's easier than ever to find third-party specialists willing to work on a project-by-project basis — and every company should take advantage sooner rather than later.
If you are looking for a reliable company with custom software development services in Eastern Europe, it's best to choose the one with access to tech talent, an excellent business reputation, and a strong portfolio.