Logistics Management Systems To Optimize Your Business
How to Develop a Logistics Management System? Since digital technology is transforming different sectors connected to logistics, like retail, the likelihood of digital disruption consuming logistics increases. For example, with the rise of e-commerce, digital entrants for last-mile delivery have also been triggered.
The logistics industry is characterized by significant inefficiencies, including the fact that half of the trucks return empty on their return journey; digital transformation can be used to reduce energy consumption and improve efficiency.
According to World Economic Forum analytics, digital transformation will add $1.5 trillion in value to players and $2.4 trillion in societal benefits by 2025. In short, logistics industry stakeholders need to prioritize initiatives for digital transformation.
To achieve digital transformation, the logistics sector stakeholders can work on developing a logistics management system.
Although there are several ready-made solutions available in the market, customizing a logistics management solution that will match your requirements can help you reach your target audience while helping you to manage the supply chain tech trends, and elevate customer experience, deliver value more effectively.
Before moving on and understanding how to develop the logistics management solution, let's begin with the basics!
What Is a Logistics Management System?
Logistics involves the flow of things from their point of origin to the point of consumption, usually general customers or businesses. The selection of vendors, transportation means, routes, and delivery methods constitute an essential part of logistical operations.
Logistics management is a part of the supply chain that uses planning and implementation to store and deliver goods and services to the customer. It coordinates several critical supply chain activities ranging from product development to commercialization.
Typically a logistics management system includes the following:
Inbound and outbound transportation management;
Warehouse management;
Fleet management;
Processing orders;
Inventory control;
Managing third-party logistics service providers;
Planning supply and demand.
If you want to learn about SaaS TMS features, we made a whole article on that.
Why Do You Need A Logistics Management Solution?
Logistics management constitutes several functions, such as production planning, sourcing, procurement, packaging, and dispatching. It also involves finding a suitable means to deliver goods and services to the end user. Inbound and outbound traffic is vital in logistics management.
Inbound logistics is a linear flow of raw materials from suppliers into a warehouse and then a production unit.
Shifting the products from the warehouse inventory into the hands of the customers falls under outbound logistics.
An example of inbound and outbound logistics at play is that of a manufacturer of electronic goods, which requires several raw materials in the form of components, nuts, bolts, cables, casting, packaging cartons, etc., to build products.
Main Modules of Logistics Management System
The main modules that an LMS should possess to achieve effective leverage in the supply chain are as follows: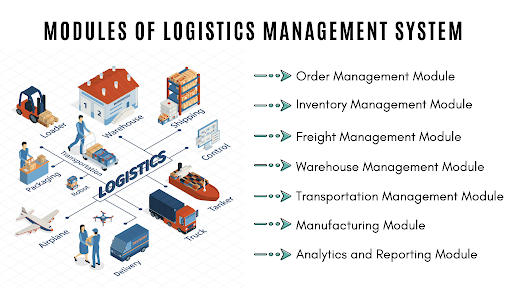 Order Management Module
The order management module includes seamless implementation of order data gathered from different systems like fulfillment, inventory database, and vendor database.
Each order lifecycle stage should be clearly visible to consumers while ensuring that delivery is not lost, damaged or delayed during the process. The OMM can allow customers, customer support representatives, and managers to track orders in real-time from anywhere.
It should be integrated with the Logistics Management System tightly to:
Create better routing plans;
Synchronize process of delivery with customer's expectations;
Easily handle the sudden change in demands of transportation according to the order type or category;
Include data about the delivery of the product.
Inventory Management Module
The inventory management module deals with controlling and documenting the number of products available for sale. Automating spreadsheets into IMM will help businesses gain clarity while centralizing data. Reports will be provided on changes to the inventory and maintain replenishment balance while setting automatic reordering for all products while reducing the possibility of ordering excess goods that surpass the customers' demands.
Freight Management Module
Inefficient freight management can lead to huge losses. While manual freight management has become outdated, it becomes essential for the logistics management system to have a freight management module that can:
Forecast freight charges to help in financial planning and cost estimation from region to region and order to order types;
Permit self-invoicing;
Manage invoice disputes.
Warehouse Management Module
The warehouse management module in the logistics management system will include tools to streamline the processes involved in managing products from storage to shipment and delivery. This module will help maximize the use of storage, improve the flow of goods, and manage inventory placement.
Transportation Management Module
The transportation management module is the backbone of the logistics that makes the supply chain efficient. This module should possess features like route consolidation and optimization, multi-modal transportation, fleet and freight tracking, performance monitoring, and seamless data flow across logistics and carrier management.
Manufacturing Module
The manufacturing module of the LMS can assist in maintaining warehouse stock reserves, ensuring on-time shipment and delivery of the goods, and reducing costs and risks while maximizing the return on investment/assets.
Analytics and Reporting Module
Digitizing possesses vast volumes of data. Data can be refined into actionable insights using the analytics and reporting module, allowing managers to make better decisions leading to greater productivity.
The analytics and reporting module should have features like business intelligence, identify the dead weights in the business, and increase the organization's efficiency.
How To Integrate Logistics Management Solutions
As we mentioned before, you can digitize logistics functions in two ways: by using LMS independently and by integrating it with a 3PL. These methods require different integration approaches.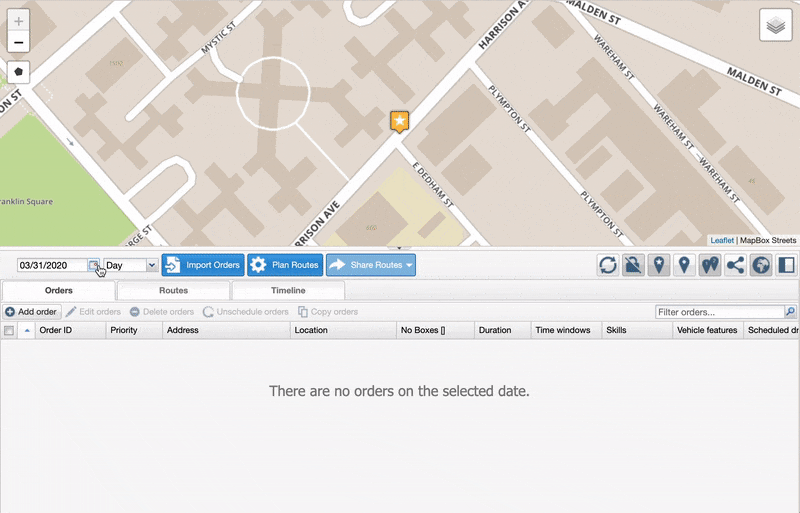 Integrating LMS
Using any module from the family of logistics management systems requires some basic connectivity with a company's Enterprise Resource Planning (ERP). ERP integrates processes essential to running a business: inventory, order fulfillment, accounting, human resources, customer and supplier relationship management, etc. It has a shared database allowing for synchronized reporting and automating various back-office functions, so smooth integration would allow any warehouse and transportation management functions to fit right in.
You can choose one of the following opportunities to utilize LMS in-house:
Using LMS from your ERP provider. Check whether your ERP provider has software functionality for logistics.
Providers such as SAP have a big ecosystem of APIs, extensions, and open integrations to expand your ERP seamlessly.
Using IT resources
In most cases, you will have to use systems from different providers, so integration should be hard coded. In this instance, ensure your IT staff can take the load or outsource integration to external resources.
Building your own LMS. If you have the time, budget, and use case for designing and engineering your very own logistics software, create a custom LMS and hardwire it into your ERP.
Integrating with 3PLs
Third-party logistics companies are used when a business wants to outsource all or some of its distribution and fulfillment functions. For them to have access and the ability to manage and change your inventory, you have to take care of data exchange technology and provide connectivity.
Before integration, any time a client wanted any kind of information, they reached out to the accountant manager, who reached out to so-and-so until they found the answer, and it went back through the players. Now, integrated systems empower direct interaction with the clients – all of the shipping info throughout the product life cycle is visible to them. Matt York proves this point: "Within the ERP, the 3PL can be configured as another plant connected to your local sales organization. This allows you visibility and control of your stock at the 3PL."
So, how to approach 3PL integration? Based on the experts opinion, we single out three integration methods.
Integration through Electronic Data Interchange (EDI)
EDI is a form of structured documents exchange between business partners. Formats of EDI documents called EDI standards, specify what information goes where within an EDI document. Read our article about EDI implementation for more information. when explaining different connectivity methods in transportation. Common EDI standards used in the 3PL industry are ANSI X12 and EDIFACT.
EDI communication methods – how data from one system is transferred to another system – are a key aspect of integration. Among the most common communication methods are:
Point-to-Point EDI – individual connections;
EDI Network – value-added services;
Internet communications protocols – FTP/VPN, SFTP, FTPS, AS2;
Web EDI – via a standard Internet browser;
EDI Outsourcing – using an external specialist to manage the EDI environment.
Integration through Application Programming Interface (API) suite. API-based integration connects two systems by interpreting and translating data between two systems via their APIs. FedEx Supply Chain, a major 3PL provider in the US and Canada, chooses APIs for compatibility with eCommerce systems. They are open for integration suggestions and allow customers to develop their own APIs to connect to their system.
API has various advantages over EDI. However, because API is less common, it usually takes more time to complete the integration. Most of the time API needs custom development, so there is always some rework, while EDI is a standard defined by ANSI.
A vice president at Red Stag Fulfillment 3PL company Jake Rheude confirms that APIs usually require some customization. Meanwhile, Jake also highlights APIs' necessity "for ensuring that inventory data is the same whether it's in a client's Shopify-based website, the warehouse where products are stored, or in the delivery van on the way to a customer's house for delivery." At Red Stag, they connect their WMS with the backend of various online channels via API ensuring omnichannel presence (Amazon, client's website, social media, etc.).
Integration through non-EDI format files. Unlike direct connection, file-based integration allows data to be passed between different databases or operating systems in a file (XML, JSON, flat file, CSV, etc.).
In some cases, file-based integration makes the most sense for the business. For example, legacy software often doesn't have available APIs for integration. Tom Craig adds, "The shipper and 3PL may work together, but [it won't be] true integration. As that would require elevating the relationship beyond buyer-seller and bringing the 3PL in-house." He identifies this kind of partnership as "an arms-length relationship."
Logistics Management System Development [Ardas Expirience]
Our company has been developing software for logistics companies since 2007 and we continue to support some projects to this day.
The busiest courier SaaS platform example for the logistics industry
Trusted by over 7,000 businesses since 2000. Processing over 170,000 loads per month. Handling and managing more than 50,000 available vehicles of its clients. Making over £190M worth of contracts per year. It serves the full flow from posting the load to its final delivery helping transportation companies and individuals to do their work with ease.
This courier SaaS product was created in the early 2000s and after successfully passing the post-MVP phase and getting good traction, they had to grow an IT department which was difficult and expensive in the UK. We met them at the beginning of active growth, all their software required refactoring and modernization. We developed a transformation plan and run a small pilot project to show how we can help and solve the problems they had. That was the beginning of long and profitable cooperation.
Courier management software development
We started with a dedicated team of 6 IT engineers in 2007 and today it is a large IT department that consists of 34 engineers including front and back ends development, database, and big data engineering, data science, server infrastructure management, QA, task management, and business analysis. The whole team works closely with a core business team in the UK showing an example of effective and long-term collaboration between business and offshore development teams.
The whole set of fleet and load tracking features were implemented for couriers and customers. The platform tracks all vehicles and loads and visualizes them on the map using 15+ TMS providers or GPS in smartphones.
The map shows current loads with destinations and available transport with movement direction.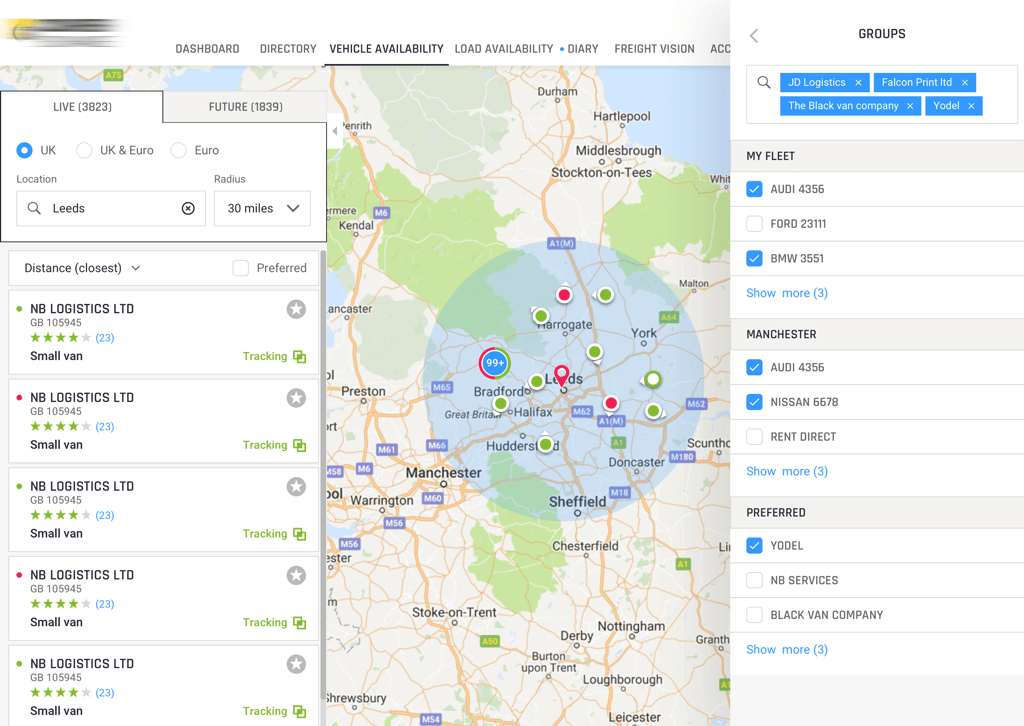 Delivery ETAs, delays, fleet and load statuses, route history are displayed and updated on the fly.
All map visualization and geocoding were initially done with Google Maps and now changed to Here WeGo.
Courier companies can add their drivers and vehicles. A simplified UI was done for individual drivers with only one car. The courier manager can post jobs to subcontract a driver.
Fleet real-time management is done with a web or mobile app and telematics integration systems.
Couriers can filter loads by many parameters such as vehicle type, region/area, etc., expose their availability, look for the closest loads, apply for a job by sending a quote, communicate with customers using an external communication tool.
The back-end we built is capable to handle and process:
5,000 members in the EU who brought over 50,000 vehicles;
230,000 loads per month;
Tons of real-time tracking requests from all fleet we have in the system;
Hundreds of thousands of internal messages, emails, and SMS alerts sent between customers and companies;
7 white label partners working simultaneously;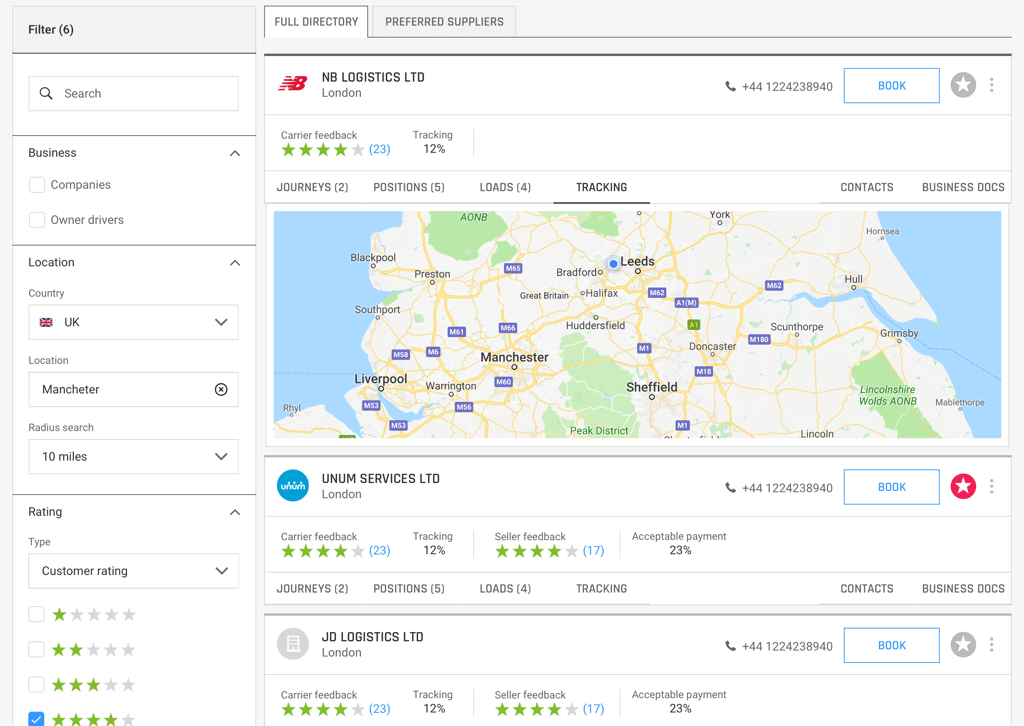 Today we are proud to be a part of the highly technical and very successful SaaS solution. Building long-lasting relations is never easy, we have been accurate with all the details through the years.
Even today we are striving to improve our integration in the business optimizing our costs and processes. And yes, we would be glad to share our expertise in setting up long-lasting relations for any other SaaS tool that is about to take over the world.
It helps users to find new partners and agents, documents and feedback exchange, rates posting, chatting, etc. It's a professional network for courier and logistics workers. Implemented as a B2B SaaS tool it connects service providers and customers in the transportation industry closing their communication needs and helping to optimize processes.
This project was a continuation of our other brainchild. Our customers with a huge experience in the transportation domain found a serious gap in the industry - a lack of a communication tool for courier service providers and their customers. A lot of inefficient business communication is happening between professionals and freight customers.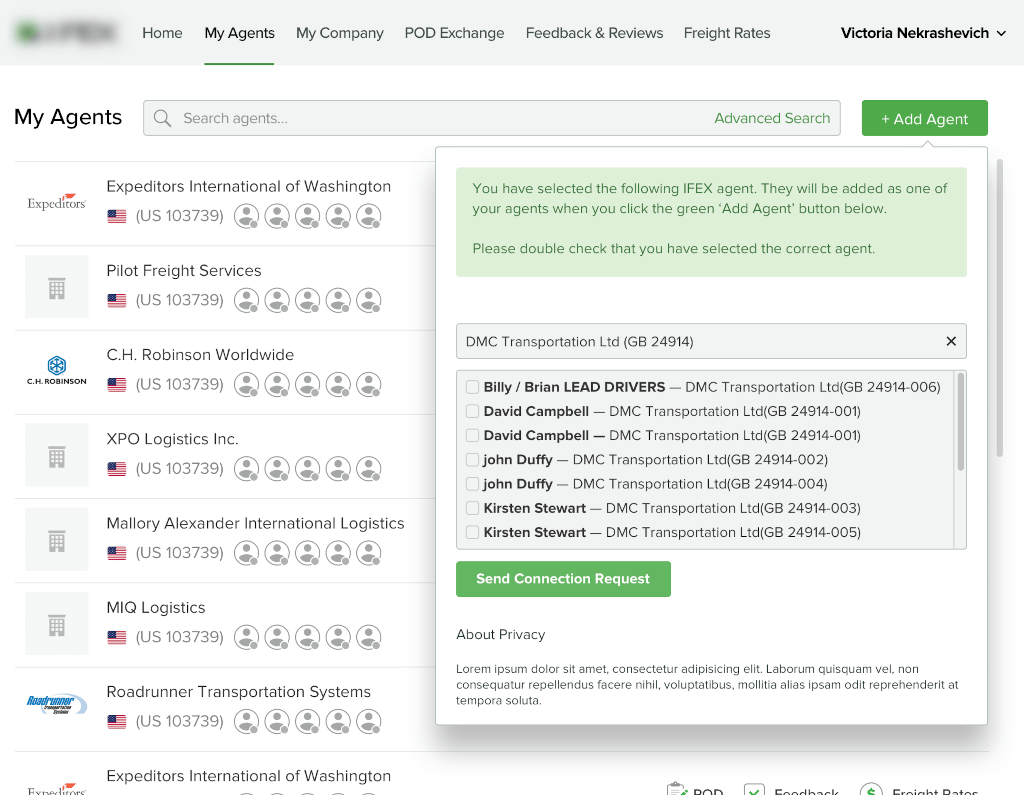 Originally this tool was planned to be a part of another customer's logistics SaaS system. We focused on designing and architecting the main features of this communication tool to test them on its real customers so we had quite a big list of existing early adopters. After polishing this solution and gaining positive feedback from its clients, we redesigned this tool into a SaaS platform with a subscription model and set up an additional business for our customers.
How Much Does It Cost to Develop a Logistics Management Web Application?
When calculating the price of developing a mobile application, certain factors are taken into account, the most important of which is the time spent on the process. Therefore, it is impossible to say unequivocally how much it costs to develop an application for a logistics business only if the development company does not offer standard templates in advance at a fixed price.
Development cost estimation is carried out during the ordering process. The team estimates the estimated amount of time it will take to create and the total cost by three main parameters:
components that the customer wants to see in the application;
platforms for which the application is being developed (multi-platform versions will cost several times more);
individual requirements for customizing the interface, adjusting standard elements, using complex shapes, animations, etc.
The calculation of the cost by the number of hours is to determine the amount of time and the cost of an hour of work for each specialist who will be developing the application or its individual parts. That is why, the more difficult the task, the more time it will take and the more expensive it will be.
If after launching the application, its promotion is required, the cost of advertising is also added to the general receipt for development. Besides, in addition to the actual development, the work of analysts, designers, planners, testers and other employees of the web studio is important. The chart below shows the salary by region.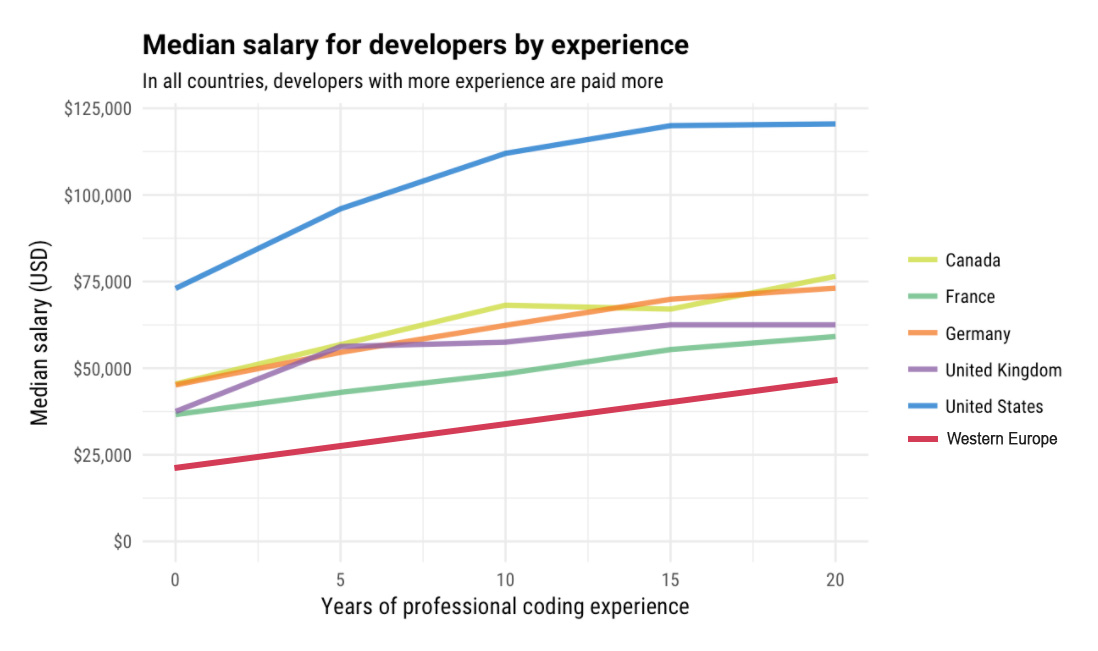 It is also equally important for which platform the application is being developed - android or iOS, or different platforms and their versions must support it. Among other things, the cost of developer services from different countries also varies: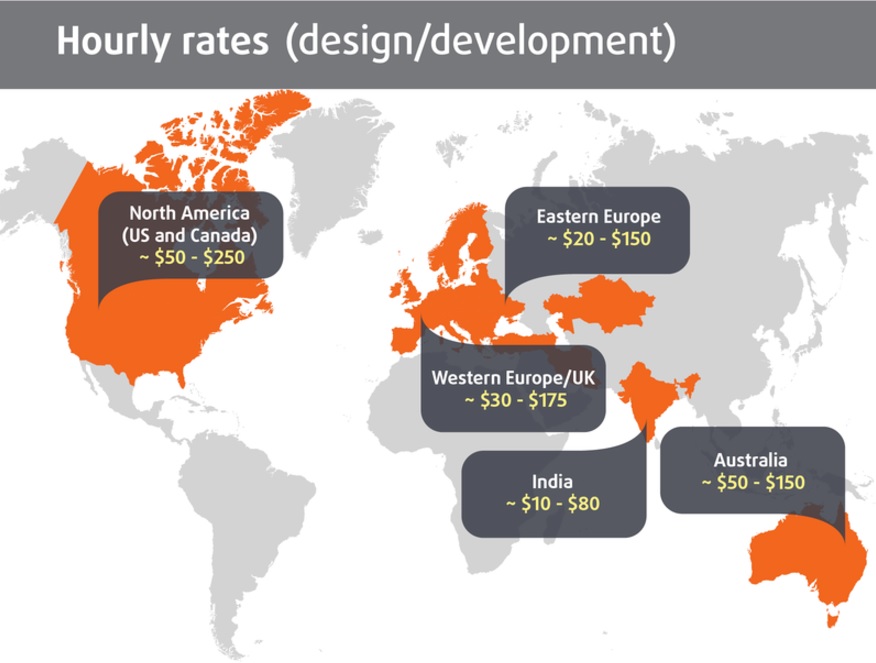 The cost of building a logistics management web application can range anywhere from $30,000 to $200,000 depending on the requirements, specifications, and goals you want to achieve from using it. Apart from that the type of deployment, number of features, method of development and maintenance will also add to the cost.
After reading the above-shared details, you may have a better understanding of Logistics Management Systems, their main features, benefits, and steps to build one.
Relying on a well-versed and experienced team of developers is the smartest choice to build an LMS application. If you outsource developers, you will be able to get a customized solution at a reasonable price and will save on equipment, office rent, etc.
How Ardas Can Help With LMS Implementation Into Your Business?
A custom logistics management web application for your organization will help you automate and systematize supply chain management. It also assists in easing order and inventory management, improving order processing, enriching fieldwork and communication management, and offering better customer support.
The logistics industry is relevantly competitive, and to stay pertinent as an organization, you need to work smarter and hit targets than others. And a good LMS web app will make it easier to achieve your goals.
At the initial stage, building a custom logistics management system might appear challenging, but the advantages it will offer to your business make it worth it. Having logistics software development services with the ideal development team will ease the processes and save money in the long run.
Contact us with a brief description of your vision, and we'll provide you with the needed details.