Supply Chain Visibility: Why Lack of Visibility Cost You Money
Because needs differ from organization to organization and industry to industry, no one-size-fits-all solution exists. A sound Supply Chain Visibility action plan should be built around demand, resources, efficiency and competitive advantage.
Some of the tips we have mentioned in the article are on supply chain trends. However, this guide can help your company not only save money but also gain customer trust. You can make things easier for your employees and increase control in your company with supply chain visibility.
What Is Supply Chain Visibility?
Supply chain visibility (SCV) is the ability of parts, components or products in transit to be tracked from the manufacturer to their final destination. According to TechTarget, the primary objective of SCV is to improve the availability of data to stakeholders and customers alike, ultimately strengthening and improving the supply chain. Sounds easy enough, right?
When both the customer and the manufacturer can track the package in real-time and know all the key points of the delivery, this is called Supply Chain Visibility. This allows the company's logisticians to know where their goods are instantly and, accordingly, more closely monitor the valuable cargo they transport.
With the Supply Chain Visibility feature, you can know more details about your shipments and with information analysis, you will see information about the regions where you are in demand, the most popular products, delivery time, how much product you are losing and your costs. Knowing all these facts, you can increase your profits and anticipate all risks. It's all thanks to Supply Chain Visibility.
How Supply Chain Visibility Works
One and perhaps the most important point in supply chain transparency is data. In some cases, it is difficult to find exact information, but minimal details can be obtained from ports, terminals. More facts can be obtained from trucks and trailers.
Reporting from start to finish of delivery is important for visual logistics. That is, for complete transparency of delivery and to avoid errors, information about the status and location of the goods must be constantly updated. To do this, you can create a single site or application to simplify information collection.
For example, a top-level supply chain review includes overall IT integration between all stakeholders in a workflow. This will allow the people involved in the process to share common data, reducing any delays or problems in the workflow. After all, if everyone participating in the process will share details in a different format and form, and with the help of simple forms in the application or on the site, this will all become much easier and more convenient.
The lancet delivery management process includes three steps:
Goods: data on the production, storage, quality and delivery of goods;
Info: there are records of orders, purchases and deliveries. This data is important for optimizing core processes;
Finance: of course, all the data on expenses, profits, purchases and bills.
Issues Affecting Supply Chain Visibility
Supply chain visibility is the information collected. So the problem that causes the lack of transparency in the supply chain is the lack of information and data! Perhaps at some stage of delivery, there are not enough details or the information is not true. After all, the provider and recipient may have different services, and then the information may be in different formats. Also, the information must be relevant in a particular situation, for this it is necessary that the information be available in real-time.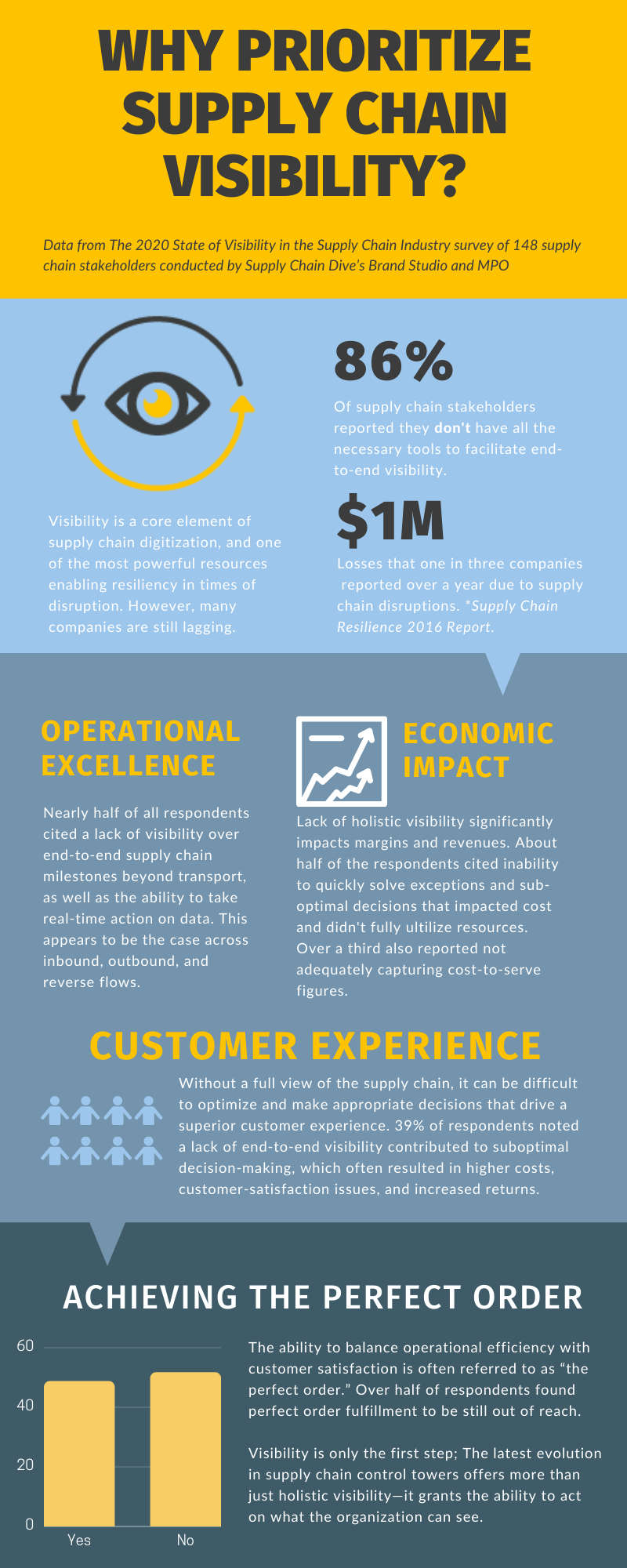 Giving delivery details is not always convenient, for example, when the driver is on the road. Therefore, many things may not be available. But if you take advantage of complex ERP solutions such as SAP, NetSuite and Oracle, then everything can become easier.
How Supply Chain Visibility Can Benefit A Business?
Firstly, visibility in the supply chain can increase your company's profits. Visibility can unlock a wealth of data and analytics that can truly transform a business and lead to higher revenues.
Second, reduce the risks. By monitoring incoming delivery information, the supplier can more easily find lost items or order errors
And thirdly, it is the trust of customers. With the help of visibility in the supply chain, you can predict the delivery time, which can give the client a basis for trust. You can also share geolocation and product movements, which will also give the client the opportunity to trust your company.
How To Boost Visibility Of Supply Chain
It's vital to use these tools – and the principles of best practice – to support profitable growth and build or maintain a competitive advantage.
Integrate supply management systems
Many manufacturers already operate on a digital platform(s) to manage their supply chain and production processes. But that is not the same as having a truly integrated system or one that can be classed as a true digital workplace.
Does your current system provide a genuine free flow of data from start to finish, with no overlaps, duplication or bottlenecks? If not, your supply chain processes may not be as efficient as they can be. With any new or existing supply chain solution, you need to audit it regularly for optimal efficiency.
Create tools for clarity and collaboration
The best lean supply chain planning will provide you with seamless data that can be accessed and analysed at any stage, from any relevant device. You need 24/7 insights into any progress and problems within your organisation. It should also offer you more opportunities for real-time collaboration and problem-solving.
Support improvements in supplier performance
Sourcing and introducing new suppliers can impact negatively on resources, outweighing any efficiencies you were seeking - due to the lack of history you have with them.
If possible, find ways to help suppliers to improve their quality, delivery times and yield. Partnerships make commercial sense, as the more you invest in strong supplier relationships, the better basis you have for strategic development. But if you wish to see what the market offers, always try new suppliers before making radical changes.
Suppress cycles and maximize inventory yield
Supply chain best practices include constantly measure and evaluate the way stock arrives, how it's handled and utilised and then how it leaves the factory on the way to customers. If you are inventory-rich and cash poor, the reason could be interruptions and sticking points in the flow of goods from suppliers to customers.
Proper supply chain management means having the data you need in sufficient detail. It can enable you to pinpoint and eliminate waste and speed things up. The result should be inventory will arrive when required and is promptly utilised.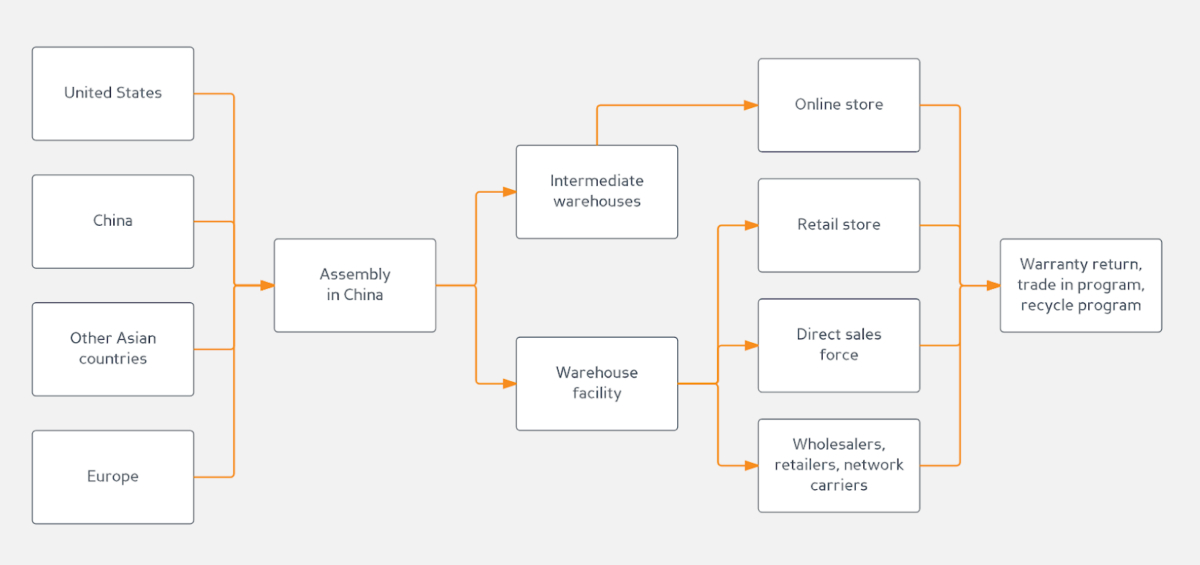 Collate and analyze meaningful data
Many of the practices already referenced involve having ERP software that provides meaningful data, specific to your manufacturing operations.
This is not just the flow of goods in and out, but a system to manage and track all costs. For example, an integrated ERP software will enable all costings to be marked against every part of the production cycle, including the amount of time working on a job, component prices, shipping costs, etc.
Make sure you have scalable solutions
One eye should always look to the future when configuring or implementing new systems. Solving today's challenges will become a full-time job, when in fact, technology provides you with ample methods of keeping ahead of your competition and financial targets.
For example, does your ERP system offer predictive supply chain analysis? Can it be altered with additional capabilities as you grow and develop as a company? Can you find ways to integrate distributed digital ledger transactions into your system to keep pace with the development of Blockchain transactions?
The embodiment of these supply chain management best practices is WinMan ERP Software due to its integration. To discuss how it can assist you with your lean strategy, supply chain management and increase your business growth potential, contact us today.
Supply Chain Visibility Use Case
We've been showing this case a few times already, but it is one of our biggest and longest projects, so that it can be reviewed from so many angles in the matter of shipment tracking.
Trusted by over 7,000 businesses since 2000. Processing over 170,000 loads per month. Handling and managing more than 50,000 available vehicles of its clients. Making over £190M worth of contracts per year. It serves the full flow from posting the load to its final delivery helping transportation companies and individuals to do their work easily.
The whole set of fleet and load-tracking features were implemented for couriers and customers. The platform tracks all vehicles and loads and visualizes them on the map using 15+ TMS providers or GPS in smartphones.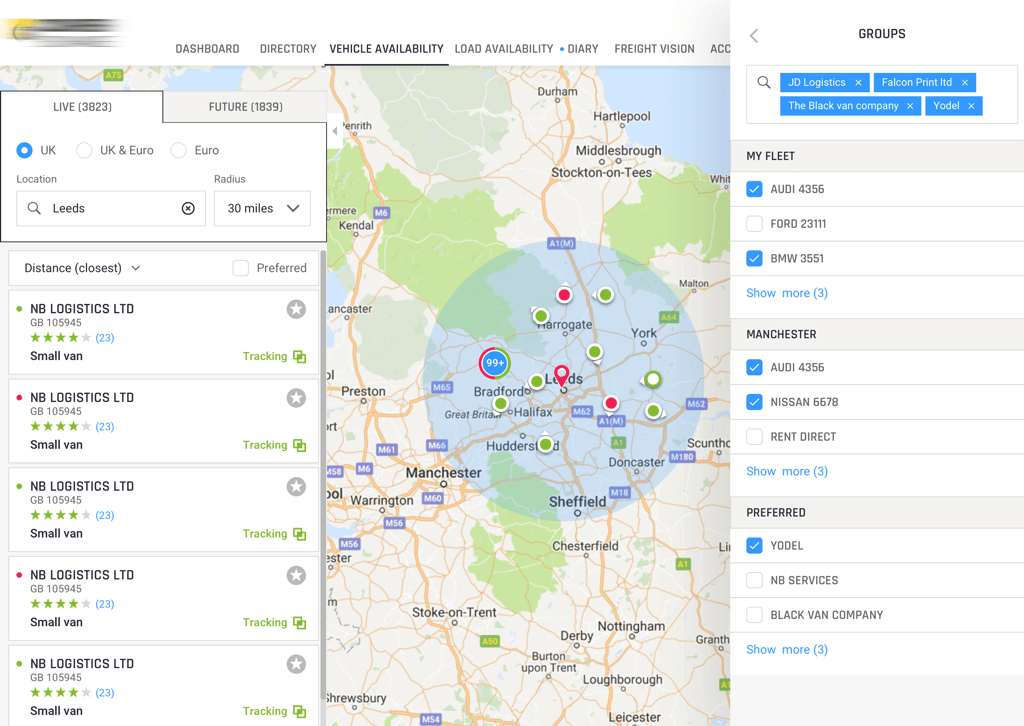 The map shows current loads with destinations and available transport with movement directions.
Delivery ETAs, delays, fleet and load statuses, and route history are displayed and updated on the fly.
All map visualization and geocoding were initially done with Google Maps and now changed to Here WeGo.
Also, you can check our article on car tracking system development.
How Ardas Can Help You Improve Supply Chain Visibility?
Supply chain visibility means having an internal view of all the activities and operations happening from the point of raw material extraction to the point of consumption. Enhanced visibility reduces uncertainty and fluctuation in the flow of goods and information across the supply chain.
Since the pandemic struck in 2020, supply chains worldwide have faced disruptions that are still present. This wake-up call encourages business leaders to focus more on improving end-to-end supply chain visibility to achieve stronger resilience.
We have listed some tips above. However, if you need a tech team to implement it, Ardas is ready to assist with any logistics software development services!
F.A.Q
How Does Supply Chain Visibility Help An Organization React To External Events?
With a transparent supply chain, companies can edit their shipping path faster with multiple tools in their own software. And also fix delivery deficiencies that may be revealed due to External Events.
How to Measure Success With Supply Chain Visibility?
If you know everything about the delivery of your goods or vice versa of your orders, then this can be considered a success.
Can Advanced Analytics Improve Supply Chain Visibility?
Of course! With the help of analytics, you can increase your sales, with knowledge of order locations, delivery times and demand in a particular region. With all this knowledge, your supply chain will become more transparent.