What is MaaS & How Can Your Organization Benefit?
MaaS is an innovative digital approach in the field of transport and logistics. Thanks to modern technologies, today, without leaving your home, you can order a ticket, rent a car, build a route, etc.
Let's take a closer look at how this concept can help your business.
What is Mobility as a Service (MaaS)?
The concept of MaaS (Mobility-as-a-Service "mobility as a service") appeared 10 years ago. One of the reasons for its emergence was the rapid conquest of the mobile phone market by smartphones and the emergence of a huge number of applications for them. The functionality of smartphones has also given rise to various digital platforms. At the same time, the first ideas of a unified digital transport network appeared, which may make it possible to abandon personal transport in the future.
It will look like this: everyone providing transportation services is added to a common platform accumulating data. Users, in turn, receive the software that can replace dozens of separate applications, with which you can book transport services, pre-pay for them, and plan a route.
Moreover, one must understand all the types of transport here, from a scooter to a train. It is expected that such a platform, which combines all types of transport services, will help partially unload city traffic, thereby reducing the number of traffic jams in large cities. In the future, thanks to the analysis of data received from users' applications, it will help develop and optimize the city's transport infrastructure.
The concept of MaaS is sometimes called "transport Netflix", as users with just one application can rent almost any vehicle (car, scooter, scooter, bicycle), buy a ticket for any public transport, order a taxi or pay for car sharing. According to experts, such services can be combined into a common digital infrastructure in the future.
Such software is already actively used in some European cities: Helsinki, Vienna, Birmingham, and Antwerp. In addition, the platform is practically prepared for several new cities, but their names are still kept secret by the developers.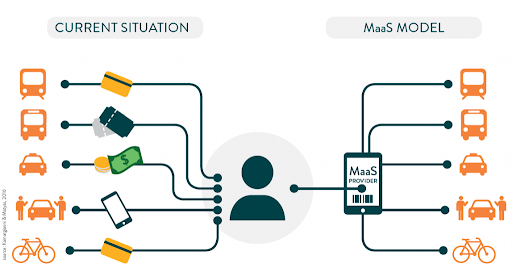 Benefits of MaaS
MaaS has not yet been fully implemented anywhere in the world, although its elements have long been present in the infrastructure and bring quite tangible benefits.
According to the consulting agency BCG, there are four levels of MaaS implementation:
Users receive optimal multimodal routes based on plans and preferences.
A single system allows you to pay for travel on all modes of transport.
The platform has a flexible pricing system.
The system manages traffic flows.
A move away from the private ownership of vehicles
Decreased congestion on urban roads.
Fewer costly road asset maintenance activities are required long-term after the initial infrastructure updates.
Less time spent and ultimately lost by people in transit.
Fewer road accidents, meaning a reduction in road collision injuries and fatalities.
Lower insurance premiums due to the above.
Improved air quality from a reduction in CO2 and NO2 emissions.
Reduced need for parking space, meaning more space is freed-up in cities and towns for alternative use. Perhaps the extra space could be used for something capable of attracting potential visitors, which would, in turn, benefit the local economy.
Optimized occupancy of vehicles with shared mobility (e.g., car-pooling schemes) – fewer grossly inefficient one-person-one-car scenarios we see so much of today.
Implementation of MaaS
There are plenty of opportunities for innovative SMEs to impact the large transportation market.
Increased uptake of healthier transport options such as walking and cycling, bringing citizens better fitness and quality of life.
Improved passenger travel experience – users are offered optimized journeys for their individual needs, simplified ticketing, and payment procedures.
Improved customer choice – facilitating better access to alternative transport and routes, empowering users to make more informed choices.
Increased productivity as people are less likely to be slowed down by a congested network – mobility is the very lifeblood of any economy.
Faster movement of goods across the network.
Better management of travel demand and transport infrastructure – transport planners can optimize the use of existing transport networks and better plan for future enhancements/maintenance using MaaS user data to inform their work.
Replacement of complex public transport ticketing schemes (concessions, discounts, travel cards, zones) is often a source of frustration and confusion for network users.
MaaS Examples
In different countries, they develop and implement new technologies and programs corresponding to certain levels of MaaS. For example, the Whim app is available in Finland. It allows you to plan and pay for multimodal trips around the city.
In the UK, they launched the ArrivaClick service to call a bus, the route of which is partially adjusted to pick up and drop off a passenger as close as possible to the desired points. Several cities in China have implemented Didi Chuxing, an artificial intelligence-based traffic management system. This program has optimized city traffic.
How MaaS Benefits Organizations
MaaS is a strategy for providing people with various ways to get from A to B instead of asking them to rely solely on public transportation or personal cars that require parking spaces at both ends. This creates new opportunities for businesses looking to make urban environments more sustainable and efficient by reducing commute-related congestion and emissions. It also offers companies significant flexibility and cost savings. However, business owners and fleet managers must keep a tight grip on the data to get the most out of it.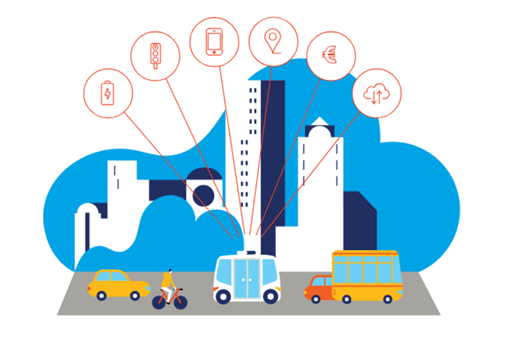 "Data is essential to identify the best choice in multi-modal journeys, as inappropriate choices could lead to costs escalating exponentially or to unforeseen risks. Take a simple scenario: an employee has a morning meeting off-site in the opposite direction to their place of work. Does it make sense for them to come into the office just to pick up a carpool vehicle, or should they be empowered to pick up an approved vehicle from a location that is most convenient to them?" says Adrian Bewley, director of business mobility at Enterprise Rent-A-Car."We're working together with our customers to model scenarios and solutions, combining their data with ours to understand better the variables of when, where, how and why their employees travel, and therefore which solutions the employer should be offering", he adds.
Ardas MaaS Experience
Ardas also makes his advances in the sphere of MaaS. Our client, the Volubus company, provides passenger transportation services for certain events and dates. Volubus aims to provide smooth travel solutions for an improved customer experience based on company rules:
Usage of the latest geo-location technologies;
Lower costs and more flexibility for private groups;
Raising bus travel standards;
Time and budget economy;
Anywhere delivery.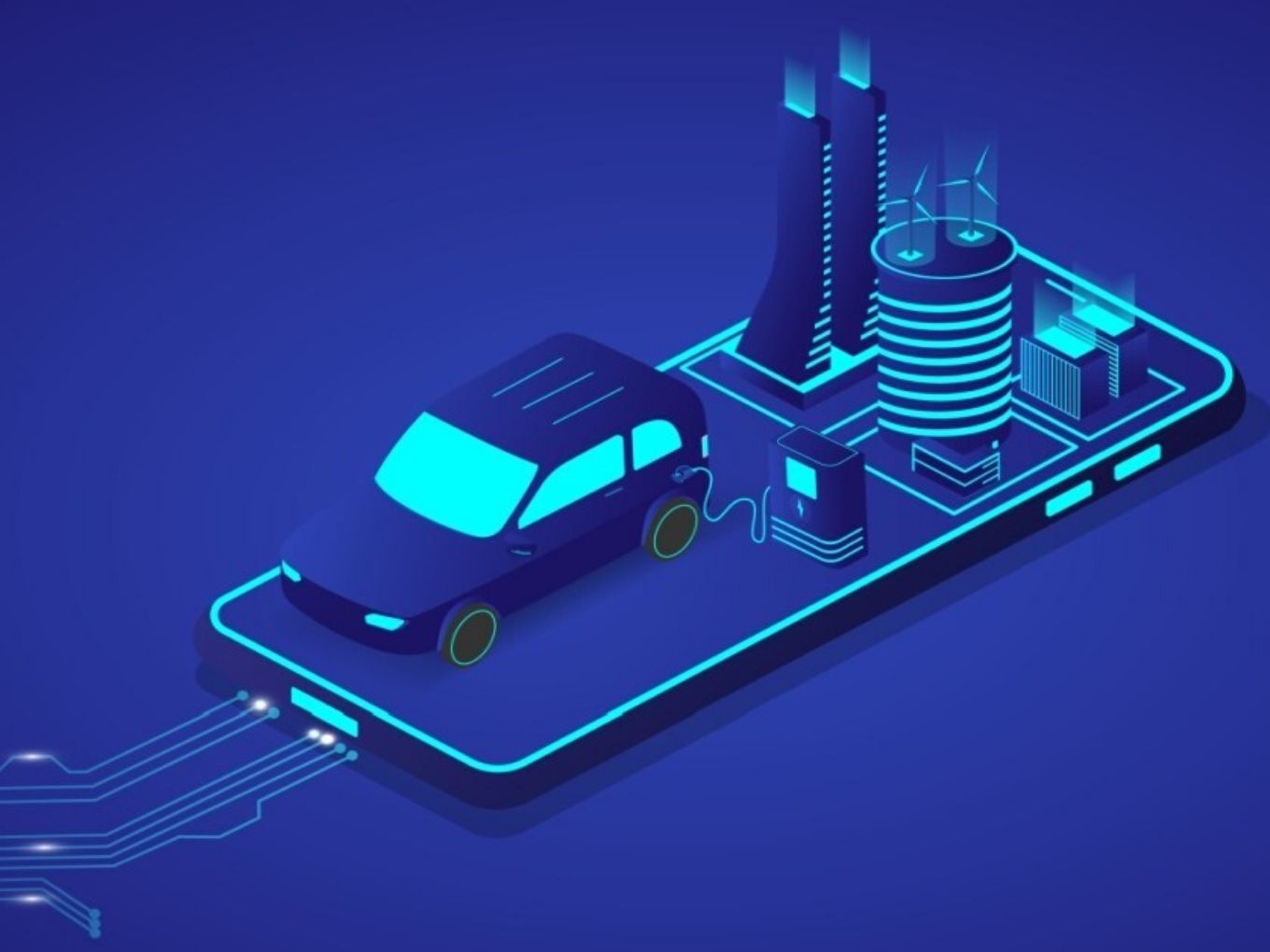 Ardas was brought in to implement a system to help expand the company's business and speed up order processing. The ultimate goal of the task is to:
Allow the user to preselect optimal multimodal routes based on plans and preferences.
A single payment system for any customers and transportation.
Get an advance price for services based on the selected filters.
The ability to control traffic flows.
Wrap Up
MaaS is challenging traditional approaches, forcing fleet owners and managers to rethink their processes. Managers will soon have the ability to expand and customize their services, including experimenting with company-owned vehicles, as well as renting or leasing.
Vehicle sharing can help put idle vehicles to use, free up financial budgets, and reduce carbon footprint. Meanwhile, the types of key fleet metrics managers traditionally keep an eye on will likely change to include more than just vehicle data or costs—tracking additional factors like timing, journey success rates and attendance rates, which will be made considerably easier with the use of fleet management software.
If you want to gain some advantage over your competitors by improving your company's image while saving money, contact Ardas to see how we can help you implement a MaaS program for your business. We serve organizations of all sizes and within many different sectors, including government agencies, retail companies, hospitals, and more.