How to Build a SaaS Solution for Real Estate
In today's "personalization first" era, when a company wishes to establish its market leadership, it starts by defining its customer base and catering to its needs, even if its operations are based on a B2B model.
Practical personalization tools are an obvious requirement for high-demand, high-risk clients like those in the real estate market. The global real estate market has been unaffected by the unstable economy, the post-Covid geographic transitions, or the organizational office shifts.
Investing in SaaS real estate may still be one of the most popular means to accumulate wealth.
Real Estate Software Market in 2022
The estimated size of the U.S. real estate market was USD 3.69 trillion in 2021; it is expected to reach USD 3.81 trillion by the end of 2022. While real estate companies worldwide are thriving, their operational methods are under scrutiny. Digitization and automation have led investors to demand 21st-century efficiency, and most midsize real estate firms are still unable to deliver these standards.
In every industry these days, innovative technology is considered a standard and critical operational must, as well as a value-generating business asset. However, one of the most undeniably successful industries today has very few technological solutions for enhancing its operational liabilities and services and providing its investors with the personalization to which they are accustomed. Though, we have a case in SaaS real estate to prove that it is not hard to develop.
There are over 100,000 real estate firms operating in the United States. They are dissimilar in size, area of expertise, and goals; however, their customers have similar needs. Until now, midsize real estate companies could not provide investors with the same meticulously tailored services as large real estate companies. Automate reporting, sharing and customizing reports, tracking, managing, visualizing complex fund structures, and securely sending sensitive documents are all services that require time, experts, and sometimes a significant budget.
The available technological solutions today are quite limited and far from able to provide industry-focused solutions for midsized real estate firms or services that meet the high bar set by large enterprises.
Agora is a fintech/SaaS company that has developed an advanced real estate investment management platform and commercial real estate software designed to enhance investor experiences and simplify investment operations. The software enables global, real-time cross-border payments. It includes a tool that automates and prepares specifically required filings and tailored, private and secure reports on profits, losses, deductions, and credits to the IRS.
"Real estate firms have very specific needs, but very limited options, mostly 'one-size fits all software programs that were designed for real estate, VCs, private equity, hedge funds, family offices, and so on," says co-founder and CEO Bar Mor. "The reality is that each of these has very specific needs and requirements, some more complex than others, and there is a huge advantage in being a vertical-specific company."
Coming from a long line of successful real estate investors, Mor detected an untapped need. "Real estate firms and investors are dealing with inefficient workflows, manual processes, and a lack of transparency in managing their back office, investors' relations, and financial operations," he explains. "Since real-estate investments require tailored solutions, our technology is focused on real estate, combining fintech and prop-tech. We provide a tool to manage information and share data and combine different types of services."
The benefits of Real Estate SaaS
Here, we'll explain why many property companies have decided to invest in SaaS.
Accessibility
Many real estate specialists spend time out and about – showing potential buyers or tenants around properties, for example. Those employed by a "chain" or franchise may also be required to work from different offices on different days.
Accessing the same software, in the same state, from any possible location makes it much easier to keep up to date with all tasks at hand.
Without the ability to ensure all data and information is current and correct, the processes involved in real estate would become slower, and many more mistakes would be made.
Affordability
No hardware is required to use SaaS solutions, so no physical upgrades or maintenance is necessary.
Furthermore, as SaaS options are scalable, business owners only need to pay for the features they will use.
This makes for a much cheaper option in general.
Flexible
It's swift and easy to integrate other existing systems and data pools with SaaS, so services of this kind can be adapted to almost any business. Software of this kind is also highly customizable.
As mentioned, SaaS can be accessed quickly and automatically on any device. It's straightforward to switch providers too.
Easy to use
Most SaaS updates automatically and requires minimal effort to operate, so busy real estate employees would need to spend little to no time struggling with complex systems.
What is Land and expand strategy
A common mistake of a salesperson is the desire to sell everything to the client at once at the first meeting. Such a strategy usually leads to failure, scaring off a potential buyer. Instead, the salesperson needs to be patient and start small: offer only what the customer really needs, or even just exchange phone numbers, figuratively, land.
In the future, the customer will be more willing to come with a need to an unobtrusive partner and be ready to buy more goods and services, opening up opportunities for the seller to expand the offer.
In practice, Land and expand is more than a sales tactic. This is a business strategy based on long-term trusting relationships with customers. The strategy is well applicable to the SaaS market. When buying software from a developer, a company counts on the timely development of a SaaS product, good service, and quality support.
If all is well, then she will pay the developer for his product for years, maybe decades.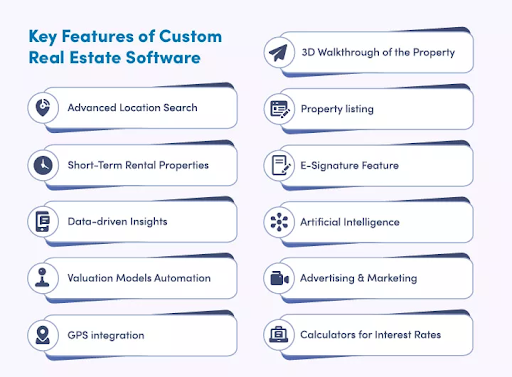 The SaaS in real estate
The above information shows how valuable SaaS systems can be to the real estate industry. But how exactly can they be used in this sector? We'll explain below.
Managing properties
Updating information on several properties promptly can be complicated – as can the administration involved in maintaining rentals and other matters. Add this to the complexities of being out and about for a large portion of the day, and you've got a tough job.
However, with software that can be updated on the go and accessed by all relevant personnel, these issues become much easier.
Yardi, Buildium, Appfolio and Landmax.pro are some examples of leading property management solutions. Common features of property management solutions include:
Applicant screening;
Accounting and financial management;
Contact and tenant management;
Rent processing and automatic reminders;
Self-service portals;
Maintenance management and work orders;
Document management;
Inspection forms;
Lead tracking;
Prospecting;
Internet Listing Service integration;
Reporting and analytics.
Client relationship management
Keeping in touch with buyers and tenants and contractors is made a great deal easier with SaaS. Not only is email accessible from any location, but it's much easier to share information and receive updates from anyone and everyone who has access.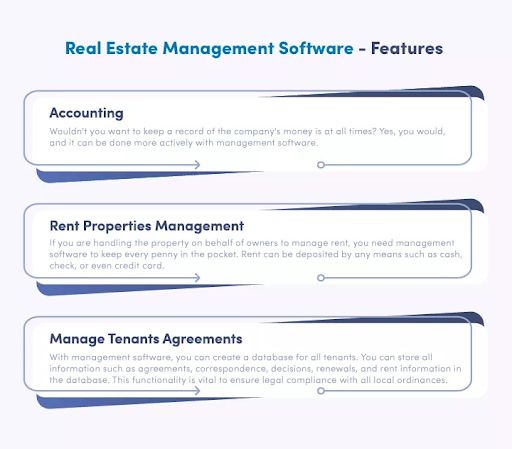 Task management is also made much more streamlined and easier to keep up with.
Marketing
These methods – especially direct marketing, SEO and social media campaigns – are much easier to manage when using a cloud-based system.
The system makes it easier to work remotely on new campaigns, plus the ability to directly engage potential customers and the handling of updates and responses to social posts and reviews become more streamlined.
However, some CRMs also offer basic marketing automation functionality, which works well for businesses that only need basic functionality and don't want to spend a ton of money on a standalone marketing automation solution. Popular marketing automation solutions include Marketo, HubSpot and Salesfusion. A comprehensive marketing automation solution includes the following key features:
Email campaigns;
Drip programs;
Auto-responders;
A/B testing;
Landing page builders;
Lead management;
Social media campaigns;
Reporting and analytics;
Content management and SEO services.
Finally, the analysis and reporting of the effectiveness of a campaign can be easy to undertake and share via SaaS, helping you to develop a cohesive approach among all colleagues.
Ardas Experience in Real Estate SaaS
We have implemented Saas projects in the real estate market even before it was mainstream. One of them is the real estate crowdfunding SaaS portal to collect investments.
Our goal was to create a clear and simple web system directed to crowdfunding for real estate financing and investments. As a result, with only 1000 pounds, anyone can invest in real estate and receive a monthly income from interest. We put our best efforts into creating a user-friendly system so any common user can control his/her own account. We truly believe that crowdfunding solutions bring the real estate business to a new level.
To receive the FCA, you have to complete a questionnaire in your profile and choose the type of investor, you prefer to be. Also, as a part of the FCA process, we check people's passports with the ID3 system. Once the person has registered, he/she gets a secure client area that contains all information relevant to the investments, including current balance, interest paid, and any property details or legal packs. The client can change any info with an in-place editing option.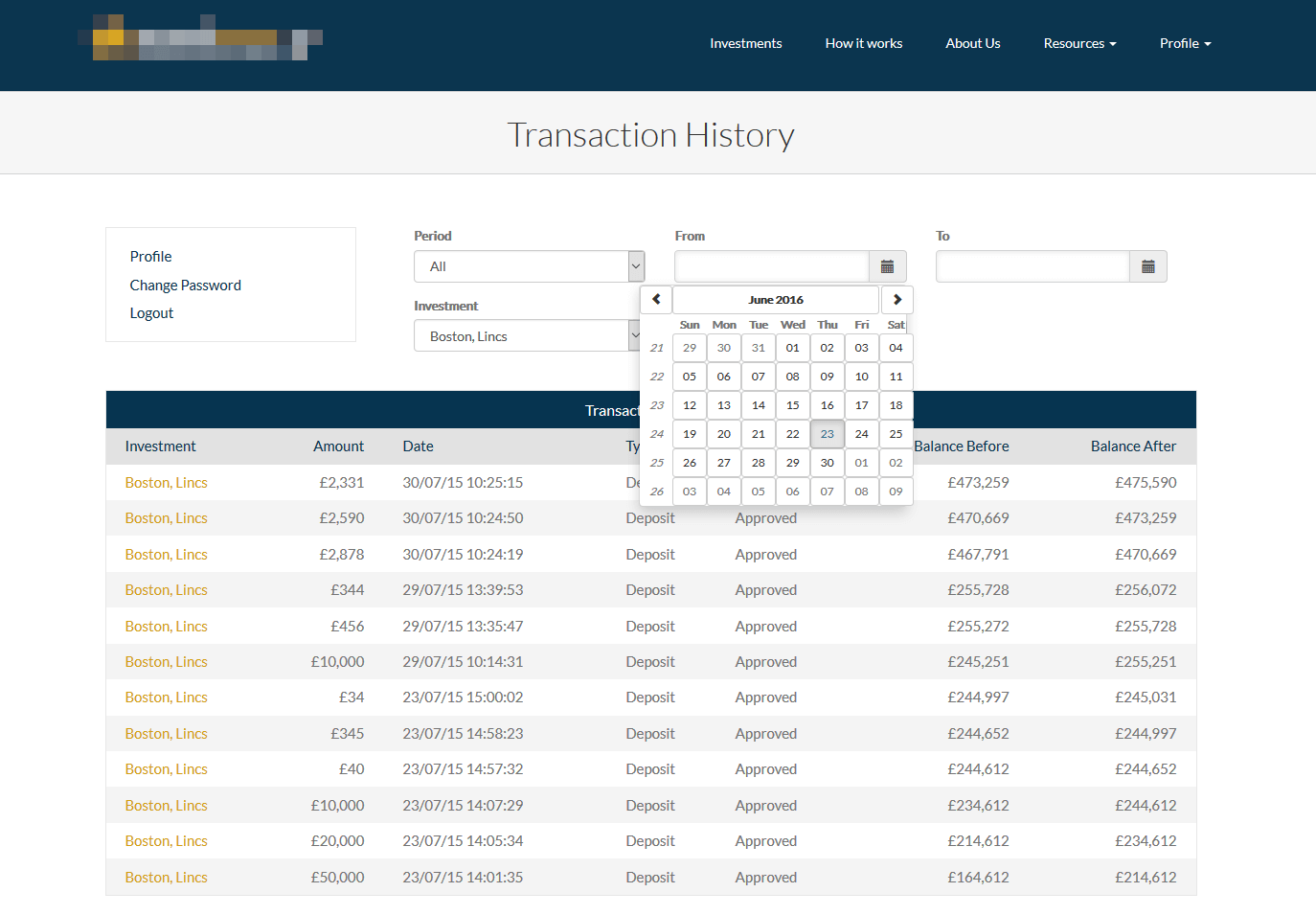 After working through all the client's requirements, we assembled a team of five people and began work on the project within a week. Our business analyst and architect started working on task scheduling. The hardest part was working on all the financial algorithms and payment methods that changed several times during the project. Then we developed an MVP sent to FCA compliance and worked on their requirements for the next 4 months.
The site was designed for the average user, who can intuitively find any information in seconds. This is particularly important when it comes to money. Any investor can view the history of his/her investments and money transfers, income and withdrawals report from the personal account. All funds are legally secured against either the property or land asset and ring-fenced away from the company.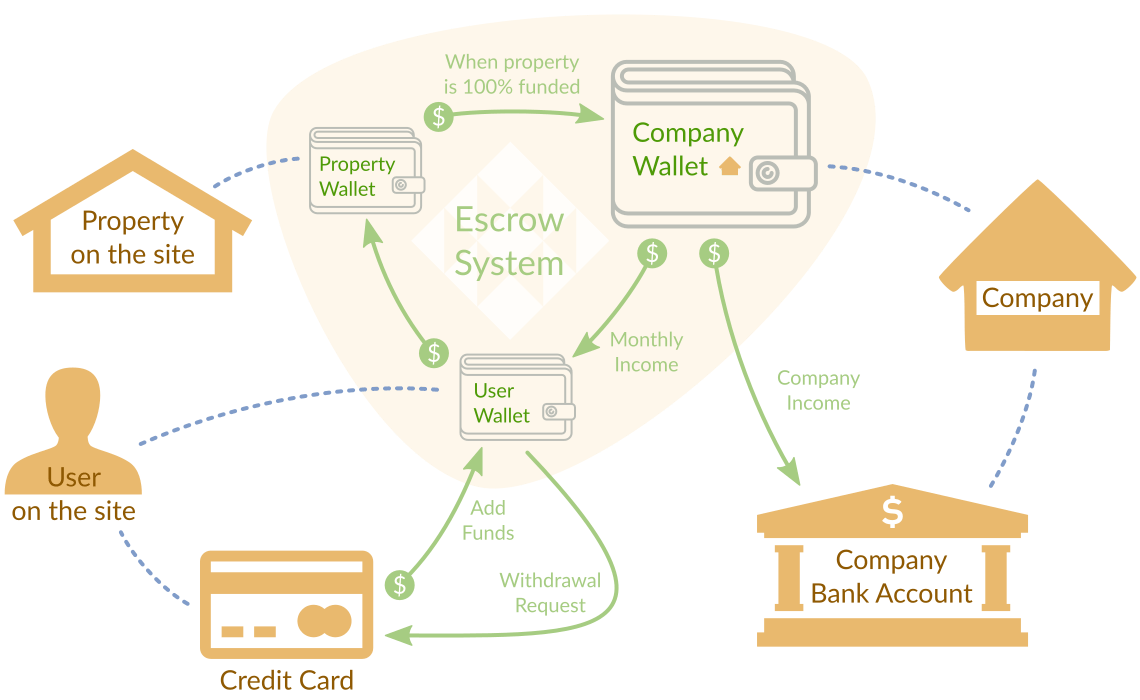 All transactions are conducted through the MangoPay system. The whole payment solution that is needed for crowdfunding is, in reality, much more complicated since, at every stage of the movement of money, you must be legally clean. Therefore, look at the diagram, which shows the entire financial path.
5 Tips for Successful SaaS Implementation
We often came across stories when companies threw almost all available resources into the development of a new product, and the price of a mistake was high. Despite good preparation, in practice, everything turned out to be more difficult.
As a result, companies make a number of mistakes that lead to inefficient investments for several months. Here are some tips that could save you a lot of time and money.
If you want to grow, you need a strong team
A big mistake business founders often make is trying to do everything themselves. A team that has coped with the work on the current product will most likely not pull the full development of a new solution.
So the main rule is to invest in professionals who are better than you in the critical areas for a SaaS product: development and marketing. For a high-tech product, an experienced CTO (Chief Technical Officer) is important, who will be able not only to manage processes correctly, but also to develop the team.
Iterative development will increase team motivation
The inability to frequently release releases, to see the result of your work here and now, demotivates the team. In the process of developing a new product, you don't need to try to cover everything at once, no matter how much you want to — it's important to break tasks into small iterations, the need for which will be clear not only to the founder, but to the whole team, to each developer.
Approach the choice of SaaS product architecture carefully
You can build on existing architecture, saving time and resources. But in this case, you run the risk of adopting "old" mistakes. Or you can build an architecture from scratch, without legacy code, but spend more time and risk making new mistakes.
We identify customer needs, not wishes
If Henry Ford asked what people wanted, they would not want cars, but faster horses. Constant communication with customers helps to understand their needs, but it is important not to confuse them with desires. The product should solve the problem in the best possible way, not how the customer wants.
The price may be much higher than it seems
The value of a SaaS solution is determined not only by the number of resources spent on its development, development, and support but also by the scale of the headache it removes from the client.
Don't be afraid to experiment with the price tag. Our experience with product price and value has shown that we could roughly double the average check and none of the customers we interviewed would have any questions about what they were paying for.
The future of SaaS in real estate
With businesses of all sizes quickly developing an understanding of the significant potential of "software as a service", it's likely that systems of this kind will continue to grow in popularity.
For real estate, this means that existing companies may be able to grow in prolificity without overspending. It may also lead to the birth of new, smaller, independent estate agencies due to the affordability of most SaaS.
The number of landlords – particularly those with multiple properties – may also grow as managing numerous sites and tenancies becomes easier.
Of course, the only sure way of understanding the future role of SaaS in real estate is to observe its growth and the resulting effects. Considering the sizeable uptake of cloud computing across all business forms, SaaS is likely to have a lasting impact.
Ardas can become your reliable partner in the implementation of Saas solutions for the real estate market and develop a product taking into account all the latest trends in technology.