How to Build Load Planning Software: From Idea to Fully Working Product
Load planning can reduce overhead and fuel costs, improve delivery capacity, and increase profit margin. To load your trucks and vehicles efficiently, you must consider several things. First, however, figuring this out on your own can take a long time. You may delay your staff or damage the products you are transporting. This article discusses how you load and offers excellent tips on load planning & route optimization process, so you arrange loads efficiently.
Freight and delivery services are under significant transformation in the current technological evolution. We've already touched on this subject before in our article on shipment tracking software and SaaS TMS software. It makes digitization a vital tool in the logistics country. The different transport, cargo, and destinations make it hard to manage the supply chain. Load planning needs to be digital. It's because it's among the vital parts of transportation processes. Here, you will see how load planning software helps in transport and logistics. They can boost their load and transport efficiency.
Benefits of Load Planning Software for Business
If you are a load planner or simply seeking to make the most of your truck space and driver time, the following are the advantages of load planner software for your business. The same as the benefits for digital freight, the main advantage is to get everything automized.
It Uses Fewer Resources
When we say fewer routes, we are not trying to imply fewer orders or deliveries. Instead, we are talking about combining several orders in one route in a way that makes sense in terms of delivery area, order priority, cargo specifications, and the driver's working hours. As a fundamental component of this, load optimization adds to fewer routes per day. As a result, there will be less fuel consumption, fewer car inspections, and fewer working hours for truckers.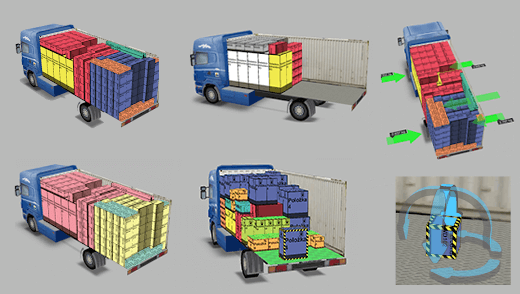 Load Scheduling Cuts Costs
You get lower expenses when you combine fewer trips, fewer returns, and shorter driver hours. Lower delivery costs translate to lower or even free delivery for the customer. Every business owner desires to have lower costs and happier consumers, attainable with effective load planning & route optimization solutions.
The Returns are Lower
The danger of harm to the packages is extremely low when cargo is loaded in line with vehicle and road limits. Using an integrated solution in the lead optimization process, such as a barcode scanner app, ensures that all trucks are loaded according to the plan. The most effective technique to reduce loading errors is to perform a load check. As a result, truckers do not have to make too many trips to deliver correctly.
Load Planning Brings More Profits
Combining the two will yield the best results for your firm rather than independently handling load planning & route optimization with different tools and spreadsheets. Reduced mileage and driver costs combined with greater delivery capacity result in significantly healthier profit margins with more practical loading and routing. Without losing profitability, you can provide competitive prices and win new business.
Load Planning Software Types
When it comes to making the most of driver and truck resources, there's load planning and load optimization to consider. One is a build-up of the other.
Much like route planning vs optimization, load planning vs optimization is about going that extra mile.
While planning can be done manually or with simple tools like Google Maps in the case of route planning, optimization is impossible without smart software.
The truth is, load optimization is not only similar to route optimization - it's a key part of it.
Considering cargo weight, size, number of pallets needed, special restrictions like temperature, order priority, and even factors like loading time are all essential tasks of route optimization software.
LCL/LTL Shipments
Filling up the entire space of a trailer may not always be possible. This is where the idea of Less than Truckload comes in. Less than Truckload (LTL) becomes an option when a shipment will only take up a portion of a trailer. As a result, LTL shipments can carry several separate orders from multiple customers in one truck. LTL shipments are therefore slower, as one truck has to make multiple stops. Most LTL providers actually leverage a network of "hubs" that allow them to stop periodically and optimize loads – ie exchange portions of their truck with other truckers so they can minimize the distance between where goods need to be delivered.
Similar to Trucking, Ocean shipments have their own version of load optimization. Full Container Load (FCL), similar to FTL, is when you purchase all of the space inside of a container, while Less than Container Load (LCL) refers to shipments in which you only take up a portion of a container. LCL is ideal for smaller shipments whereas FCL is very beneficial for large-volume shipments or sizable items. Most companies initially ship LCL while they are launching new products, or don't have enough demand to warrant filling an entire container, but then gradually shift to FCL over time.
FCL/FTL Shipments
Full Truckload is a freight shipment that requires an entire truck in order to fulfill it – hence the name. Since an FTL shipment will carry nothing but your products, it also means you have a greater level of control over the process. This truck is dedicated to you, and in most cases, only makes necessary stops for the driver. It's faster, prone to fewer complications, and as a result, costs more (generally speaking) than LTL.
Multimodal Shipment Tools
Multimodal shipping represents how companies can find new value within their supply chains and augment efficiency without dramatically increasing landed costs. While multimodal continues to change in the wake of disruption from the pandemic this year, interest in new shipping strategies has exploded. The supply chain has been suffering due to the growing conglomerates like Walmart and Amazon, and other companies have had to get creative with their cost reductions and their spending. One of the ways to do this is by integrating multimodal capabilities into the basic freight transportation strategy. Companies must precisely understand what multimodal logistics are and how they work for companies evaluating which shipping methods have the most significant benefits.
There are many ways companies can apply multimodal transportation to increase efficiencies. And like most other transportation management advancements, they surround the value of technologies and data in modern logistics.
And a few tips for applying multimodal shipping to increase freight management efficiency include:
Connect the TMS with carrier systems. This will optimize the entire process and enable companies to keep an eye on their transportation of product transportation from start to finish.
Use APIs to digitize the tendering and quoting processes. This is another way to fluidly move product throughout the supply chain while monitoring where it is and allows for the early detection of issues.
Consider all modes for all shipments before deciding on a mode. It is essential to compare and choose the methods that will work best for you and your company. What works for one may not work for another.
Consider freight consolidation to move between modes properly and avoid additional losses. Determine what size shipments are flowing throughout the facility at any given time. Is it a full truckload or a less-than-truckload? Or what if it is a parcel? Knowing how to maximize consolidation/deconsolidation is a critical aspect of multimodal shipping. And shippers should adjust their plans accordingly.
Avoid problems by using data-driven freight processes in all activities. Data-driven processes throughout multimodal methodologies are imperative to prevent any potential issues. Prevention is a significant money saver in the end.
Share status updates in real-time and with contextual data. Knowledge is essential for all members of a team. The supply chain will only be successful through successful communication. Utilizing real-time data will help all involved to see what is happening and strengthen the transportation process.
Aviation Load Planners Tools
It is the job of the load planner to ensure that the aircraft is within load limits. A load lanner's responsibility includes coordination with the flight crew, dispatchers, fuelers, cargo agents, check-in agents and ramp personnel to arrive at the most effective and safest aircraft load plan. Load planning is the detailed process of gathering data on items to be loaded on the aircraft and calculating the load plan based on the aircraft's basic operating empty weight or dry operating weight, meaning without fuel. Included in the items to be loaded are the booked passengers, estimated bags, mail and cargo for a particular flight leg, resulting in an estimated zero fuel weight. A pilot must know the maximum structural and actual gross weight of the aircraft and how it affects the scheduled flight. The center of gravity must be within specified limits.
Vessel Stowage Planner Tools
The stowage plan for container ships or bay plan is the plan and method by which different types of container vessels are loaded with containers of specific standard sizes. The plans are used to maximize the economy of shipping and safety on board. In order to maximize the economy of handling and shipping of containers on a container ship, stowage plans, sometimes known as bay plans, have become essential in the shipping trade. The plans are also vital for safety on board the ship and it is recommended that personnel working on ships are familiar with them.
Modern stowage plans are executed by computer programs using mathematical calculations similar to those used for solving complicated Tetris problems. One such system of programs is the MACS3, Cloud CASP, CASP.
Main Features of Load Planning System
Here you will get the top SaaS-based load optimization software that permits carriers and shippers to digitize the manual operations in the load planning process.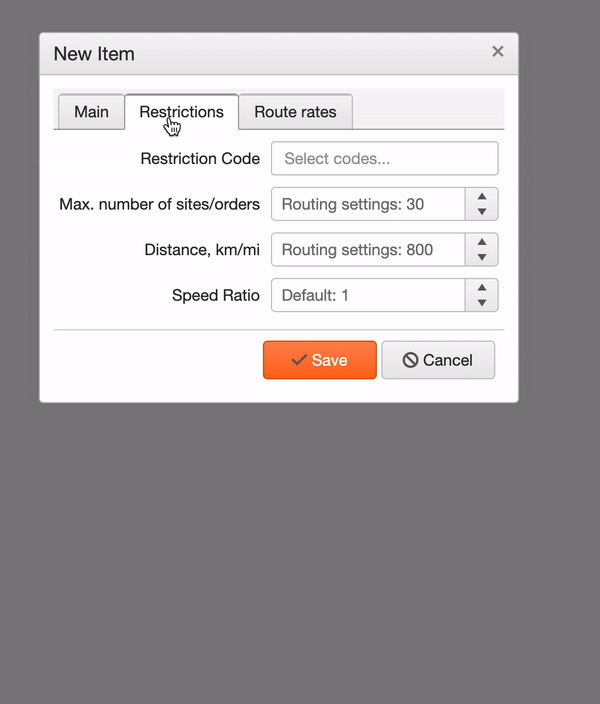 General objective software features
Infinite load plan calculation amount;
You can insert 10000 items of 250 different types in one shipment;
You can enter items direct from the MS Excel file;
Prioritize groups to arrange items based on the last destination;
SAP-integrated;
3D integration display of item description.
Multimodal shipping software features
Global reach abilities;
Supports all modes;
Market rate indexes;
End-to-end optimization;
Dynamic workflows;
Prioritized exception management;
Fleet management.
Aviation load software features
Facility planning for dragging and dropping;
Extensive graphical load display;
Checking of load limits dynamically;
Total control and management of the complex loads;
Audit trails all lead sheets included;
Supports industry-related messaging.
Vessel stowage software features
HC optimized dead space.
Manual input, electronic export/import of freight data, and BAPLIE.
Simple drag and drop functionality to move, rotate and stow freight.
Immediate feedback on floating status and stability parameters.
Graphic rendering of odd and block odd-shaped breakbulk cargo plans.
How to Implement Load Planning Software Into Existing Company Workflow
Whether you choose local routes and delivery providers or national delivery services to transport your goods makes no difference. Software technologies for load planning & route optimization make it easy to find the most effective routes and schedules for delivery. The critical aspect is understanding how to choose the correct provider and have the best solution for your operations.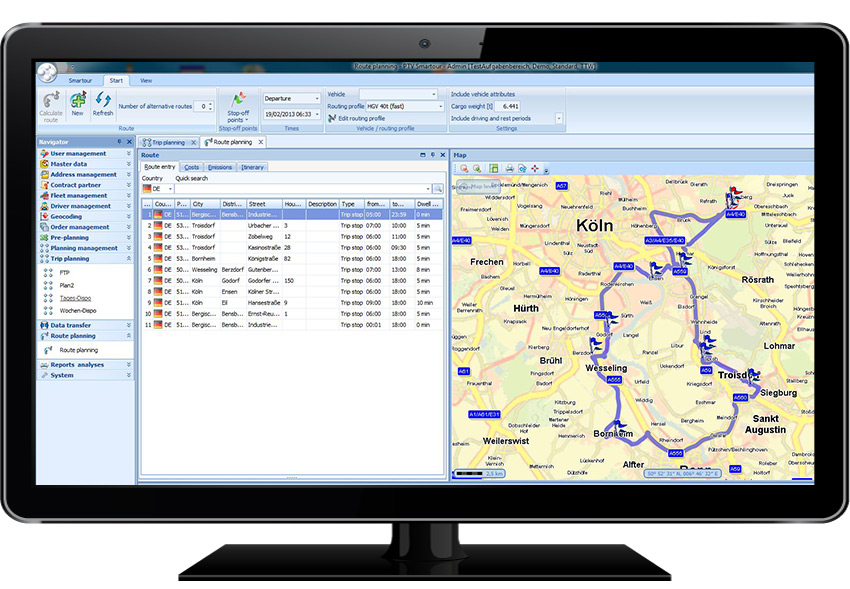 The following are the most important considerations for choosing the most effective load planning & route optimization system.
Consider the Company's Requirements
Load planning & route optimization come in a variety of forms. For example, local routes and delivery versus national trucks are two different difficulties requiring two different solutions. It is not common to find a single software that manages both problems and those often under-optimized. Before looking for retailers, it is suggested to evaluate the company's requirements to have a clear vision.
Check the Providers' Design Approaches
The degree to which a retailer's approach to tackling the specific routing challenge aligns with the company's requirements significantly impacts the final success. Some problems require a more complex approach involving sophisticated programming stacks, while simple rule-based engines better tackle others.
Look into the Vendor's Background for Load Planning & Route Optimization
Drilling down past a vendor's marketing materials and into its history pays off, searching for the proper solution to meet specific requirements. Gaining a thorough grasp of the events that led to creating a given solution reveals whether or not the intended solution is a good fit for the company. The load planning & route optimization challenge have different complexities for each industrial vertical and target area. When developing solutions, vendors typically concentrate on one or more of these verticals. The power of linking this emphasis with the business determines the final success.
Check All the Possibilities
Make a concerted effort to comprehend the strategy used to perform the calculations. Do not stop at the vendor's user interface or even the marketing-level information. Make sure that someone from your company or a third party reviews the science behind the software for flexibility and restrictions.
Have a Long-term Plan
Evaluate and consider all requirements of load planning & route optimization both for today and in the future. The chosen software should be sophisticated enough to suit both short- and long-term requirements. If you think the only problem you ever have to address is a multi-stop truckload problem, a system that solely solves this problem. Consider a more complex solution if you look ahead five years and see the potential for continuous moves or multi-mode and multi-leg optimization.
Determine the Assistance with Execution Load Planning & Route Optimization
It is critical to comprehend planning requirements and how you carry out the strategy once it has been created. Some firms already have historical and packaged Transportation Management System applications up and running when looking for a routing package. Many businesses do not. If you fall into the second category, look for vendors who can provide execution and planning. If not, be aware of how simple it is to incorporate an optimization engine with your existing systems.
Consider both Inbound and Outbound Traffic
There are variances in the mathematical methodologies used by most routing and optimization systems for inbound and outgoing traffic. The types and number of constraints for inbound shipments are dramatically different from outbound shipments. When it comes to both inbound and outbound marketing, vendors in the marketplace have varied levels of expertise. If you are in charge of both inbound and outgoing transportation, you should seek a built system to accommodate both.
Take the Creativity and Enthusiasm into Account
When you are speaking with merchants, please pay attention to their demeanor. Please pay attention to what people have to say and how they express it. A significant factor is how enthusiastically they give their message or how unenthusiastically they deliver it. Ask as many comprehensive questions as possible about the suppliers' new projects and their strategies for the future. This method helps you avoid working with a vendor who is not interested in innovating and hence will not be able to keep the intended solution current.
Seek Advice for Load Planning & Route Optimization
Please seek help from others and learn from their achievements and disappointments. Consult with colleagues who have previously established routes and load optimization technologies and use their experience. Do not be scared to approach competitors who have gone through comparable programs. They can only clam up as a last resort. For example, consider enrolling the help of a third party to help you choose a system. This method can expedite the procedure while also avoiding complications.
Practicality is the Key
Most of us lack the scientific, mathematical, and computer skills required to construct reliable load planning & route optimization systems. System developers frequently spend years learning and developing their abilities at excellent universities. However, it usually means they do not have a good sense of practical factors. Look for a vendor that has a well-balanced development team. Great scientists and logisticians work in top companies.
What Is The Load Planning Software Development Process in Ardas?
During development, before moving from the current stage to the next, it is necessary to complete each of its steps, for which they should be better understood. In this regard, the first three stages try to answer the test questions, and the last three are optimized to achieve actual results.
Let's take a closer look at each stage and analyze the results, some of which you may want to optimize for your specific situation.
SaaS Lifecycle Negotiations
This is how your project gets born. At this stage, all the paperwork takes place that will legally protect your intellectual property. Therefore, first of all, we will sign a non-disclosure agreement (NDA).
Further at this stage, we will arrange our first calls and discussions, during which we will find out your vision of the SaaS product, decide on the set of technologies, and offer a team of specialists with the necessary skills.
We always study the stack of technologies and come prepared for any issues that might appear on the way.
Diana, CSO at Ardas Group
After that, Ardas will prepare an individual proposal that will take into account all of the above, and in addition to this, the timing and budget of the project. If the conditions are suitable for both parties, we sign the contract and move on to the next phase.
I am always there for the client during the first calls to make sure the smooth process. 18 years of experiance in SaaS project development taught me how to notice pitfalls before they come.
Andrew, CEO at Ardas Group
System Analysis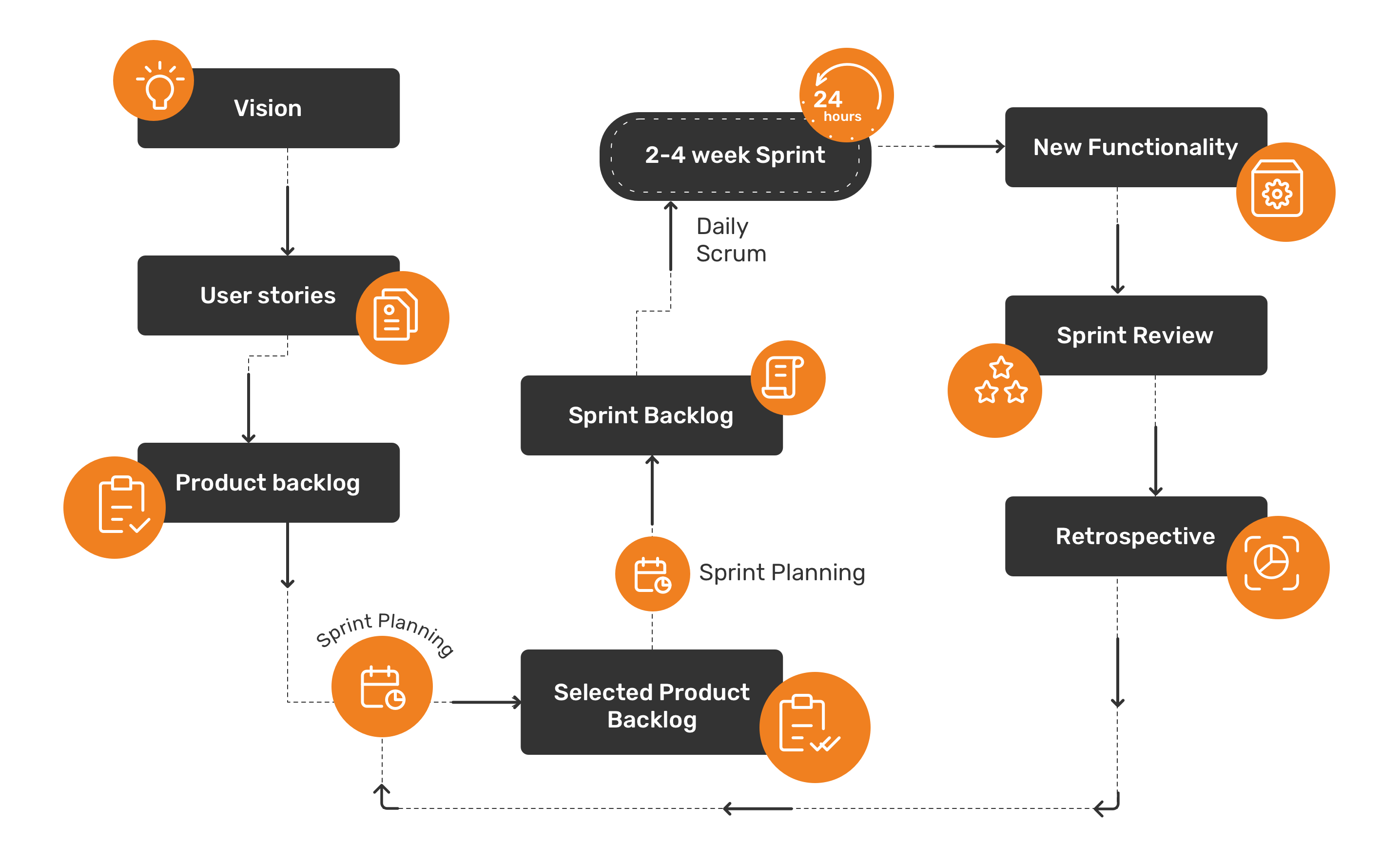 During this phase, you decide exactly what you want to do and what problems to solve:
Identifying problems, goals and resources (such as personnel and costs);
Exploring the possibilities of alternative solutions through meetings with customers, suppliers, consultants and employees;
Learning how to make your product better than the competition.
After analyzing this data, you will have three options: develop a new system, improve the existing one, or leave the system as it is.
During this stage, three specialists are involved in the work:
Business Analyst: Competitive Analysis, Niche Analysis, Customer Profile, Customer Journey, Roadmap.
Architect: Сreation of a technological architectural solution and a selection of technologies.
Designer: UI / UX product sketches.
It is necessary to define and document the requirements of the end-user of the system - what are their expectations and how to fulfill them. In addition, a feasibility study is made for the project, which clarifies whether the project is organizationally, economically, socially, and technologically feasible. It is very important to maintain a good level of communication with customers to ensure that you have a clear vision of the end product and its functions.
The correct architecture of the project will allow using modern, but proven technologies and distributing the load on the servers, which will increase performance, as well as comply with all regulatory requirements (GDPR, HIPAA, etc.)
Egor, Senior Software Principal Architect
System design
The design phase begins after a good understanding of the customer's requirements has been achieved. This phase defines the system elements, components, security level, modules, architecture, various interfaces and data types that the system operates on. The overall design of a system can be done in pen on a piece of paper - it defines how the system will look and how it will function. Then an extended, detailed design is made, taking into account all functional and technical requirements, both logically and physically.
We conduct user research in order to identify the needs of the potential audience and turn the product into user-friendly.
Natali, UI/UX Designer
At this stage, you will be working with:
Business Analyst: Responsible for the project portfolio, roadmap, and functional and non-functional requirements. Creating a scope of tasks for the development team.
Designer: has to create a design from documentation.
Architect: Creation of software documentation and DevOps design documentation.
Development team: preparing for development, getting tech. knowledge from the architect, creating a testing strategy, checking those. documentation, project setup for all necessary development environments and interfaces.
SaaS Development
At this stage, your main contact person will be the project manager, who will describe in detail the tasks for the developers, communicate with the client and be the connecting element between the client and the team. This specialist also oversees the scrum sprints, the time and the results of the project.
This phase follows a complete understanding of the system requirements and specifications. This is the actual process of developing a system when the design of the system is already fully completed and visual. In the system development life cycle, this is where the code is written, and if the system includes the hardware part, the implementation phase will include the configuration and tuning of the hardware for specific requirements and functions.
At this stage, the system is ready for installation at the customer's site, for launch in combat mode. End-users may need the training to become familiar with the system and know how to use it. The implementation phase can be very long, depending on the complexity of the system.
Each created function goes through 2 stages - implementation and testing.
Deployment and Testing
This is where the assembly of various components and subsystems takes place into one coherent system. We then feed the system various inputs and analyze the output, behavior, and functioning. Testing is becoming more and more important for customer satisfaction, while it does not require knowledge of coding, hardware configuration, or design.
Our projects are always covered by tests to make sure that we met all the expetations of our clients and did even more than promised.
Xenia, Head of Delivery
Testing can be performed by real users or a dedicated team of employees, or it can be systematic and automated in order to make sure that the actual results of the system are consistent with the intended and desired ones.
From the experts at this stage, you will need DevOps who will be responsible for testing and stabilizing the product in the deployment environment.
System Support
During this phase, periodic technical support of the system is carried out to ensure that the system is not out of date. This includes replacing old equipment and continually evaluating performance. It also updates certain components in order to make sure that the system meets the necessary standards and the latest technologies so as not to be exposed to current security threats.
Project development is only a small part of software creation. A literate support and roadmap of the project will allow you to win the hearts of your customers and raise a new unicorn in your niche.
Andrew, CEO at Ardas Group
These are the six main stages of the system development life cycle, and it is an iterative process for each project. It is important to note that an excellent level of communication with the customer must be maintained. Prototypes are very important and useful for implementing requirements.
By building the system in short iterations, we can ensure that customer requirements are met before we build the whole system. Many system development lifecycle models are based on the idea of ​​saving effort, money and time while minimizing the risk of non-compliance with customer requirements by the end of the project. Some of these models are the "iterative model" and the "agile model".
We explained even more in the article on cloud software development life cycle.
Ardas Experience
In one of our largest SaaS transportation software development projects, we also implemented cargo planning and control.The administration panel was developed as a separate web application to manage all system aspects of this SaaS. It allows controlling courier companies and customers, loads, payments, and all other data flow.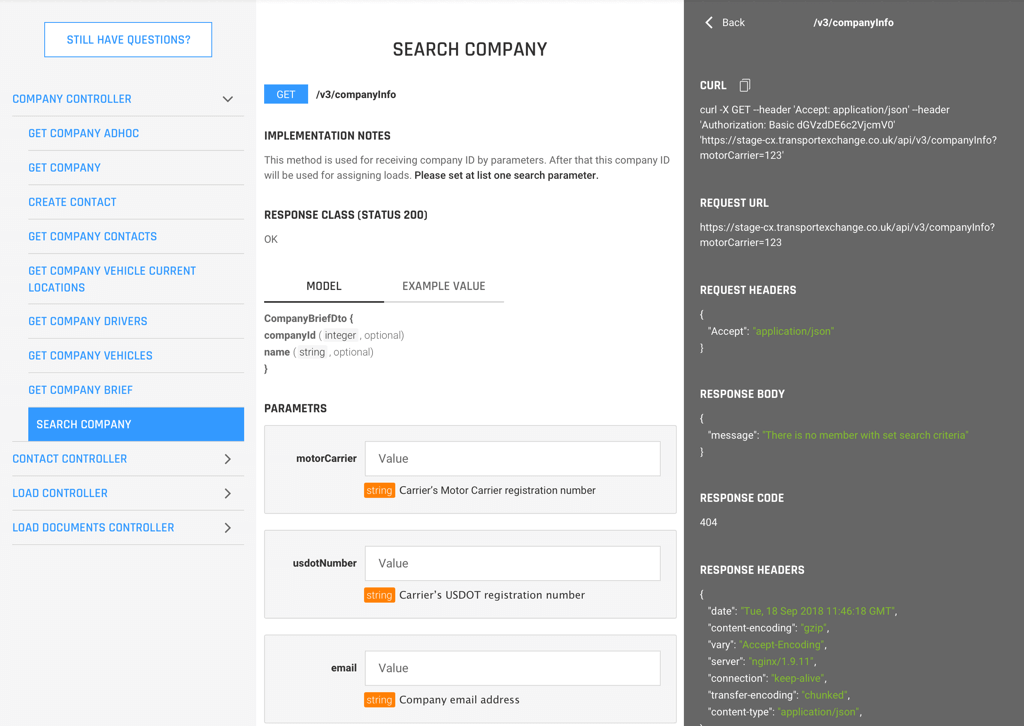 It flexibly configures the system-level behavior and helps SaaS staff to resolve issues on a company/user level providing high-end support services.
All external APIs are configured here allowing us to connect this platform to many ERP/CRMs or other logistics software used in the industry today.You can also check how order management system works.
Load Planning with Ardas
Load planning or load scheduling is the process of aggregating shipments to make the most efficient use of trucks, pallets, and other resources. Workload management systems, actual GPS routing, and long-haul multiple-day load planning & route optimization can help you better manage the resources and cut the current costs.
Even though there are many ready-made solutions that you can choose from, not all get managed to hide your unique business needs. You need to focus on logistics software development services to receive scalable solutions to meet the load planning logic.