How to Start a Real Estate Crowdfunding Platform [Based on Case Study]
Investment in real estate is capital intensive. This is one of the most significant barriers to participation. Based on this fact, an increasing number of people and companies are creating non-traditional access to capital for real estate investment. Crowdfunding is just one of them. Hence the term real estate crowdfunding.
Assuming this concept is relatively new to you, spending a few minutes on this real estate crowdfunding platform development article will be helpful. Regardless of your interest or position, the benefits of real estate crowdfunding can be yours.
Own Real Estate Crowdfunding Platform: Pros and Cons
It is an online platform that connects investors to real estate transactions in different locations simultaneously.
With these real estate crowdfunding sites, thousands of people with the same interests can be connected simultaneously from the comfort of their homes or office.
Given the development of modern technology, you can check the reliability of the companies or individuals involved in each project or transaction before incurring any financial obligations.
From a developer's perspective, you can access a network of colleagues, friends, and families with similar backgrounds interested in carefully considered real estate investments. This means you don't have to rely on your limited network of contacts.
Join some of the best real estate crowdfunding sites if you are an investor. Let's take a look at some of these benefits below.
Benefits of Crowdfunding in Real Estate
#1: Lower Investment Capital Requirements
Traditionally, real estate investing requires vast sums of money to start. Assuming you want to build or buy a home, you may need around $300,000 and up, depending on the size of the home.
Another traditional option is to take out large mortgage loans requiring significant down payments.
Unlike these options mentioned above, a group of investors can make smaller contributions, such as $5000-$20,000, to take advantage of real estate investment opportunities in any market.
While the potential return will be proportional to the amount invested, you won't have to deal with mortgage risks or obligations.
#2: Access to curated projects and deals
Beyond what you can find within your means or a limited network of contacts, real estate crowdfunding sites will help you gain unparalleled access to carefully curated projects and deals.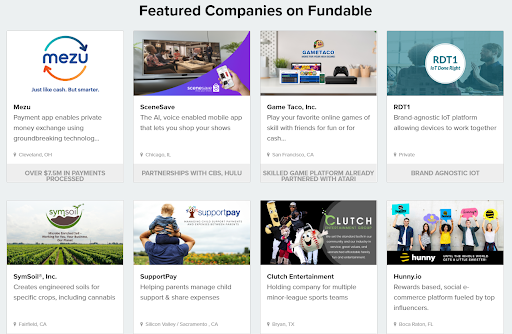 While you're busy with other things, the experts working with these crowdfunding sites spend their daily hours researching, reviewing, and curating new deals.
You can find new deals within your investment budget without moving from one place to another without spending money and time.
#3: Diversify Portfolio Risks
In both the real estate and equity markets, risk tolerance often varies from one investor to another.
In the same way, the risks of real estate crowdfunding are rarely equal when viewed from one context to another. Based on these facts, crowdfunding sites allow users to create deals and projects and deal with different levels of investment risk.
From there, you can explore and identify opportunities that will match your level of risk tolerance. Moreover, you may consider starting with low-risk, low-reward trades to test the platforms. This testing will help you gain experience and reliable contacts for high-yield trades that may carry higher risks.
#4: A Viable Source of Passive Income
Have you asked how to create new passive income sources? Real estate crowdfunding platforms can help get you on the right track.
As noted earlier, you don't have to take mortgage risks to make money.
What is interesting about investing through these platforms is that the process, requirements, rules, and schedule for distributing profits or dividends are usually specified in advance. By carefully considering these options, you will be able to determine whether the terms of the proposed transactions are acceptable to you.
Based on the nature of such investments, you do not need to engage in any active work to generate income. That's what makes it a viable source of passive income. And you don't need a lot of money to get started.
Disadvantages of real estate crowdfunding
There are practically no disadvantages if you realize that with such a concept, there is a specific limit of investments that you can receive. You are ready to work in partnership with other fundraisers.
Two Types Of Real Estate Crowdfunding
Having decided on a niche, you can choose the optimal crowdfunding business model - how your site will collect money from investors and on what terms. Such models can be divided into two types:
Donation based. Donors participate in crowdfunding campaigns without expecting any return. Suitable for charitable and relatively small projects, when people donate a few dollars to the initiatives they like. Vivid examples are the charity-focused websites Crowdrise and MightyCause (formerly Razoo). Kickstarter and Patreon can also use this model.
Based on rewards. A variation of the model with donations, only, in this case, investors receive a predetermined reward. The reward can be anything - from a souvenir mug to playing Dota2 together. But typically, the reward is in the form of a service or product for which the initiators of the crowdfunding initiative seek funding (plus bonuses for those who donate more than usual). This model is used on Kickstarter and Fundable.
After choosing a crowdfunding model, you need to determine the financing terms. So, Kickstarter does not finance any project if it has not collected the declared amount of money. Investors signify their willingness to participate in the campaign by escrowing funds (collateral) that will be transferred to the project initiator only if the financial goal is achieved. IndieGoGo policy is more flexible. There is an "all or nothing" option, partial funding and "give away everything we have collected."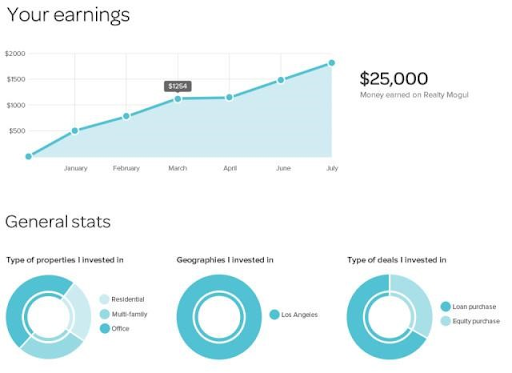 What other things should be included in the financing conditions:
Registration rules for project initiators and investors.
Financial goal and the size of the minimum or maximum investment.
The number of days of the crowdfunding campaign and the rule for when the financial goal is reached: stop the campaign or not.
Who can participate as an initiator and investor: anonymity, country, legal status, investment amount, etc.
Other conditions.
Core Features for Real Estate Crowdfunding Platform
Of course, you need convenient functionality to interest users to stay on your platform.
Simple and fast registration. The process should be as clear, simple, and fast as possible. Ideally, there should be registered through social networks or Google accounts with the ability to edit a personal profile.
Listing of projects. A list of initiatives available for investment with detailed information about them, an icon for investment, and the ability to contact the project's author. You must create several templates to represent different projects: filmmaking, video game development, charity, real estate, etc.
Account management. It should be slick and intuitive so neither party is puzzled over what is going on with the crowdfunding campaign, how much money has been raised, who has paid, when the deadline is, and so on. Along with the investment graph, transaction details, and rewards, you can also add several analytics tools to visualize numbers and raw data more easily.
Payment and marketing. Tools for working with payment gateways and marketing tasks. For users' convenience, you can connect MangoPay, LemonWay, GCEN, WePay, and PayPal. It is worth connecting several local payment gateways if you work in North America and Western Europe.
Security and support. A reliable way to verify the identity of potential donors and ensure compliance with KYC (Know Your Customer) requirements is needed. You can find many similar solutions on the market that can be integrated into your website or used as an external source of information. In addition, we need a full-fledged support service that will deal not only with KYC but also with resolving disputes, typical problems, and user assistance.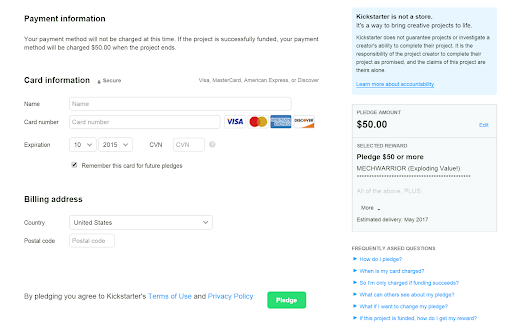 How to Start a Real Estate Crowdfunding Platform
The last step in launching a crowdfunding platform is writing the site code, testing it, and deploying it. Development can be started from scratch, which is long and expensive but gives you maximum control and allows you to create a truly unique site. And you can use templates and almost ready-made solutions. Here are a few of those options.
When you finally decide that you are ready to develop your own crowdfunding platform, seek legal advice before doing anything. Quite often, such activities require registration or a license from one of the government agencies, such as the SEC in the US or the FCA in the UK. This is especially important if you provide a platform for financing real estate construction, lending, or participating in high-risk investment projects.
A lawyer must also correctly draw up the User Agreement and standard contract forms to regulate the parties' relationship on your platform.
Cost to Build Real Estate Crowdfunding Platform
We surveyed the crowdfunding platforms between May and June to learn about their offering types, funding to start the business, target audience, crowdfunding software prices, and more.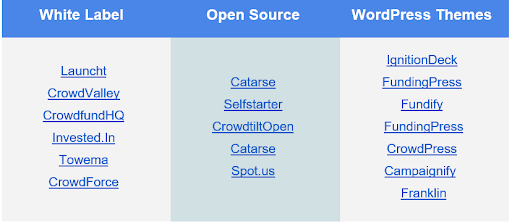 According to our report, 43% of platforms are self-funded, angel investors fund 25%, and 4% are VC-funded.
It's also interesting that 57% of the platforms are custom-made (in-house), while 22% run using white-label crowdfunding software. Finally, 21% of platforms are custom-built but outsourced.
Companies spend at least 89,000 EUR to build a crowdfunding platform on average.
35% claimed to have spent over €200,000, 26% spent €101,000 – 200,000 and 7% – €10,000 or less.
Most crowdfunding platform developers charge a fee based on a percentage of the funds raised, and the payment processing fee is typically 2.9 percent + $0.30 per transaction.
Real Estate Crowdfunding Platform Case Study
A fully featured FCA-compliant real estate crowdfunding platform allows anyone to start their own business with minimal investments. People invest in real estate properties and earn revenue when they are sold. The system controls all financial flows, from deposits to revenue withdrawals.
Our goal was to create a clear and simple web system directed to crowdfunding for real estate financing and investments. As a result, with only 1000 pounds, anyone can invest in real estate and receive a monthly income from interest. We put our best efforts into creating a user-friendly system so any common user can control his/her account. We truly believe that crowdfunding solutions bring the real estate business to a new level.
To receive the FCA, you have to complete a questionnaire in your profile and choose the type of investor you prefer to be. Also, as a part of the FCA process, we check people's passports with the ID3 system. Once the person has registered, he/she gets a secure client area that contains all information relevant to the investments, including current balance, interest paid, and any property details or legal packs. The client can change any info with an in-place editing option.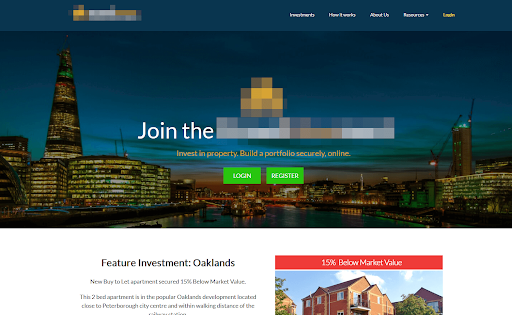 After working through all the client's requirements, we assembled a team of five people and began work on the project within a week. Our business analyst and architect started working on task scheduling. The hardest part was working on all the financial algorithms and payment methods that changed several times during the project. Then we developed an MVP sent to FCA compliance and worked on their requirements for the next four months.
Crowdfunding custom platform
Crowdfunding allows you to get financing without the participation of banks, venture capital funds, or exchanges. The process has become much simpler and more democratic. The undoubted advantage is the personal interest of the person supporting the project. Сrowdmove project is a type of Joint Stock crowdfunding and Royalties; when people support the project in exchange for a share in the business or its revenues, respectively, they still rely on the interest of the company, its faith in the future, and are in constant contact with the creators.
Financial features
The site was designed for the average user, who can intuitively find any information in seconds. This is particularly important when it comes to money. Any investor can view the history of his/her investments and money transfers, income, and withdrawals report from the personal account. All funds are legally secured against the property or land asset and ring-fenced away from the company.
Crowdfunding and MangoPay
All transactions are conducted through the MangoPay system. The payment solution needed for crowdfunding is much more complicated since you must be legally clean at every stage of the movement of money. Therefore, look at the diagram, which shows the entire financial path.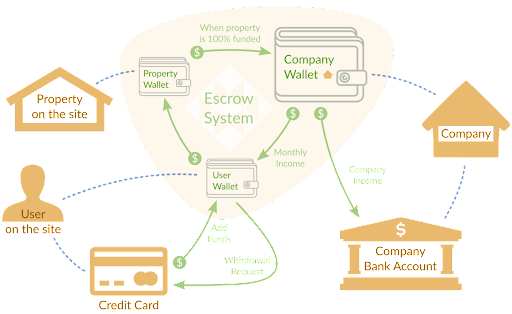 UI/UX Design
The design aims to ease the search and obtain the necessary information, so the site is not overloaded with a large menu and includes only the most necessary pointers. Due to the WYSIWYG editing, you can see the result of your corrections immediately. Moreover, a website manager can create various landing pages in the same design framework, but it is still pretty unique. The color solution of the website is not irritating to the eyes during prolonged use.
FCA & Financial Security
We stayed with clients throughout all checks and implemented all technical requirements. One of the most essential features of the project is obtaining mandatory confirmation from the Financial Conduct Authority (FCA), which provides:
Market confidence: supports the credibility of the financial system;
Public awareness: Contribution to public understanding of the financial system;
Consumer protection: providing the required level of consumer protection;
Reduction of financial crime: reducing the use of business opportunities for financial crime.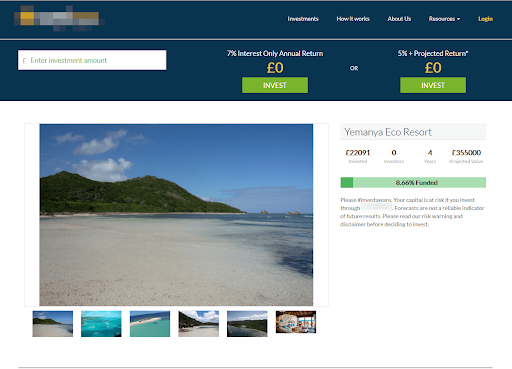 How Ardas Can Help You
Any real estate business owner can find a crowdfunding platform a great opportunity. If you want to build a successful crowdfunding real estate platform, your best bet is to rely on the Ardas team. When looking for a crowdfunding service provider, you must find a platform with the skills and knowledge to attract a crowd with funds.