How to Create a Retail App for Your Business?
Many users choose online shopping for most purchases since you can simply unlock the phone and go to the application. According to Google statistics, 65% of online purchases worldwide are made from mobile devices. However, not all retailers want to spend money on mobile applications; most believe this is too costly and time-consuming. This could turn out to be a big mistake: according to Criteo, European companies that offer a shopping app in addition to an online store already make 55% of their online sales there. Among the leaders in purchases through mobile devices are Japan, South Korea, and the United States.
This article will dive deeper into all the nuances of custom retail software development and review why and what exactly you need to create one.
How a Retail App Can Help You Improve Your Business
With a mobile retail app, you can make your store mobile. Digitalization has become a general trend; the market for digital sales of goods and services and more and more trade transactions are taking place using smartphones. So you can increase your customer base and expand your store without limits. After all, this way you will not have store walls or counters, and to show the goods you will need only high-quality photographs.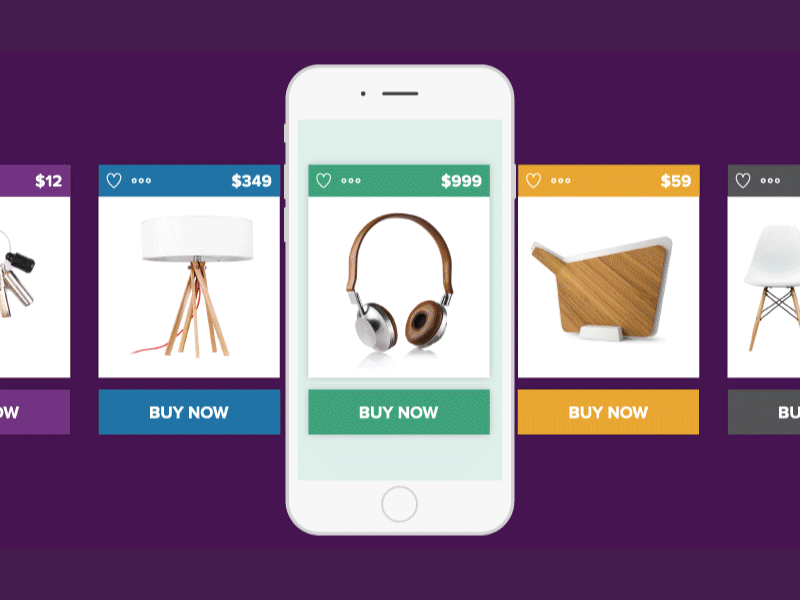 Custom e-Commerce App vs. App Builder Solution
At this stage, you must understand what is more important to you, individuality or urgency. After all, if you choose a custom retail app, you will have your own design, and you will be able to embody the whole essence of your company and your ideas. App Builder Solution may have originality issues and may not turn out quite how you intended. There may be hundreds more such sites.
For example, integrating third-party services in applications built on templates is very complicated. Such work is practically impossible in some cases, like shipping API integration and salesforce API integration. So if you go in the direction of custom mobile app development for retail business, you can make unique pictures and text and increase your audience with recognition and creativity.
Features of an eCommerce App
Now, many users are more likely to shop in the retail store app or online, as it is much faster and more convenient, which means it will be easier for your customers to use your services.
Most retailers are moving to omnichannel. This means that the seller of goods has an offline store, an online store, a mobile application, takes orders from buyers through a call center by phone and sells on social networks.
And that's not all: when contacting the seller through any of the above channels, the client uses his discount card, finds out about the availability of a certain product, its expiration date, and so on. Information about customers and all products is combined into a single linked database. Omnichannel technology is already being used by brands such as Sephora, Home Depot, Walmart, Unilever, and eBay.
Commercial applications without additional features will quickly become boring to consumers. Users only install and use apps from stores where they regularly shop. For example, I love tennis and regularly buy new equipment - not weekly or monthly, but 2-3 times a year. In this case, I don't necessarily need an app. Therefore, it is important for retailers to find ways to motivate me to download it and return it regularly.
What can they do? Pay special attention to content. Let's take the example of a sports store with features in the application that may be of interest to me as a user:
Information about the sports tendencies in tennis. Many retailers already have content specialists - why not use their capabilities in the application?
Schedule tennis matches and reports about them. Such information requires more careful preparation, but if the user knows that everything is in one application, why does he need several more?
Information about tennis clubs and tournaments.
Partner Involvement: Why not sell tournament tickets? Or offer the opportunity to order a taxi to get to the tennis club right in the app?
Weather information: where is the best place to book a court? In a sports club or outdoors?
Applications with augmented reality (AR, augmented reality). Of course, augmented reality is still the technology of the future, but the ability to find out information about a player or order a racket while watching a match will be unmatched in attracting users.
The mobile device market is developing rapidly: devices are changing in terms of design and becoming more and more functional. There are still no perfect apps, but retailers are taking the first steps by adding additional features and content to engage users.
The experiment of the Korean supermarket Tesco looks very inspiring. He opened a Home Plus virtual store in a Seoul subway station, showcasing the walls and columns of the station. According to the owners, sales increased by 130%, and the essence of the idea is very simple.While waiting for the train, Metro visitors spend their time usefully choosing the necessary products using a smartphone attached to the product image. When the buyer arrives home, the package with purchases is already waiting for him at the door. A great idea that helps save time and entertains during the boring idle time on the subway.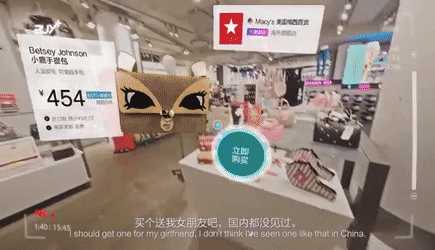 In principle, virtual elements are already used in many car dealerships when selling furniture at Ikea. In the mobile application of the latter, furniture can be placed in an empty space, tried on, and rearranged. Virtual reality is a new trend in online commerce that will undoubtedly only develop; this is not a temporary phenomenon.
e-Commerce App Core Features for Users
The content and consistency of your e-commerce app are important, and this is where the retail mobile app features help. For users, everything should be as optimized and straightforward as possible, everything should happen as quickly and efficiently as possible so that the client does not have time to get tired. To make all the features for your customers convenient, it is important to consider a few points of your customers.
For example, if it is youth, you need to look through all the trends, and you will need to update the store with the onset of new "global" trends. If your clients are older, you need to consider their interests and habits.So, if the interface of your application does not match your audience, fewer customers will come to you.
User Registration and Login
The more convenient your registration and login, the fewer customers will leave at this stage. For comfortable use, you can create a simple registration by entering your email address or phone number. It is also convenient if you can immediately tie up some account, such as Apple or Google, to which a bank card is connected. If such a function exists, you can not fill out a massive list of details from the card in the first order. If you can easily and quickly sign up for your online shopping app, the customer will be happier and visit your app more often.
Product Catalog
Catalogs matter a lot to your application or website. A person who visits a site/application often sees a directory. The catalog should not have a lot of text, but there should be enough information. The catalog should be easy to use so that the client does not have problems with surfing or searching for any information.
Catalog Search
Searching for a product should not take a lot of time or a large number of actions. You may want to add advanced searches to your application, such as filtering and sorting. These functions will facilitate the search and help the client with his desires.
Shopping Cart
The Shopping Cart should contain basic information about the product. For convenience, you can add the function to add or remove goods, you can also specify the approximate day of delivery. If this information can be found in the shopping cart, it will be more convenient for the client to use your application/site. After all, this information may become an important answer for the client and help decide on an order.
Checkout & Payment Options
Now, buyers use entirely different payment methods. Thus, the e-commerce payment ecosystem can now suit any Internet user. Therefore, it is now important to have different payment methods in the online store, and the more, the better (for example, PayPal and ApplePay).
In addition, if you serve multiple countries, it is essential that the payment system accepts international payments and different currencies. If you care about getting new users and expanding your store outside of your country, then this feature can help you.
Customer Support
When something doesn't work out and your visitor's mood deteriorates, you lose a client. This can be avoided if you have a help desk or a chatbot. It's good if you can go to the chat right from the catalog page by clicking, for example, on the button with the message icon, but it is also vital that the support chat is not imposed and does not interfere if the client does not need it.
Negotiations with the client in support or chat should be conducted by a very kind and understanding employee. After all, these employees will be able to retain the client. Or a chat-bot should be done with the expectation of a little knowledge of psychology and marketing.
e-Commerce App Admin Panel Features
The functions of the admin panel of the e-commerce application are mainly needed to manage the online store. This is the brain of your enterprise, through which edits and new content are added. This is, so to speak, the other side of your store, from which you and your team will see and serve it.
Orders And Fulfilling
With the help of the Internet and the network, it becomes easier for you to take orders from your customers. If the client correctly fills in all his data, you will not have any problems. You will receive all the necessary information and can quickly fulfill the buyer's wishes. If you also leave some nice bonus, for example, a discount for the next purchase or put a small gift in the package, then the next time the client will be motivated to choose your online shopping app.
Ordered Product Detail
To complete the order, you will receive the most essential information about the order to collect the parcel correctly, for example, the name of the product, quantity, recipient's name, address, payment, etc.
Payment & Invoicing
You can track if the payment went through based on your choice of payment method. Reviewing the details and finding out if your company has received or is waiting for payment. If your company can partner with giant companies such as GooglePay, Apple Pay, and PayPal, it will be easier for you and your customers to track payments.
It will be easier and more convenient if your company can cooperate with multiple deliveries and post offices so that more customers can order goods without any problems.
Customer Details
Customer Details will be able to provide you with your customer's name, shipping and billing address, email address, and mobile phone number. Perhaps not all of the above; if you do not need this information, you can make this list smaller. Customers can create an account to automate future orders and purchases. If you give them the opportunity.
Track Inventory
Tracking the quantity of one or more products can be easily done through the admin panel. If a product is out of stock, you can show it on the site with a certain label or simply write it when ordering. With this feature, it will be much easier to track which product is more in demand or, for example, what is not bought. This makes it much easier to improve your catalog and increase your audience.
Manage Products
You can conveniently control your product through this function and add additional information and photos, delete or add products. If you follow new trends and add interesting discounts or your own chips to your store, then your store will become more popular and more recognizable.
Tech Stack for Retail Mobile App
This includes everything you need for building a retail store app. It will include important technologies, applications, and platforms. For example, programming languages, development platforms (such as Android), data storage, security management, a user interface design tool, and other web services.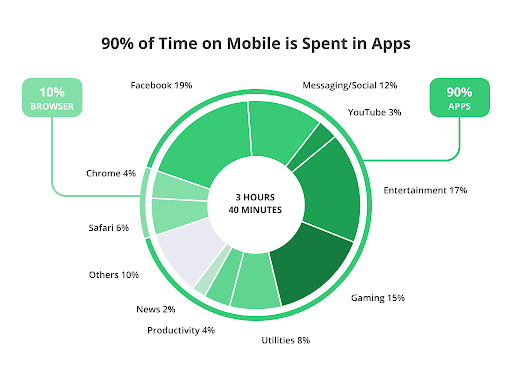 For example, in our gifting platform for retail we applied such technologies as
C#
.NET Core 2
EFCore
React Native
VueJS
NodeJS
MS SQL
Redis
Azure
Azure Active Directory
Azure Blob Storage
Azure
SOA
REST API
Docker
Kubernetes
However, it will always depend on the skills of the dedicated team who is working on you project, its complexity and your particular requirements.
Retail App Development Process
In our company, we usually build development of your eCommerce app like this:
analytics;
technical task;
engineering and design;
development;
testing and stabilization;
publication in the stores;
support and development.
Each project is special. For one, you can combine several stages into one in order to implement your plans faster and cheaper. For others, it is advisable to go through all the stages. We will help you choose the best path.
Stage 1. Analytics
Every application starts with an idea. You tell us what tasks the future service should solve, and we start collecting analytics. A deep slice of the market, an analysis of existing solutions, a study of competitors, and customer behavior patterns... At each analysis stage, we keep the end user in mind and think through the customer's life cycle. This helps us understand together how people will use the new application - and make it as convenient, understandable, and useful as possible. This service will benefit your business as well.
The result: references for functionality and design.
Stage 2. Terms of Reference
We are compiling a detailed description of the functionality and design of the future application. We define user characters, describe user stories (User Story), draw up a user journey map (Customer Journey Map) and form technical requirements for the service. That is, we fix what the application should be like, what it should be able to do and how it will work.
Thanks to such a technical task (TOR), our team of designers and developers clearly understands what kind of service the customer wants to receive, and gradually implements the initial idea.
The result:
a list of functions that should be in the application;
interface requirements, user roles, security, performance and other non-functional requirements;
a description of how all these requirements will be implemented;
project estimate.
Costs of Shopping App Development
The most influential factors which determine the final cost to build an app are
App functionality and purpose;
Vendor type and location;
App development process;
Size and level of the development team;
Complexity and number of app features;
Back-end infrastructure, connected APIs and integrations;
Complexity of UX/UI design;
Inclusion of additional branded visual elements;
Development approach (native, mobile web, hybrid, etc);
Тumber of platforms to be developed (iOS, Android, web, etc);
Mobile platforms and devices supported;
Ongoing maintenance plan;
Vendor type and location.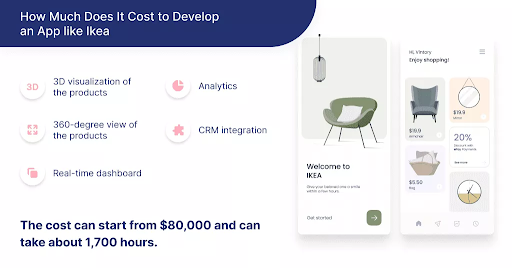 The most reliable mobile app industry studies provided the following quotations for app development cost and timeline:
The median app development cost is between $$25,275 and $114,300 for iOS app development at $100/hour, which represents 1,143 development hours based on a Clutch survey.
On average, the cost to create an enterprise app is $140,000 as VDC Research states.
The total app price could even increase to $500,000 in the case of complex functionality implementation, according to Clutch.
Regarding the app development timeline: over 80% of mobile apps take 3+ months to develop; 40% of apps are built in 6+ months, as the Outsystems Survey indicates.
Available app cost calculators state a price range from $$200,000 to $350,000 for complex, multi-feature mobile apps. In case the app consists of basic features, the cost ranges from $10,000 to $50,000.
GoodFirm's research in 2022 indicates that the cost to make an app with basic functionality is around $24,000 within 4.5 weeks. As for a complex application, the price increases to $137,000 and a 26-week timeline.
Things to Consider Before Shopping App Development
Once you decide to build a shop app, you need to set yourself the task of answering a few questions. First, understand your target audience and find the trends you want to follow to grow your audience.
Secondly, look through all possible information and find answers to your questions. Just look at the prices and understand how much it can cost.
Third - team selection. The team you choose should not only include skilled experts, you must understand each other and together strive for successful results. If you, or vice versa, the team does not dive into the project, then, in the end, you will not get what you originally wanted.
Case
Our task was to build a system from scratch, but at the same time, it had to be integrated with what had already been created before. We had to create a development plan for Scrum according to the client's requirements, taking into account the design, architecture of the backend, and deployment.
We had to work with another offshore development team that made the previous system. This collaboration allowed us to understand how the previous system was built and how the API specification works in order to implement the entire integration and test it. The smooth and efficient collaboration allowed us to complete the task within the shortest term.
After the MVP was built, tested, and released, this tool was sold to its early adopters. The feedback was received immediately. The development team stayed with this customer and his project working on new features, and updates. During the post MVP phase, we worked on a few pivots and changes to adapt this software to clients and users.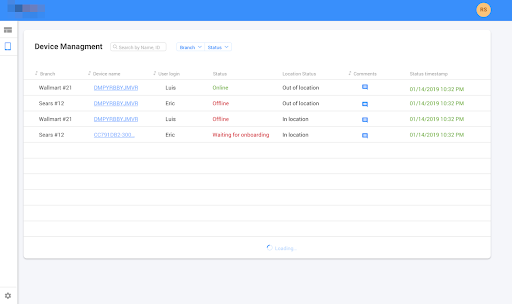 While working on this project, we implemented several attractive functional solutions, you can read more about them on SaaS for retail case page.
Final Thoughts
It is important for today's retailers to be able to create demand and interest for the buyer because in this way they attract more customers. Let's face it, if I need a new tennis racket right now, I can buy one at any store. And, most likely, I will buy it in the online store with the lowest price. Therefore, it will be difficult for retailers who work only to meet demand.
Commercial applications with interesting content have every chance to win over consumers and, above all, captivate them. Of course, retailers will need additional funds, but as a result, they will not only see sales growth but also acquire loyal customers even in highly competitive market segments.
Ardas can help you deepen your knowledge on this topic, and our team of hardworking elves can create your retail mobile app. We will implement your brilliant ideas and make bomb applications.