Ukraine Tech Industry 2022: Forecast, Diversity, Features
The IT sector in Ukraine is an industry that is developing at a high pace. It has involved about 300,000 employees and attracted about $ 600 million in foreign investment in a year.
Specialists in this field not only outsource services ( Ukraine is one of the largest suppliers in Europe) but also work on the country's digitalization and actively cooperate with the government on various initiatives.
In this article, we will talk about the state and diversity of the Ukrainian IT market, the skills and experience of industry professionals, the main risks for the industry caused by the russian invasion, as well as forecasts for the future of IT in Ukraine.
Ukrainian IT Market Overview
According to a Ukrainian IT Report 2022, in 2021, the IT industry grew by 36%, from $ 5 billion to $ 6.8 billion in exports. Experts claim that these numbers have almost doubled over the past three years, and the growth trend is quite stable.
Despite the war and its challenges, the IT sector remains a driving force in Ukraine's economy and expands rapidly. The contribution of this industry to the country's GDP is gradually growing.
IT Ecosystem
At the end of 2021, there were 8.2 thousand active legal entities in the Ukrainian IT market. Thus, the market includes about 5,000 local companies and nearly 130 global companies' offices and research centers, such as Microsoft, Magento, Amazon, Samsung, etc.
The main areas are:
software development,
software support and maintenance,
QA testing,
research.
There are a lot of companies in the market that are involved in Cloud, Big Data, and AI development.
Own Startups
Ukraine is known for its high-flying startups. You've probably heard of Grammarly, which attracted a record high investment last year and became one of the most successful worldwide startups. Other well-known companies include MacPaw, Attendify, People.ai, Ajax Systems, Petcube, Reply.io, etc.
Customers' Geography (by 2021)
The largest customer is the United States, which exports about 40% of Ukrainian IT services, and the second is the United Kingdom, with 10% of Ukrainian IT services exported. Other large customers are Switzerland, Malta, Israel, Cyprus, Germany, Canada, Denmark, and the Netherlands.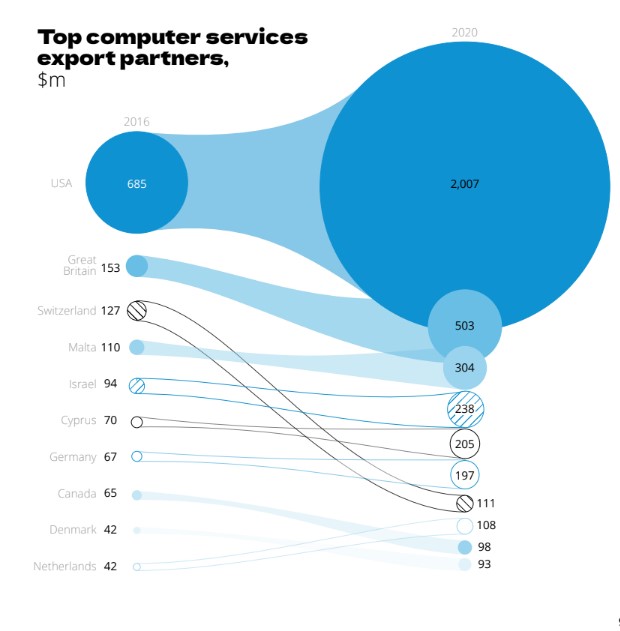 General Overview
In general, the Ukrainian IT industry has taken a huge step forward and has become an integral part of the country's economy, contributing to a GDP of more than 4%. Officially, there are about 285 thousand IT specialists in Ukraine, and this number increases by 25-30% annually.
Ukraine is one of the largest exporters of IT services in Europe, with an excellent knowledge base, great motivation and ample opportunities. Despite the russian invasion, Ukrainian IT companies continue to provide quality services, support the economy and maintain high development rates and constant growth.
Ukrainian IT Skills & Salaries
Today, the IT sector in Ukraine is a strong community with its own associations, educational centers and university programs. IT cluster development leads to the specialists' skills improvement and, accordingly, salaries increase.
Education
As the Ukrainian IT industry offers decent pay and ample opportunities for professional development, the demand for talent is still higher than the number of university graduates. Higher education institutions, in turn, offer a powerful training base for technical education.
In general, Ukrainian universities annually graduate about 16 thousand bachelors of technical specialties and about 8 thousand masters. Also, technical education in a particular field is provided by non-formal educational institutions, which graduate about 25 thousand junior professionals a year. According to forecasts, the number of specialists with higher education in the coming years may increase to 35 thousand bachelors per year.
Skills
The Ukrainian IT talent pool is exceptional thanks to quality formal/informal education, high motivation and wide opportunities (internships, IT cluster educational and training activities, government programs such as IT Creative Fund, etc.).Ukrainian specialists are quite flexible, open to new proposals and quickly adapt to new technological challenges.
As for skills, Ukraine has the largest number of software engineers (more than 50%). Also in the talent pool:
QA/manual testing engineers and DevOps,
business analysts,
product and project managers,
security experts,
UX/UI designers.
Ukrainian IT developers use such programming languages as JavaScript, Python, Java, C #, TypeScript, PHP, etc. Most technical talents have an Intermediate and higher level of English language proficiency.
Experts also say that 25% of all IT specialists in the country are women, and they occupy 32% of all management positions. Research shows that the number of women in the Ukrainian IT sector has positive growth dynamics, especially in leadership positions.
At Ardas, we take both professional and gender diversity very seriously. It's especially important for us that every talented employee has the opportunity to realize their potential, regardless of gender, skin color, or age. Women in our company are actively involved in the development of all projects and initiatives, as well as occupying leadership positions.
Average Salaries
According to the IT Ukraine report, the average mid-level specialist's wage per month looks like this:
Project Manager – $ 2500-3000;
Software Engineer – $ 2000-2500;
QA Automation – $ 1700-2000;
QA Manual – $ 1500.
The average salary of IT professionals may slightly vary depending on the region. Kyiv, Lviv, Kharkiv, Dnipro, and Odesa are the largest IT centers. Due to the russian invasion, the situation may change, as many companies have relocated their offices to Ivano-Frankivsk, Chernivtsi, etc.

Ukraine IT Sector Diversity
As mentioned earlier, there are about 5,000 IT companies in Ukraine, and about 1,400 of them are startups. Most companies, namely 86%, have up to 80 employees, and 11% of companies have a staff of 80-200 people. So, we can conclude that the IT market in Ukraine is formed mainly by small and medium-sized companies.
As for the business and development approach, 51% of companies are service-based, 33% provide services and develop their own products, and 16% are exclusively product-based.
According to the IT Ukraine report, most companies provide services in the field of fintech, banking and e-commerce. However, a large number of developers are involved in logistics, medical and healthcare, educational and retail projects.
Among Ukrainian companies, there are many that work in the field of artificial intelligence, machine learning, robotics, blockchain, cloud technologies and Big Data.
The Diia City: Digital Business Country
Ukraine's tax system creates more than favorable conditions for IT companies, as the country is interested in the Ukrainian IT industry's stable development and strengthening of the economy.
Until 2022 the most common taxation model is a single tax collection and the involvement of specialists as independent contractors, i.e., individual entrepreneurs or FOPs. Thus, companies pay 18% corporate income tax and 20% VAT. At the same time, royalty payments in cash, software supply transactions and exports of industry services are VAT-free.
What Is the Diia City?
The Ministry of Digital Transformation of Ukraine has created a unique program to regulate tax relations and whole system liberalization. The Diia City initiative is a special legal framework for IT professionals, a kind of digital country with an accessible and transparent register of Ukrainian business entities in the IT industry.
After a long dialogue and debate between the authorities and the Ukrainian IT sector, it was decided to gradually implement the system and create additional incentives for the development of the digital industry in the country. Today, the initiative includes Fintech, AI, Cloud Computing, AgroTech, Blockchain, etc.
What Does Diia City Offer?
In general, the initiative's primary goal is to offer IT professionals more flexible forms of involvement, a special tax regime, and assistance in investment protection. The system also provides additional tools for corporate management and financial control.
What Types of IT Activities Does the Program Include?
Residents of Diia City can be companies in software development, maintenance and support, providing cloud and online services, and IT research. The list also includes training and programming activities, IT marketing, cybersports, development and implementation of robotics, etc.
The main requirements for the "digital state" residents are to receive 90% of their income from the types of IT activities mentioned above and the average monthly employee salary of €1200. Such residents should not have tax arrears, cooperate with the aggressor country, and have similar negative criteria. The complete list of requirements is available on the Diia City website.
Why Might Diia City Be a Good Idea?
Actually, Diia City is a unique phenomenon in three areas: legislation, tax regulation and the IT industry. This compromise solution combines the benefits of working with independent contractors (FOPs) and classic employment relationships. At the same time, participation in Diia City is completely voluntary, and the system itself is not subject to the old and not always correct labor legislation.
In addition, the framework makes it possible to hire foreign specialists under a simplified procedure and gives a choice of forms of cooperation. It is quite flexible but ensures compliance with all legislation.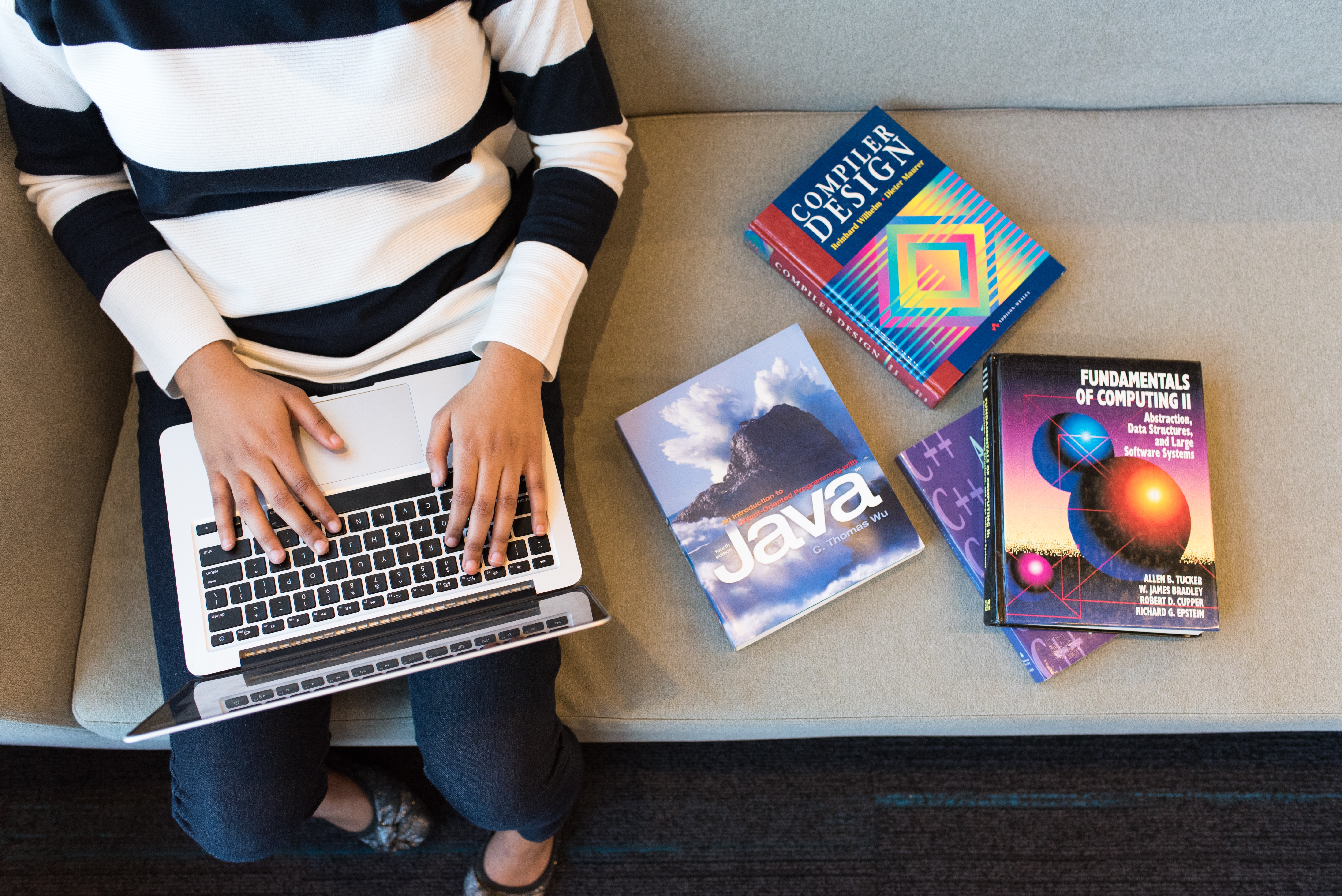 Remote Work Trends
Remote work in Ukrainian IT was pretty common long before the COVID-19 pandemic, and many FOPs worked for foreign companies remotely. In addition, outsourcing cooperation involves remote communication with clients, so conditions for the transition to remote mode were already prepared.
Since the beginning of the pandemic, many organizations have changed their business approach. By 2021, 87% of Ukrainian IT companies have decided to switch completely to a hybrid work mode, which provides the opportunity to work partly in the office and partly remotely, or choose a more convenient option. 42% of companies planned to start returning employees to their offices at least partially. But the situation changed with the beginning of the war, so remote work while maintaining full productivity remains a priority.
Be that as it may, this option has some distinct advantages. Many organizations have been able to reduce costs by saving on office rent, associated maintenance costs, etc. In addition, a lot of them have been able to hire professionals from different cities and even countries.

How IT Professionals Help Ukraine During the War
From the first days of the war, all Ukrainian citizens, without exception, have been trying to do everything possible to win. Those who have not yet defended the country with weapons in their hands are actively volunteering and donating money to Ukrainian funds.
The IT industry never stood aside. In addition to the fact that many specialists have joined the Ukrainian Armed Forces, IT companies continue to support the country's economy and ensure the digital development and security of Ukraine. In the first few days of the war, the IT companies donated about ₴30 million to humanitarian aid and military support, and this amount doesn't include personal donations from each employee.
This fund was founded in 2014 and has become one of the largest military aid funds in Ukraine. In mid-February, the professional IT web service DOU launched a flash mob, the essence of which was to raise money for this organization. In ten days, the donation amount increased from $ 25,000 to more than $ 175,000.
On May 6, the same resource called on IT professionals to donate the Come Back Alive to an aircraft for the Armed Forces. With the goal of ₴30 million, ₴32 million were collected.
This foundation was founded by top managers of IT product companies in 2022. The organization's main task is the prompt transfer of assistance to hotspots, and volunteers provide both military and humanitarian assistance.
Also, IT companies often organize fundraising within organizations. So, the IT industry is doing its best to win while remaining a reliable source of revenue for the country's budget.
Ukrainian IT Industry Forecast for 2022
Before russia's full-scale invasion, the IT market in Ukraine had positive growth dynamics. Since 2013, services exports have doubled, and the industry has brought billions to the Ukrainian treasury.
In addition, in 2021, revenue from IT services increased by 13% compared to 2020 and, on average, increased by 20-25% annually. Under the baseline scenario, the IT sector could double revenue over the next four years.
However, the war made its adjustments. According to Statista research, the Ukrainian IT market in 2022 may fall by 44 percent. A similar trend was observed in 2014 when the russian federation first invaded Ukraine. However, statistics show that the industry is recovering and doing this fairly quickly (the market grew by 27% in 2016).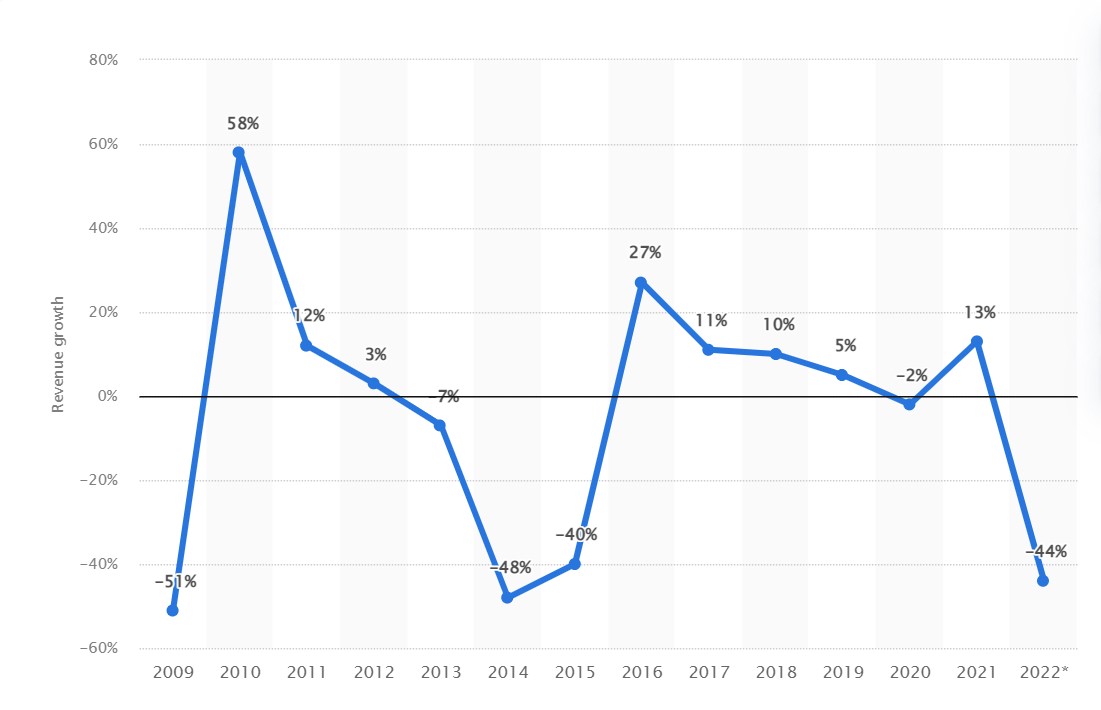 In addition, compared to 2014, the industry receives much more government support. The state plans to allocate ₴11.1 billion for the digitalization of economic sectors and industrial development, and the launch of Diia City will help ease the tax burden and promote the development of IT business.
It's also worth noting that many IT professionals continue working with clients from the United States, Europe, Canada, etc. Remote experience allows them to maintain productivity and provide quality services. Cooperation with foreign clients helps stabilize the market, so much depends on the number of foreign customers and their willingness to cooperate with Ukrainians.
Sum Up
Despite the dramatic changes and negative consequences caused by the russian invasion, the Ukrainian IT sector continues to develop and support the country's economy. Higher education institutions and non-formal educational organizations provide technical education to all those who want to become a member of the IT community.
Ukrainian IT consists mainly of medium-sized and small companies, as well as offices of global giants such as Google or Samsung. A lot of companies focus exclusively on outsourcing, but there are also many examples of successful Ukrainian startups and product businesses.
Representatives of the IT sector actively support the country's economy, help charitable foundations and the army, including by cooperating with foreign customers. Ardas is one of such companies, so we will be happy to offer you the services of specialists with extensive experience. Feel free to ask us any questions and contact us in any convenient way.