Digital Transformation in Transportation & Logistics
The logistics business operates according to its own laws and standards. But the introduction of new technologies has fundamentally changed the company's approach to communication, working with intermediaries and contractors, and working with clients.
Digitalization of the logistics business allows you to automate many work processes, remove routine tasks from managers, improve communication within the company, and reduce costs. These are not all tasks. Introducing new technologies takes the company to another level and allows it to scale. Let's see how this happens.
What Does Digital Transformation In Logistics Mean?
Logistics processes occur in many areas of business. These companies are engaged in cargo transportation, manufacturing enterprises, sales representatives, distributors. Logistics is one of the main processes that ensure the delivery of goods to the client, both in the B2B and B2C segments.
Digitalization is the process of introducing technologies and modern tools to make processes within the company fast, accurate and automated. This is not only the development of IT products. Digitalization implies a comprehensive introduction of tools that improve the company's work. These can be new CNC-equipped machines or, in the case of logistics, sensors that control the cargo transportation route, warehouse management systems, barcodes and other technologies.
Digitalization of logistics is an integral part of the company's development. It allows you to reduce costs, automate routine processes, structure and organize data, receive real-time reports, and establish communication between the company, contractor and client. The main thing is that it solves specific business goals. Next, using an example, we will show how the digitalization of logistics works in companies.

Emerging Technologies That Changing Transportation and Logistics
Digitalization processes are quite complex and time-consuming. They include a large number of tools, and many of them are developed individually for business. Ardas analysts conduct consultations, study business processes, build hypotheses, and form tasks. Based on these problems, solutions are selected.
Despite the large number of tools that help to digitalize a business, they can be conditionally combined into the 2 most common systems: WMS and TMS. These complex solutions allow you to improve the company's logistics, regardless of its line of business. They include a set of tools that will enable you to solve business problems.
Mobility as a Service
MaaS is a type of service that enables users to plan, book, and pay for multiple types of mobility services through a joint digital channel. The concept describes a shift from personally-owned modes of transportation to the mobility provided as a service.
Learn more...
In this article, we explained what is Mobility as a Service (MaaS) and all benefits of its implementation.
Cloud Technologies
Cloud computing services and solutions for logistics can be broadly classified into three main categories: transportation management, inventory management, and warehouse management. The transportation management system (TMS) is a cloud-based application that helps manage goods' transportation.
IoT
There are physical devices that connect to the Internet and link the digital and material worlds. The sensor, installed to control the temperature inside the car when transporting perishable products, collects information and allows you to adjust the temperature automatically. Or a device that controls the driver's route and reads the fuel consumption, which helps avoid theft. This is the internet of things.
Artificial Intelligence
In logistics, robotization has yet to be used actively, but large companies are still implementing automated systems to improve processes.
For example, robots that work inside the warehouse, cargo packing systems, forklifts, and inventories. These are just some examples of robots that can work in the logistics system.
Supply Chain Digital Twins
The Digital Twin Supply Chain is based on a business concept that owns the entire supply chain, from suppliers via transport organizations down to the end customers. Via simulation, a business can analyze, act, and automate processes to reduce costs, highlight risks, and improve services.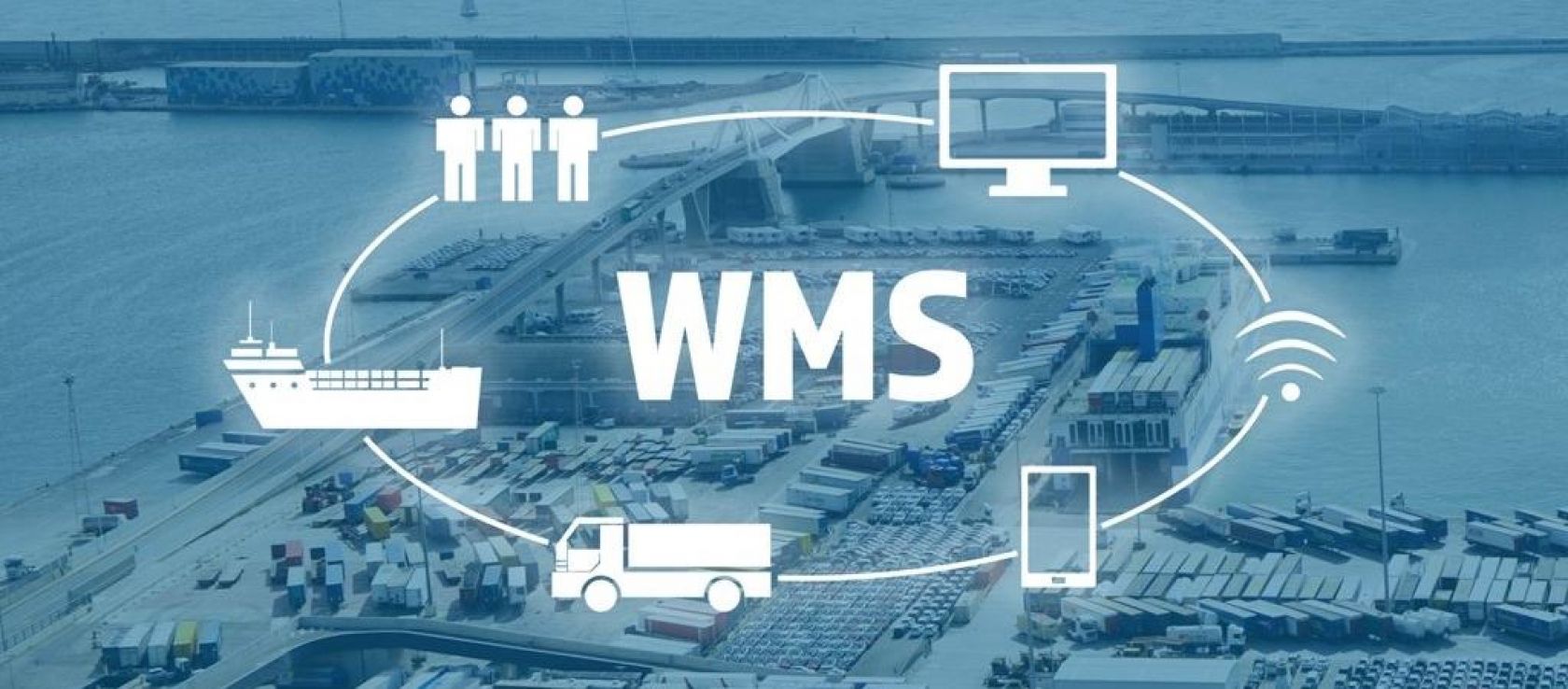 Customers Big Data and Analytics
Services allow you to collect and process a large amount of information and, based on it, make forecasts, build logical chains and find solutions. Collecting and processing data can significantly reduce costs and fuel consumption and optimize routes.
How Ardas Provides Changes in Logistics Companies [Based on Experience]
Our company has been developing software for logistics companies since 2007 and we continue to support some projects to this day.
The Busiest Courier SaaS Platform Example for the Logistics Industry
Trusted by over 7,000 businesses since 2000. Processing over 170,000 loads per month. Handling and managing more than 50,000 available vehicles of its clients. Making over £190M worth of contracts per year. It serves the full flow from posting the load to its final delivery helping transportation companies and individuals to do their work efficiently.
This courier SaaS product was created in the early 2000s and after successfully passing the post-MVP phase and getting good traction, they had to grow an IT department which was difficult and expensive in the UK. We met them at the beginning of active growth, all their software required refactoring and modernization. We developed a transformation plan and ran a small pilot project to show how we could help and solve their problems. That was the beginning of long and profitable cooperation.
Courier Management Software Development
We started with a dedicated team of 6 IT engineers in 2007 and today it is a large IT department that consists of 34 engineers, including front- and back-end development, database, and big data engineering, data science, server infrastructure management, QA, task management, and business analysis. The whole team works closely with a core business team in the UK showing an example of the effective and long-term collaboration between business and offshore development teams.
The whole set of fleet and load-tracking features were implemented for couriers and customers. The platform tracks all vehicles and loads and visualizes them on the map using 15+ TMS providers or GPS in smartphones.
The map shows current loads with destinations and available transport with movement direction.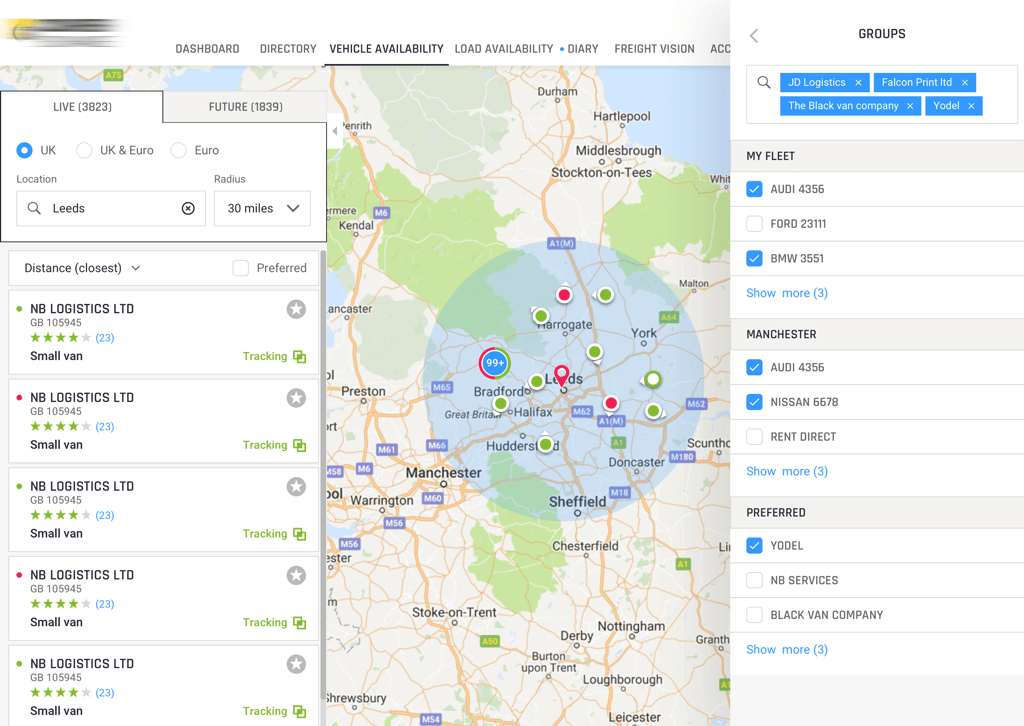 Delivery ETAs, delays, fleet and load statuses, route history are displayed and updated on the fly.
All map visualization and geocoding were initially done with Google Maps and now changed to Here WeGo.
Courier companies can add their drivers and vehicles. A simplified UI was done for individual drivers with only one car. The courier manager can post jobs to subcontract a driver.
Fleet real-time management is done with a web or mobile app and telematics integration systems.
Couriers can filter loads by many parameters such as vehicle type, region/area, etc., expose their availability, look for the closest loads, apply for a job by sending a quote, communicate with customers using an external communication tool.
The back-end we built is capable to handle and process:
5,000 members in the EU who brought over 50,000 vehicles;
230,000 loads per month;
Tons of real-time tracking requests from all fleet we have in the system;
Hundreds of thousands of internal messages, emails, and SMS alerts sent between customers and companies;
7 white label partners working simultaneously;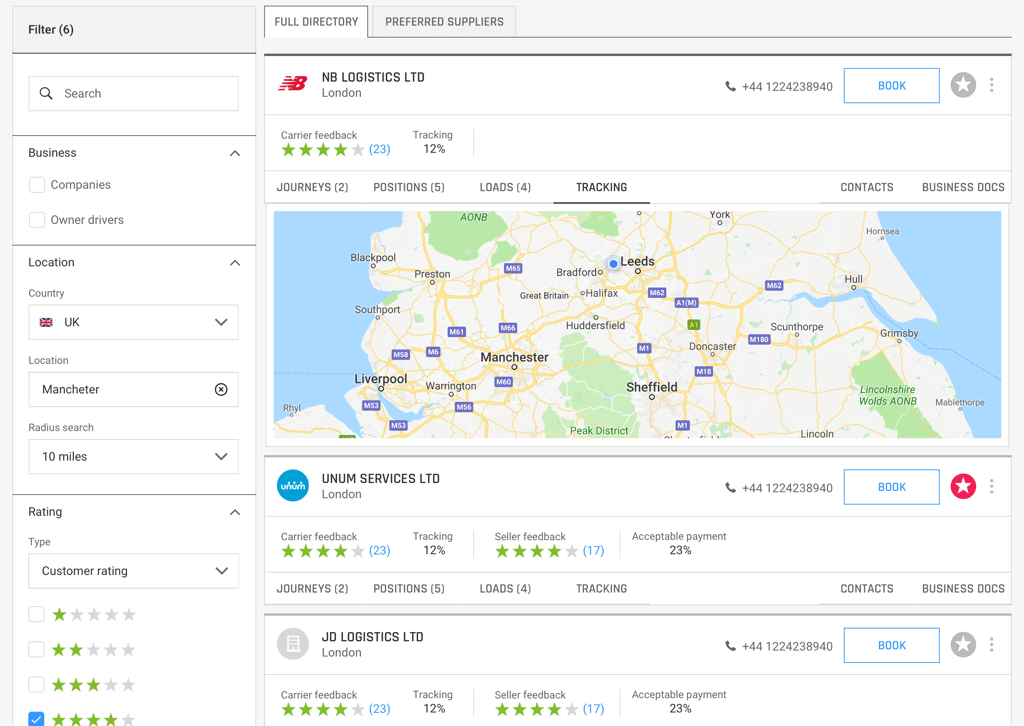 Today we are proud to be a part of the highly technical and very successful SaaS solution. Building long-lasting relations is never easy, we have been accurate with all the details through the years.
Even today we are striving to improve our integration in the business optimizing our costs and processes. And yes, we would be glad to share our expertise in setting up long-lasting relations for any other SaaS tool that is about to take over the world.
Courier Network and Communication SaaS Tool
It helps users to find new partners and agents, documents and feedback exchange, rates posting, chatting, etc. It's a professional network for courier and logistics workers. Implemented as a B2B SaaS tool it connects service providers and customers in the transportation industry closing their communication needs and helping to optimize processes.
This project was a continuation of our other brainchild. Our customers with a huge experience in the transportation domain found a serious gap in the industry - a lack of a communication tool for courier service providers and their customers. A lot of inefficient business communication is happening between professionals and freight customers.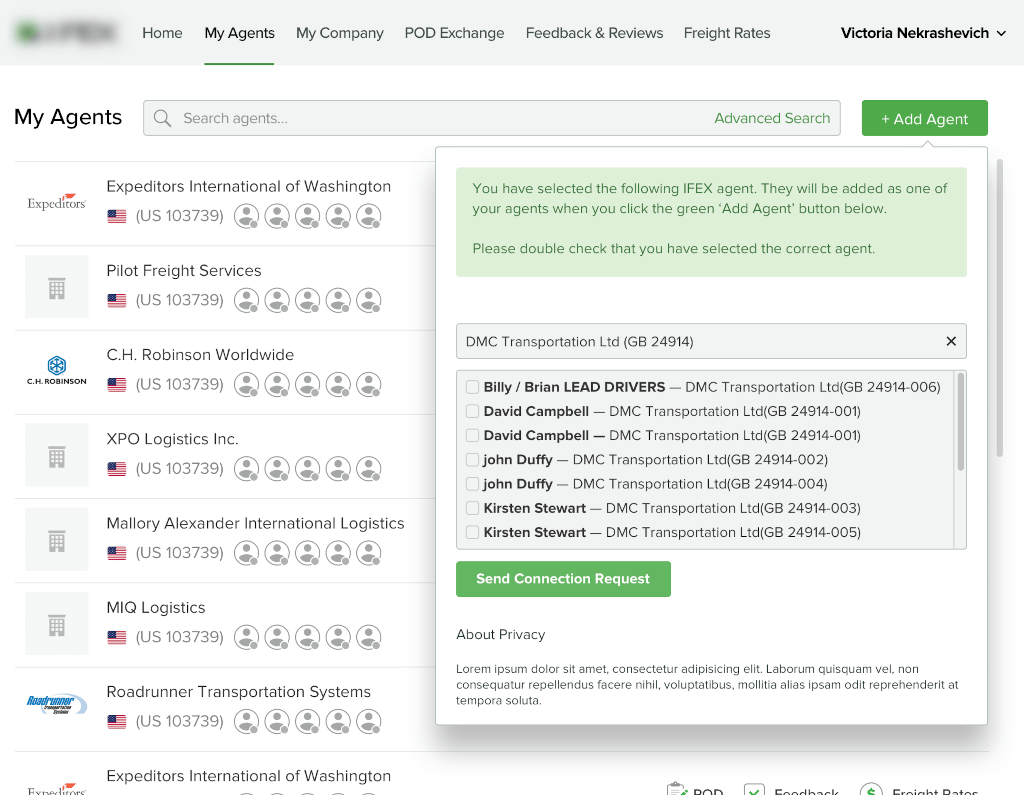 Originally this tool was planned to be a part of another customer's logistics SaaS system. We focused on designing and architecting the main features of this communication tool to test them on its real customers so we had quite a big list of existing early adopters. After polishing this solution and gaining positive feedback from its clients, we redesigned this tool into a SaaS platform with a subscription model and set up an additional business for our customers.
Are You Interested in Creating Own Logistics Product?
​
During the last 17 years Ardas has developed load of logistics solutions - from small apps to huge enterprise solutions. Drop us a line and we will help you to create the best product.
Apply now
Challenges in Logistics Company Digitization Process
Logistics processes can be unique depending on the scope of the business, but often they have typical problems. We have analyzed what problems are most often encountered in the supply chain. See how the digitalization of logistics can help eliminate these challenges.
70% of Time for Preparation
Most of the company's time is spent on organizing logistics. It goes like this: a company must transport goods from one point to another. The manager makes up a task, describing the route, the features of the cargo. Everything is in a table. Then it is sent to intermediaries, each of which sets its own price and sends the file back. The manager collects all the files and manually combines them into one table, after which the performer is selected.
Next, the company notifies the performer that he has been selected. After that, the intermediary selects the driver. Provides information to the manager. The manager prepares the documents and sends them to the intermediary, who hands them over to the driver. And only at this moment the process of loading and transportation begins.
Such a complex chain takes up 70% of the manager's time and requires a lot of resources. Digitalization allows you to reduce this process to a few simple steps.
Outdated Interaction System
Communication with intermediaries, clients, drivers goes through the phone or e-mail. Modern companies can use instant messengers, but this still does not solve problems. The outdated communication system does not allow to receive information in a timely manner, quickly solve any problems and increase efficiency.
Calculation of the Optimal Route
Logistics is often built manually. The manager looks at the departure and destination points and forms a route. But traffic conditions, work schedules of loading and unloading points, vehicle capabilities, driver resources and a host of other factors are not considered. Digitalization allows you to calculate the optimal route and take into account dozens of factors that can affect it. If necessary, the route is rebuilt to a more efficient one.
Document Flow
This is one of the biggest problems. Working with documents takes a significant part of the time, there is always the possibility of errors that entail additional costs, loss of time and bureaucratic difficulties. Digital document management is much simpler, more convenient, safer and more practical.
Task Control
Transparency of transactions, full control of the warehouse, loading and unloading processes, real-time route tracking allow the company to see how logistics works. The problem is that without digitalization it is very difficult to control tasks, especially to influence their changes.
Of course, there are enough problems in the logistics sector, and digitalization allows us to solve most of them, if not all. The introduction of modern technologies opens up great opportunities for the company and helps to organize logistics correctly.
Final Thoughts
The digitalization of logistics processes is integral to the company's growth. It helps to automate workflows, reduce the burden on employees, improve communication and optimize logistics processes. Keeping shipping arrangements to a minimum cuts costs, reduces downtime, saves time, and leads to a smooth and efficient company organization. Call us for detailed advice and find out whether it is worth implementing custom logistic software development and how to do it right.