How to Develop a Document Management System From Scratch
If you're working in logistics, there's a high chance you're already using some kind of electronic document management system (eDMS) for your paperwork. You'll also be aware of the employee time involved in documentation processes and the high cost of mistakes in filing.
So here's some good news.
First, with the arrival of new technologies, and particularly advances in automation, the benefits of eDMS for logistics and transportation businesses just got better. From improved administration and more transparent workflows to faster sign-off and POD approval, there's never been a better time to upgrade your system.
And second, if you plan to develop a document management system for your organization, Acropolium has you covered. This article for company decision-makers looks at the benefits of a modern eDMS and the main things you'll need to consider if you're thinking of investing in a custom solution.
A key consequence of the events of 2021 is a demand for more transparency in transport and logistics. Tighter cross-border controls, growing customer demand, and the need for more reliable supply chain tracking have put pressure on businesses to improve their administrative workflows. Electronic document management is one part of the solution to this problem.
At Ardas, we have a full grasp of the wide range of features that can be included in document management software. Our experienced developers can work with you to figure out the type of system that works best for your organization, taking into consideration its size, structure, and individual needs.
What Exactly is a Document Management System?
Document Management can be defined as the way that is used by organizations to manage and track e-documents. According to AIIM, a document management system (DMS) is a computer-based system or software that can be used to securely store, manage and handle e-documents and electronic images of paper-based information that has been captured via a document scanner or uploaded. DMS also allows accessing documents from anywhere virtually, if there is an Internet connection.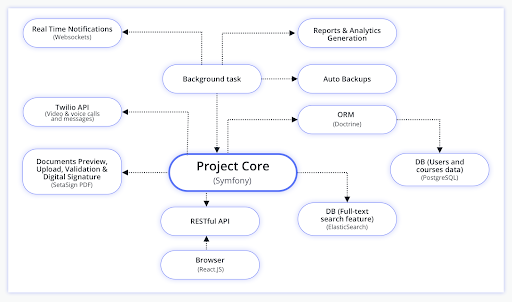 Types of Document Management Systems
As you may know, there are two types of document management systems. If you are thinking about such a solution for your business, you should determine what type of software you need. Here you can read about two common types you should know about:
Self-hosted: it means that the document management system is stored on your company's server. The volume of files depends on the server capacity - you may store as many files as your server allows. You may be charged with optional yearly payments for ongoing support and upgrades. In addition to that, you will regularly back up files in a manual manner.
Cloud-based means you can access the document management system hosted by your provider using any device online. Also, you should choose a plan - the amount of storage, number of users, and included features to be billed monthly. Logging into the system is possible as long as you are connected to the Internet. The provider is responsible for software maintenance and upgrades at no additional costs.
How a Document Management System Optimizes Business Expenses
The old way of doing things can be costly, especially if you're handling supply chains that span state or international borders. Replacing a manual paper-based system or piecemeal electronic system with a streamlined eDMS solution can go a long way to enhancing your operational efficiency. These improvements can translate to huge cost savings.
Let's look at some of the benefits in more detail.
File Retrieval
With an e-document management system, employees can easily store, retrieve, and share documents. Instead of rummaging through a stack of papers, they only have to type in a keyword or phrase to find the document they need. This greatly increases workflow efficiency and employee productivity, lowering costs.
Moreover, going paperless doesn't just spare you clutter and work; it also helps ensure compliance with regulations and ISO standardization. The consequences of misfiling transport and logistics documents are huge. Digitizing documents and automated filing can help you avoid such issues.
Document Security and Storage
Physical records can get damaged or compromised by loss or theft. If you still have a paper-based workflow, you're likely spending money on security measures for your storage. Recovery after natural disasters can also be costly.
With a custom cloud-based document management system, you can cost-effectively safeguard electronic files. Moreover, you can secure the data they contain by restricting employees' access to specific files based on the nature of their work. You can also use a web-based document management software interface to track actions and modifications for each file.
Business Processes
Building a custom electronic document management system helps streamline business processes in sales, accounting, HR, customer services, and other departments. The optimized workflows can lead to greater employee retention, faster payment collection, increased client satisfaction, and reduced purchasing costs.
Equipment and Supply
EDMS allows you to produce purchase orders, receipts, and other documents quickly and also easily access data related to shipping point, loading groups, and delivery type.
Moreover, developing a document management system means you can go paperless in most areas of your business processes. This translates to immediate savings on paper, ink, toner, filing cabinets, printers, maintenance, and repairs. Paper-free systems also reduce your carbon footprint.
Why Do You Need Custom Document Management Software?
There is a prevailing misconception that document management software benefits only large enterprises with hundreds of documents being worked on daily. And while it's true that DMS makes things infinitely easier for corporations and big companies, it is just as true for SMEs.
Given today's circumstances and general insecurity regarding workplace location, more than 77 percent of businesses, regardless of size, would like to be able to remotely access all documents by using DMS from home.
So, what advantages of electronic documents make businessmen invest in document management solution development?
DMS Offers Ultimate Team Collaboration Opportunities
Building a document management system means allowing your employees to collaborate on a document wherever they are and whenever they want. As per 2014, approximately 92 percent of knowledge workers in the United States and the United Kingdom work together on documents via email, thus wasting productivity and time on searching, checking the version of the document, or even manually merging the changes. This method of teamwork is not only inefficient but also dangerous because e-mails can be hacked.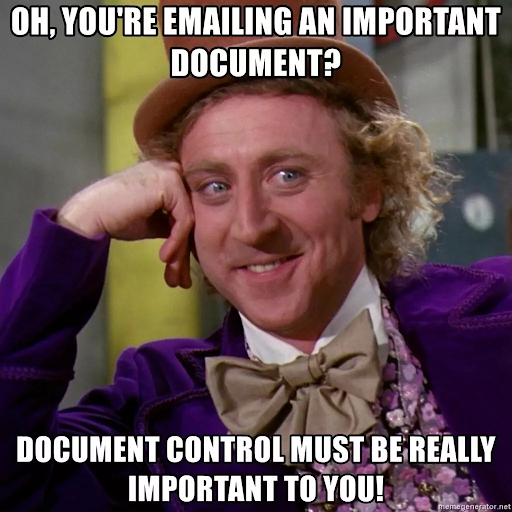 With DMS, team collaboration has never been easier. The software serves as a centralized storage location for all necessary data and a document editing tool similar to Google Docs, allowing multiple people to work on the same version of a document and track changes.
DMS Saves a Ton of Money
Investing in a document management system today is more than just looking after productivity. Think about paper costs, filing cabinets costs, space costs, labor costs… A clinical transcription service M*Modal for instance was able to save $68,820 by adopting a DMS software.
On average it costs $20 for a document to be filed and stored, and an additional $120 to find or replace an item if it was lost. And as stated by Laserfiche, implementing a DMS can save up to 40% on document-related costs in general.
DMS Enhance Efficiency
People weren't lying when they said time is money. Today to be competitive on the market you need to react as fast as you can and building a document management system may help you with that. First and foremost, because documents are stored in a digital centralized database, a DMS saves time on searching and editing them.
Secondly, by using this kind of software, you can reduce errors by up to 30%, all thanks to versioning and tracking document changes. In the end, if you have a mountain of paper documents, want to optimize business processes in the company, and are looking for a tool to increase employee efficiency – document management systems are the way to go.
Industries That Benefit Most From Developing Document Management Solution
Document management systems can serve as a much-needed lifeline for small, medium, and global logistics providers and other businesses. They're especially helpful for companies in the following industries:
Logistics
Document management software helps logistics companies avoid the bottlenecks that cause delays in deliveries and shipments. It provides a centralized system for managing freight bills, bills of lading, proof of concept, and other essential documents. It improves the workflow, allows for order tracking, and provides support across various shipment stages. Companies are able to operate efficiently and thrive in a margin-sensitive market.
As well as managing documents that are generated during operations, a document management system allows you to manage information across all departments, including HR, accounting, and customer services. It can also assist with scanning and record-keeping.
Retail
Document management in retail helps retailers carefully file, store and keep track of documents such as inventory lists, commission reports, and contracts.
By speeding up these processes, a document management system both lightens employee workload and improves customer service.
Healthcare
The explosion of COVID-19 cases, as well as the rise of telehealth, has led to an explosion of healthcare and patient data. Effective management of this data is now more important than ever. These changes are fueling a rapid increase in digital documentation systems deployment in the healthcare sector.
By streamlining document workflows, a document management system allows healthcare organizations to increase operational efficiency, cut down expenses, and ensure compliance with industry standards and regulations.
Accounting and Legal
With document management software, managing records such as cash memos, vouchers, receipts, and e-checks becomes much easier and more accurate for accounting and legal firms. An electronic system also helps firms ensure the security of sensitive files.
Legal and financial documents are notoriously lengthy. Custom cloud-based document management software makes documents easily accessible to all employees, using any device that's convenient for them. This means they don't have to print out several copies of the same document and can access specific records any time they need them, which prevents costly delays.
What Are the Features of Document Management Software?
Typically, a document management system provides numerous features and functionality that deliver operational benefits for your business.
Let's take a closer look below:
Searching and viewing: you can find documents of common file types stored within the system via a full-text search and view them.
Editing: you can edit files and create new versions seamlessly.
Creating: allows you to create documents within the system or upload them via scanners, email, fax, etc.
Version control: allows you to manage changes over time, and provides visibility into how the current version differs from the previous versions.
Sharing: allows you to share documents with other users or team members.
'Rollback' option: you can "rollback" to a prior version of a document in the case of an error or premature release, and provides the ability to view previous versions alongside the latest version.
Security and audit: provides secure storage of documents and controls how users and systems communicate and interact within the document management system.
Document workflow: you can easily speed up the workflow by automating document-centric processes.
Notifications: users receive the task alerts that inform them about the need to perform work or interact with a workflow.
Digital Signatures: allows you to authenticate documents just like paper documents, eliminating the need to maintain a paper copy in addition to the electronic copy.
Read more about accounting software features.
How to Build Your Own Document Management System
Document management & paperwork automation systems offer powerful functionalities that enable businesses to increase productivity and reduce costs. If your needs go beyond the standard functionality of off-the-shelf software, outsourcing the development of a custom solution is usually the best option.
What goes into building such software? Knowing the basics will help you discuss your needs more productively with a development team. Here's a run-down of the main components of DMS architecture, along with a description of the development process.
Step 1. Evaluate the Current Workflow in the Company
The main objective of this stage of DMS implementation is to determine what patterns of working with documents are typical for the company, what documents prevail in the workflow and what gaps and shortcomings in communication between employees need to be eliminated.
If you want to succeed, you need to know how to create online document management system that responds directly to your company's needs and solves the pain points of your business operations. Try to answer these questions:
How many people work in your company?
What is their main method of communication?
How many documents are in a daily turnaround?
What kind of identification methods for the documents do you have?
How quickly do the documents accumulate?
Step 2. Dеfine the Requirements
Before jumping straight to document management system software development you need to draw up a list of requirements for the software itself. This requires the analysis of the general functions you want your DMS to perform, general industry regulations, the results generated in data transactions.
Any DMS should take care of storage, security, retrieval, retention period, and disposition of the documents. Based on your thorough analysis of the current workflow, determine the objectives for each one of these points. What is the bare minimum of functions and features you want your DMS to have and what are the optimal ones?
If that seems too difficult or you want to get a third-party consult, you can try scheduling a discovery phase with a contractor. A discovery phase is an initial phase of development aimed at clarifying project goals, objectives, possible risks. It might be necessary if this is the first electronic DMS in the company and there is no previous experience whatsoever.
At ProCoders we can start a discovery phase for your enterprise and on short notice, you will be aware of possible scenarios for implementing document management software.
Step 3. Find the Solution/Contractor
Choosing the right software vendor is probably the most important step in this list, as it will determine the quality and efficiency of your DMS. While all DMS solutions offer pretty much the same range of features, some are better at offering certain services than others. Your job is to compare them to one another and decide what features fit your business best.
Having a reliable service provider is a guarantee of better opportunities and overall a brighter future. Those who opted for customized server-based software should generally be more attentive to the search of the partner, than those who decided to stick with a ready-made system.
Having worked with many clients from different industries, we can vouch for the expertise of ProCoders' developers. If you are looking for a dependable partner to build a DMS with, we can offer our services as a staff augmentation company with years worth of experience in software development.
Step 4. Sеt up a Schedule and Stick to It
Developing a document management system is incredibly time-consuming. Starting with accessing and finding a contractor and down to transferring all of the paper documents to the system, which usually means scanning till you drop dead. It is as rewarding, as it is tedious, that's why setting up a schedule and following the deadlines is a must.
Step 5. Come Up With a Consistent Strategy
Remember weaknesses and pain points identified in Step 1? Time to find out how to get rid of them using your new DMS.
When you create a document management system it's not only about technical stuff but also about making an effort and prioritizing efficient policies, practices, and standards, which equals coming up with a consistent strategy.
Step 6. Organize Your Current Documents
One of the primary functions of a DMS is document organization, so it is only fair that at some point you'll have to organize and declutter your current documents, now that you have a basic framework of your management plan.
In order to organize digital storage companies usually use tags – succinct and short words that explain what a document contains. It can be a type of document, name of the client or partner, status (active/expired), or any other description. The goal of this is to set up a database where it is easy to find any document using tags and metadata.
This is also where you purge redundant data and get rid of old documents that have no use in them.
Step 7. Upskilling and Training
When the DMS is all set up it's time to teach the employees to work with it. If a company just migrates from one DMS to another, it will take less time for employees to master the technology, as they already have experience, however complete newcomers to digital document management can have a hard time getting used to it.
DMS Development With Ardas
We had several projects on document management systems. Here is one of them.
Our client wanted to create one and only system that handles everything that happens with pharmaceutical documents within their endless life cycle. Pharmaceutical production companies use a combination of many CRM, ERP, document applications poorly integrated and not optimized for pharmaceutical specifics. Using them is difficult, they are very slow and non-intuitive. Alternatives are either unusable or cost a lot.
The goal was to develop a pharmaceutical document management software that will horizontally pierce the whole manufacturing process and handles every stage, task, and state of any document minimizing human labor and hassles. We studied the full document flow and the job of each and every employee and completely redesigned this process. We made it totally dedicated and optimized for pharmaceutical needs.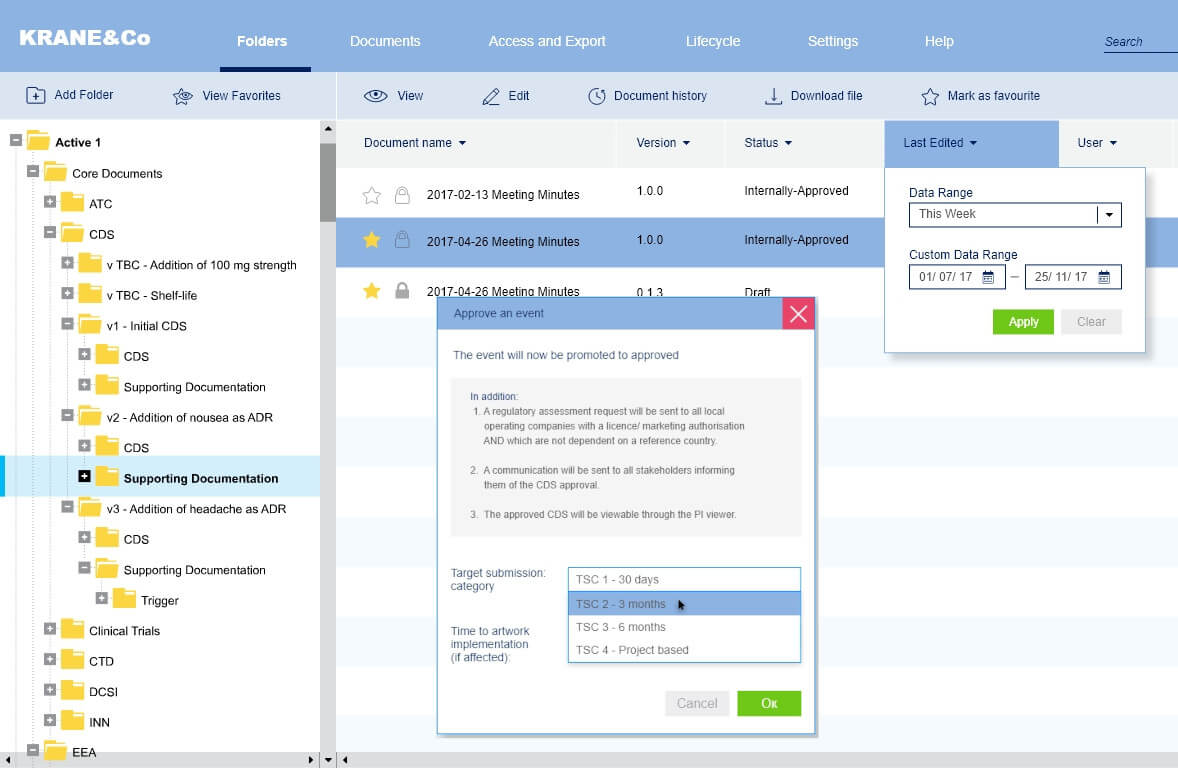 Version Control and Tracking
Each pharmaceutical product document has a large number of versions. This is due to the fact that everything in this document must undergo a certain verification by various medical structures. Because of this, a large number of versions arise.
We have developed a version structure specifically for pharmaceutical documentation since it is very different from other industries. Documentation change control is carried out using an interface where you can track the entire history.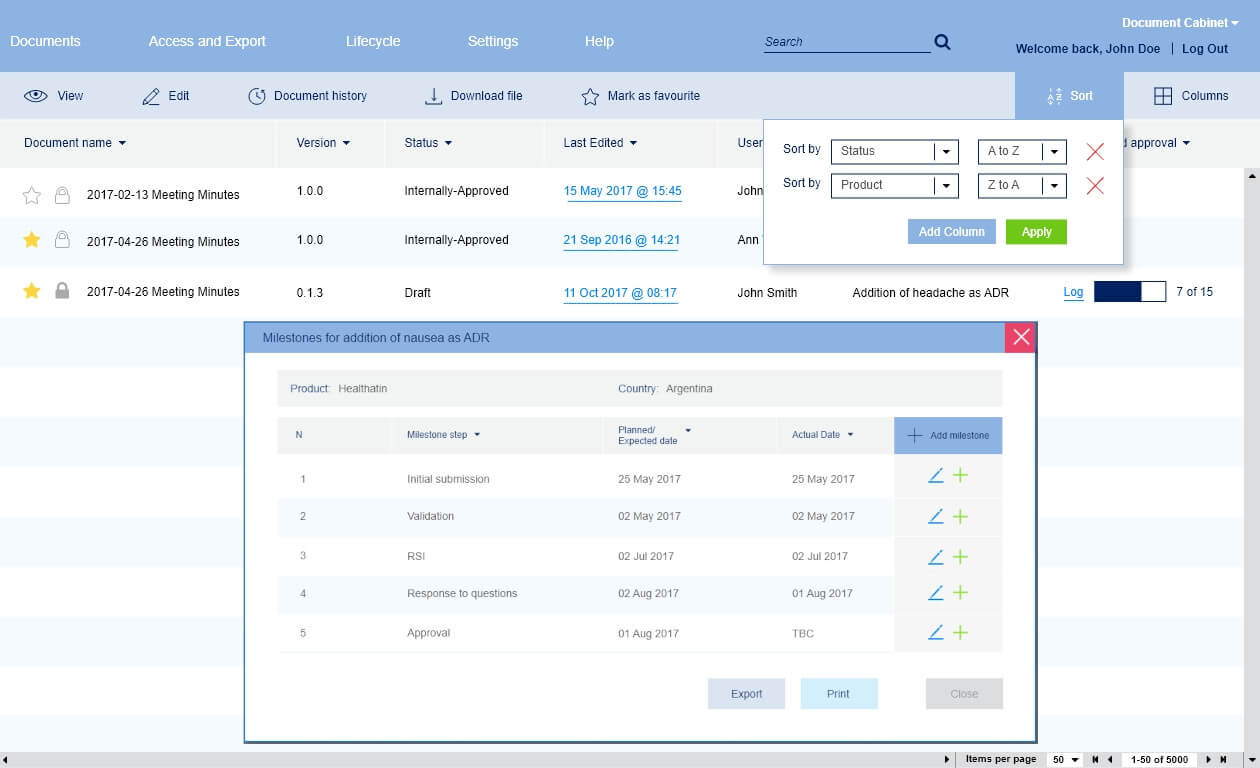 Approval Process
We have solved the problem of updating the process of confirmation of pharmaceutical products since the standard CRM systems are not adapted to this unique process.
We have set up all the accounting for this process, including discussions, comments between the agents of this process, status updates, and the appointment of those responsible for the implementation of this process.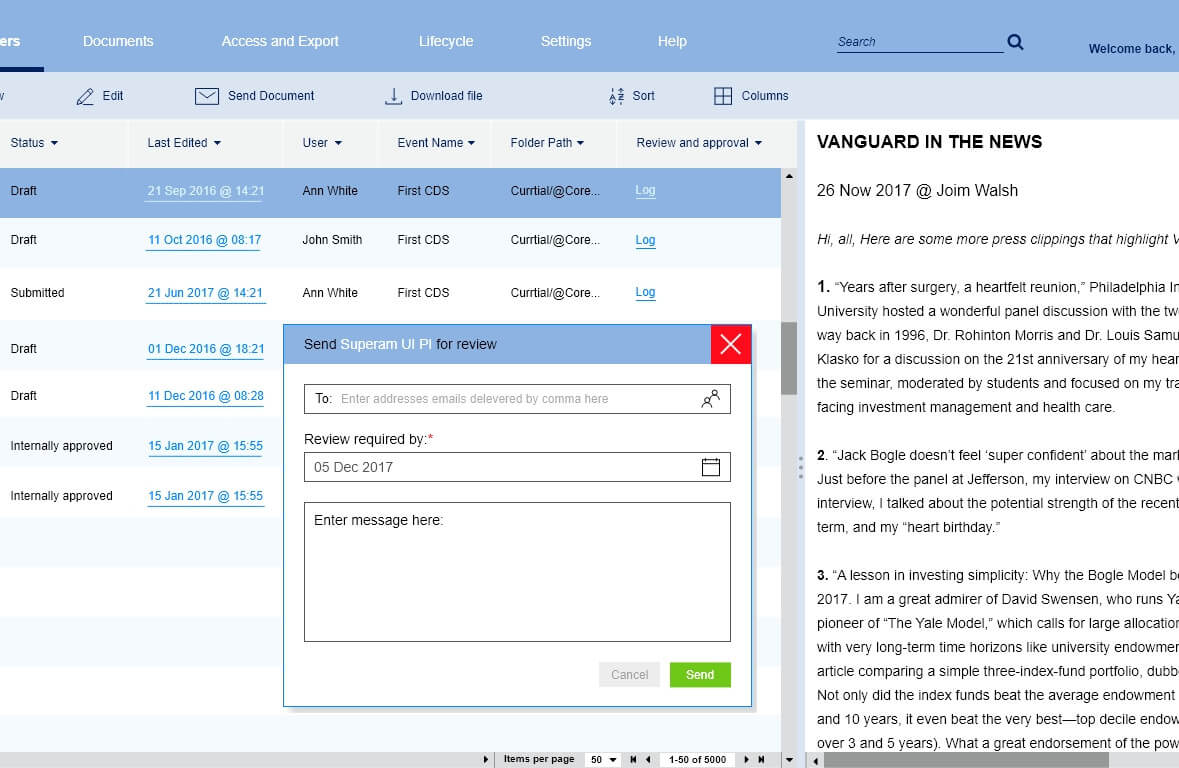 Sum Up
Efficient document management will not just enhance your organization's operational efficiency. It will also ensure that your business is meeting legal and regulatory requirements. At Ardas, we understand the importance of a secure document management system that mirrors and enhances your business processes. We are ready to develop a document management system that promotes efficiency while eliminating human error.
With almost 20 years of experience in SaaS development services, our seasoned engineers can create a comprehensive system that meets your unique business needs.